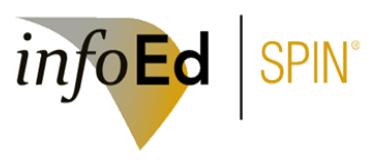 Research Information Systems RIS
As you begin thinking about your next research project, we encourage you to consider utilizing SPIN, an extensive research funding opportunity database.
 
What is SPIN?
SPIN stands for Sponsored Programs Information Network. It is a searchable funding opportunity database that provides information on government and private funding sources in both the United States and abroad. SPIN contains over 40,000 funding opportunities from more than 10,000 sponsors for all types of awards, including grants, fellowships, private foundations, publication support, sabbatical support, and more.
Benefits of SPIN
The benefits of SPIN include:
Organized grant information in one convenient place
Access to the largest keyword list, allowing for greater flexibility in your searches
Up-to-date national, international government and private funding sources
Data in SPIN is maintained daily by InfoEd and is obtained directly from the organizations agencies to ensure the integrity of information. Each program is updated in SPIN as the sponsor revises it, typically on an annual basis.
User Guides
Please contact SPA at grants.admin@bmc.org for any funding opportunity and proposal development questions.
 
SPIN system management is now supported by Research Information Systems. Please contact RIS@bmc.org for user access and technical questions.