Pediatrics - Otolaryngology (ENT)
Request an appointment
Request an appointment
New Patients
We're glad you've chosen BMC for your care! Please call the department you wish to make an appointment with to get started. Learn more about coming to BMC.
If you are a new patient and need an appointment, please contact us at the phone number below.
617.638.8124
Refer a patient
Refer a patient
Call our department to schedule a referral appointment
617.638.8124
617.638.8124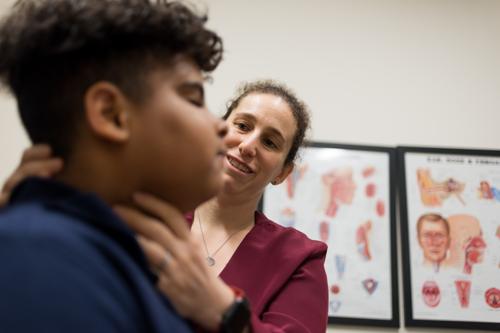 The Department of Pediatric Otolaryngology (otherwise known as Ear, Nose, and Throat, or ENT) provides care for patients with problems involving the ears, sinuses, oral cavity, airway, nose, throat, and neck including sinus conditions, neck masses, allergy, and snoring. The department also specializes in swallowing disorders, voice problems, dizziness and balance disorders, hearing loss, and breathing problems.
Our pediatric otolaryngologists work closely with pediatric pulmonologists and gastroenterologists to provide a multidisciplinary team approach to evaluating and treating each patient. They also work closely with audiologists (hearing experts) and speech/swallow pathologists.
"I was pleasantly surprised with Dr. Levi. She listened to my concerns and offered support and knowledge. We travel from New York and pay for the Boston Medical Doctors out of pocket. They have proven over and over again how valuable their services are. I am extremely pleased with the services I have received."
~ Sebastian M.
Conditions treated include:
Obstructive Sleep Apnea
Aerodigestive Disorders
Congenital Neck Masses
Chronic Ear Issues
Hoarseness
Sinus Disease
Tongue-tie (ankyloglossia)
For more information about pediatric ENT disorders and conditions and their treatment, we encourage you to visit the website of the American Academy of Otolaryngology – Head and Neck Surgery.
Common procedures:
Frenulectomy (tongue tie clipping)
Nasal endoscopy (passing a scope into the nose)
Laryngoscopy (passing a scope into the throat/voice box)
Removal of nasal or ear foreign bodies
Tonsillectomy
Adenoidectomy
Ear Tubes
Biopsy or excision of neck masses
Excision of facial masses or cysts
Airway evaluations
Sinus surgery
Control of nasal hemorrhage (nose bleeds)
Surgery on thyroid or parotid gland
Contact Us
Our Team
Pediatric Otolaryngologists