Happen to be on the fifth floor or higher of the Shapiro building? Take a minute to look past the glass façade towards the Albany St. power plant. No, the power plant of a hospital is not generally interesting, but in BMC's case the view of this urban oasis high atop a power plant might just surprise you.
This past June close to 1,800 pounds of crops were harvested from this most unlikely place. The Rooftop Farm supports not only BMC's cafeterias and inpatient population, but also the Food Pantry and The Teaching Kitchen. This farm is just another one of the innovative ways in which BMC is going green.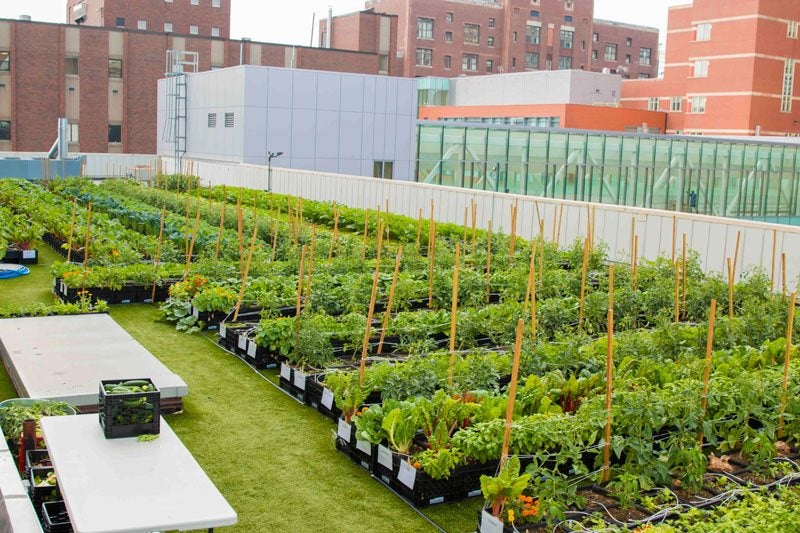 The power plant fauna is not alone though, there is also a distinct buzz from the farm, bees! 
Two brightly colored urban beehives, painted by BMC's pediatric patients, were installed in early June which will help the farm flourish through pollination while providing access to local honey.
In addition to reducing the hospital's carbon footprint, increasing green space, and reducing energy use, the farm also cuts the energy required to transport food. BMC also maintains a strong commitment to supporting local companies by partnering with the Gloucester Fisherman's Wives association so that fresh seafood is brought to you straight from the bay; sustainable and local.
This growing season, approximately 15,000 pounds of food are expected to be harvested. So if you happen to be dining here at BMC and you come across some green leafy vegetables, carrots or even radishes, it was probably grown here at BMC's Rooftop Farm. 
So eat up and enjoy as we strive to make you and Boston healthier for the long term. 
If you would like to learn more about the Rooftop Farm please check out the links below.
Podcast: A Rooftop Garden at a Medical Center?
Article: Boston Medical Center Grows First Hospital-Based Rooftop Farm in Massachusetts
Return to BMC News