Balancing Clinical Care and Public Health to Address Social Determinants of Health
Boston Medical Center has a long history of working to address social determinants of health (SDoH) – the social and economic circumstances in which people live and work, such as housing status and food security – that influence health outcomes.
As awareness of social determinants of health has grown, there has been increased focus on how to best address SDoH at both the population and individual levels. As a safety net hospital, BMC has a role to play on both those levels, and is currently working to develop sustainable programs to do so most effectively.
The BMC Brief sat down with Michael Silverstein, MD, MPH, Director of the Division of General Pediatrics, Associate Chief Medical Officer for Research and Population Health, and Vice Chairman for Research in Pediatrics, to discuss more about the role of clinical organizations and health systems in addressing public health issues that involve social determinants of health.
What are the differences between public health initiatives and clinical initiatives?
We know that social issues explain a lot more about health outcomes and the differing outcomes across different populations than the medical community has traditionally given them credit for. BMC has always been a leader in recognizing the importance of SDoH, but now this idea is gaining more traction in wider medical audiences, and few people would dispute it. But then the questions become, "what's the best remedy for patients with unmet health-related social needs?  How can places like BMC be most effective in this area?  And how can we work most effectively with other organizations?"
There are some issues that are truly public health problems, such as lead exposure in children and its impact on their neurodevelopment.   The unfortunate news with lead exposure is that screening children for lead in their blood and then intervening with our current strategies on individual children doesn't have evidence to support better health outcomes. That's not to say we shouldn't be treating children for high lead levels, but many think that it would be better to screen houses and water supplies, and to remediate those sources of lead exposure then to invest in programs that offer treatment on a patient-by-patient basis without going after the root cause. That illustrates the difference between a public health, upstream solution vs. a solution that can be brought to bear at a clinical level.  In the first case, the target of an intervention is a community; in the second case, it's an individual.
What is the role of clinicians and clinical organizations such as BMC in addressing social determinants of health?
The movement of health care organization like ours to address health-related social needs is very heartening; it's been a long time coming, and as I mentioned, BMC has been a national leader in this space for as long as I can remember. This movement reflects many of the reasons many of us at BMC went into our professions and decided to work here.
Our outstanding holistic patient services at BMC, which span services like the Preventive Food Pantry to Reach Out and Read to the Medical-Legal Partnership, should be thought of in a broader societal context. If these patient-level programs are going to realize their full potential – as all of us want them to – they have to be conducted within broader societal initiatives that are accomplished through cross-sector collaboration at the policy level. We can't hope to truly move the needle on population-level social issues solely by addressing them on a patient-by-patient basis – even though helping individual patients is at the core of our mission and has substantial, tangible benefits.
How do we best work with community organizations to address social determinants of health?
The challenges of unmet health-related social needs are best addressed by a combination of clinical and public health strategies. For example, we know that there's solid evidence for screening for depression at the individual level. But that value largely depends on the availability of high-quality mental health services and the access that our patients have to those services.  Good public health programming and good public policy can help address those issues with access. BMC can play a role in all those pieces, but we can't solve the problem alone.
Housing and housing instability is another good example of this. BMC may not be able to get deep into the business of being a landlord. But when we recognize lack of affordable housing as a major obstacle our patients face on their way to better health, we need to continue working with organizations like Boston Housing Authority and Boston Healthcare for the Homeless to come up with comprehensive, sustainable cross-sector solutions to help our patients.
Working with others is also the most effective way to advocate for policies that positively impact our patients. BMC can be a strong voice, but we're far stronger if we work hand-in-hand with other organizations.
What are some of the opportunities clinical organizations have to address social determinants?
One is that, as individuals and as institution, we're more powerful of an advocacy voice than we give ourselves credit for. For example, who better to advocate for better housing policies for children than the pediatricians that take care of them?
There's also an opportunity to admit that public health policies cannot be the sole line of defense between bad things out there and our patients' health. If we relied just on public health programs to detect lead in water supplies, and pediatricians weren't screening kids, the disaster in Flint, Michigan may never have been picked up – or at least, would have been picked up later. The screening was the conduit by which the contaminated water supply was realized.
Another example is that it's tragic that in 2020, there are people in Boston who don't have enough food to eat. Even if we had the best policies around food in Massachusetts, it would be imperfect. While the Preventive Food Pantry isn't the full solution to food instability, having a safety net hospital like ours as a place where people can get food is an amazing thing that we all should be immensely proud of.
We do what we can as healthcare organizations to address the needs of our families, but our perspective on these problems should probably be broadened. We need to ask ourselves what our responsibility is on a policy level.
What are some of the drawbacks?
The downside is that organizations like ours have limited resources. Programs to address unmet health-related social needs cost money, and it would be great to be able to demonstrate that they're cost-saving in the long-run. On that score, however, we simply don't yet have the data to make that determination.
Although this data isn't readily available yet, we still have to decide where to put our limited resources. There are opportunity costs and trade-offs with all programs, and we need to try to understand how those affect our patients.
How does an ACO fit in?
These issues are of course very complicated, but the ACO model really focuses the discussion on what it means to prevent health conditions before they start and what it means to address an individual and a family's health holistically.
Simply put, we do better financially if our patients are healthier. That helps align our incentives, and makes it clear that it's our responsibility to not just treat patients when they're sick, but also to keep them well.
That opens the door to a whole other way of thinking about providing care. It's much more proactive and less reactive.
But the most important thing is that BMC is – and has been – a leader in this space. So many times when a creative program has been mentioned that addresses a patient's holistic needs, it traces back to this place. For this reason, and because we've taken such a leadership role in the state ACO movement, I think we're poised to continue the excellent work that's taken place around health-related social needs, preventive care, and holistic care.
WRAP Program Provides Comprehensive Care for Patients with Psychosis in Underserved Populations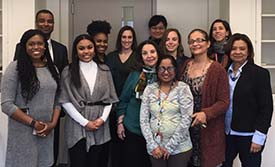 According to the National Institutes of Mental Health (NIMH), three out of every 100 people will experience psychosis in their lives. Despite the number of occurrences, there is an unmet need to treat patients with psychosis, particularly patients on Medicare or Medicaid, or who are otherwise traditionally underserved. The Wellness and Recovery After Psychosis program – referred to as the WRAP program – at Boston Medical Center is working to meet those unmet needs with comprehensive care for patients with psychotic disorders.
NIMH defines psychosis is used to describe conditions that affect the mind, where there has been some loss of contact with reality.  This, according to Hannah Brown, MD, Director of the WRAP program, is a really broad term.
"It can encompass anything from new, confusing, and disturbing thoughts and behaviors to hallucinations to delusional beliefs, often occurring in the context of a primary psychotic disorder. Many of our patients also have comorbid substance use, which can make it harder to distinguish a primary psychotic disorder."
While services for psychosis have been available at BMC for many years, the official program began approximately a year and a half ago, when David Henderson, MD, a leading expert in psychotic disorders and chief of Psychiatry at the hospital, developed new services such as medication-specific clinics, with the goal of creating a structured program to care for patients with psychotic disorders. Henderson then recruited Brown, an expert in psychosis, from Massachusetts General Hospital to lead and further develop the WRAP program.  As a result, WRAP has grown and now includes three subspecialty clinics– the Injection Clinic (for delivering long-acting antipsychotic medications), the Clozapine Clinic, and a First Episode Psychosis Program.
The Injection Clinic and Clozapine Clinic are both medication-focused clinics where patients can come to receive these specific treatments.  In the First Episode Psychosis Program, WRAP clinicians care for patients in their first three to five years after psychotic symptoms start or after being diagnosed with a psychotic disorder. Most of these patients are 14-30 years old.
"There's a growing body of evidence that coordinated specialty care is important for long-term outcomes, such as getting back to school or work," says Brown. "Early identification and intervention is key to these outcomes, as well as retention in treatment, as early psychosis is a time people are particularly vulnerable."
To this end, WRAP provides a team-based approach to first episode care where the team thinks of the patients as the hub with the providers as the spokes. Specific services include individual therapy focused on resiliency training, peer support, medication management, group therapy, and family therapy. 
"Early psychosis can be a difficult time not just for patients, but for their families as well," says Brown. "It can be frightening and confusing, but family support is essential. Our family therapy focuses on educating the family about psychosis as well as the best ways to help support the patient."
Culturally competent care is also a major component of all types of therapy and education. WRAP provides therapy in Spanish and Haitian Creole, which provides both support in a patient's own language and cultural insights that can impact care. This model helps fill the unmet need for psychosis care in BMC's population.
"People conceptualize mental illness and psychosis very differently, depending on their background, including culture," says Brown. "We work to understand patients' individual and family framework and work within that, so that our treatment is compatible with their beliefs."
Because the first episode program is relatively new, WRAP is still figuring out the best ways for patients to move on from these intensive services. According to Jessica Lewczyk, a nurse practitioner in the WRAP program, there are not many studies on when and how to move patients into a less intensive care model.
Because of this lack of research, the WRAP team plans to undertake research to better understand how to move patients out of the program. Brown and her team also aim to better understand barriers to care for psychotic disorders and how to best engage patients, as well as what population-level factors impact outcomes such as medication and therapy adherence.
WRAP plans to grow within the BMC and Boston community and become a resource for communities, health providers, and schools. They plan to provide community education on signs and symptoms of psychosis, as well as help other health care institutions implement their own care programs.
"There's such as stigma around psychotic illness, and this country doesn't do a good job of education," says Lewczyk. "We want to provide community-embedded support, and to have people feel comfortable coming to us for care, like they feel comfortable coming to BMC for other health care."
What do you do, Keri McDonough?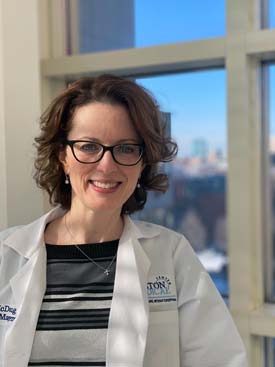 Name: Keri McDonough
Title: Nurse case manager
Time at BMC: Five years
What do you do at BMC?
For four years I was a float case manager, which means coming in every morning and getting a floor assignment. Each day was different, as there are case managers on every inpatient unit.
Currently, my home base is in the Medical ICUs. I work with all patients on the unit. The first thing I do is look at all the patients on the unit and use CMS guidelines/algorithms to send a clinical review to the insurance company. I do these reviews for both new patients and patients who have been in the unit for an extended stay, to explain their inpatient status to insurance companies.
I then go to rounds with attendings, fellows, residents, social workers, and nurse managers. I get a clinical update on each patient to learn more about why they're here and what their barriers to discharge. Figuring out those barriers – whether they're medical, financial, or social – is really important to helping patients get the right level of care.
How do you work with the team to take care of patients?
We act as a liaison between doctors, nurses, and families to help patients get the best care they can. And I meet with every patient, as much as I can, to learn from them.
Once I find out what their clinical course is, I determine if I should be screening patients for a certain level of care, such as long-term acute care facilities. It's my responsibility to start the discharge planning for patients in the unit and figure out what a patient's next steps should be.
We also level patients, which means we help determine if a patient should be inpatient or placed in observation. We use criteria that assesses the safest and most efficient care level based on severity of illness, comorbidities, complications, and the intensity of services being delivered. We then work with patients on a continuum throughout their hospital stay to make certain that they discharge to the appropriate level of care.
How do you handle insurance issues that may arise?
We want to achieve the best outcome and discharge plan for each patient within the realm of what their insurance can provide, and try to get them all the resources we can. A lot of our patients have very limited insurance, so we have to be creative at times. For example, Case Management worked with leadership to create the decanter program for patients that don't necessarily have insurance but need rehabilitation. We partnered with two skilled nursing facilities in the community that are willing to take on our patients. BMC acts as the insurer for these patients.
What brought you to BMC?
I was a nurse liaison for an outside company. I worked throughout Boston, at all the major hospitals. I just had an affinity for BMC. I find that the staff here are so kind and willing to work as hard as they possibly can on the patient's behalf. The other piece is that my mom was a nurse here, so I had a personal connection.
What's something you want people to know about care management?

Our role isn't just about discharging the patient. We look at everything. We look at whether they should be inpatient vs. observation, what they have for insurance, and the person as a whole. Our goal is to find out what we can maximize for the patient, given what they have for insurance.
We involved with patients at all times throughout their hospital stay. We're always trying to see how we can liaise between what the family wants for the patient, what the doctor and nurses want for their patient. We form relationships and help with family meetings.
Our job is also important for hospital finances, because leveling the patient correctly is how we get reimbursed.
Another thing people may not know about is the general inpatient hospice (GIP) program. Nurse case managers can suggest to the physicians and nursing staff that if a patient is imminently dying and too sick to be moved, we can convert them to general inpatient hospice status for comfort measures. We can offer the patient and family the benefits of hospice while here in the hospital; families also receive up to 13 months of bereavement support. 
What do you like most about working for BMC?
I truly find that my supervisors are supportive of case management. It makes it work – if you can't get the support from above, you can't do the work.
I enjoy working with my case management colleagues and nurses at the bedside. They're the ones who allow me to do my job to the best of my ability.  Of course, I also enjoy working with our patients and families.
What do you do for fun outside of work?
I love to go to wine tastings, and be with friends. I also travel as much as I can. I'm looking forward to a trip to Italy soon.
Awards and Accolades
97 Physicians Make Top Docs List
Boston Magazine's annual list of "Top Docs" included 97 BMC physicians. As in previous years, BMC is strongly represented across a variety of fields and specialties.
Isela Wellington Honored with Excellence in Nursing Practice Award
Isela Wellington, a nurse manager in the Office Based Addition Treatment program (OBAT), has been recognized by the New England Regional Black Nurses Association for Excellence in Nursing Practice. In nominating her for the award, Wellington's colleagues described her as "a bright light who brings hope, compassion, and dignity to families and patients struggling with addiction."
Rusti Pendleton Receives Hirsch Award
Rusti Pendleton, a member of the Violence Intervention Advocacy Program's trauma response team, has received the second annual Hirsch Award from the Department of Trauma Services. The award is given to an individual who contributes to the care of   trauma patients here at BMC in an exemplary fashion.
Pendleton responds to all gun shot and stab wound incidents 24hours/7 days per week. He focuses on communication with the victim and their family members following these critical incidents, and provides trauma-informed support.  This work goes above and beyond, ensuring patients and families, as well as providers, feel supported during a very difficult time
News of Note
Heather Thiltgen Joins Boston Medical Center Health System as President of BMCHP/Wellsense
Heather Thiltgen has been named President of BMC Healthnet Plan, which also operates as Wellsense Health Plan in New Hampshire.  She joins the organization on February 10. 
As president of BMC HealthNet Plan and Well Sense Health Plan, she will lead and direct the overall financial and administrative operations throughout both organizations, and work closely with state and federal government entities, regulatory groups, healthcare providers, and other external agencies.
Thiltgen most recently spent seven years at Medical Mutual of Ohio, the oldest and largest health insurance company based in Ohio, where she most recently served as the Senior Vice President of Strategic Markets.  In that role, she oversaw all product lines and led the launch of their Medicare Advantage program.  She received her BA in Political Science and Economics from the University of Texas at Austin and her MBA from Vanderbilt University. 
Congressman Jim McGovern (D-MA) Recognizes Deborah Frank, MD, on the House Floor
On Wednesday, January 5, Congressman Jim McGovern, who represents Massachusetts's 2nd congressional district, recognized BMC's Deborah Frank, MD, founder and director of the Grow Clinic and founder and principal investigator at Children's Health Watch.
In his remarks, Congressman McGovern spoke of Frank as "an inspiration, not just to me, but to countless health care providers, students, advocates and patients alike," who knows that there is more to health than metrics and vitals. It is also your environment and support system. Part of what makes Dr. Frank's legacy remarkable is that she found a way to become part of that support system."
Visit the Hub to read his full remarks, or watch a video of the remarks here, starting at 53:50. 
Return to BMC News