Celebrating 25 Years of Changing Lives Through Project ASSERT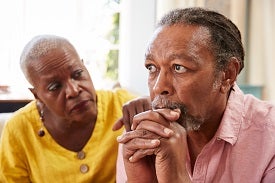 This year marks the 25th anniversary of Project ASSERT (Alcohol & Substance Abuse Services, Education, and Referral to Treatment), a BMC program that helps connect Emergency Department patients who demonstrate risky alcohol and drug use behavior with access to treatment and care. Over those 25 years, the program's health promotion advocates have offered alcohol and drug use screening and/or referral to treatment to more than 60,000 patients. The model has also been replicated at hospitals across the country.
In honor of this anniversary, The BMC Brief sat down with staff members from Project ASSERT to learn more about the program's history, how it's changed over those 25 years, and their vision for the future.
Tell us about the beginnings of Project ASSERT.
Project ASSERT was started in 1994 by Drs. Edward Bernstein and Judith Bernstein with a three-year grant from the Department of Health and Human Services Substance Abuse and Mental Health Administration to Boston City Hospital Emergency Department. The grant enabled them to start this peer educator model to help steer patients with substance use disorders in the right direction.
Being a safety net hospital, a lot of our staff didn't reflect the patients we serve. Part of the peer educator model is getting people from the community to help us serve our patients. Both when we started and now, the people on our staff have lived experience, which makes for a rich cornucopia of different ideas and backgrounds.
Our staff would randomly interview patients who came into the ED using a Health Needs History Form, which covered general health-related questions and questions about factors like their ability to pay for medications. Within those questions, there would also be some questions about alcohol and drug use. We also asked about zip code, as part of the survey. The staff could then help patients who came in with undiagnosed substance use disorders, as well as patients we knew had SUD. Since the beginning, we've helped patients with referrals to services such as detox, homeless shelters, and primary care.
In the beginning, we weren't always met with open arms. It took time for us to gain trust of both our patients and colleagues, but our results spoke for themselves. We showed up every day and really helped patients. Now, we work very well with the rest of the ED. Without their support, we wouldn't be here today.
As University Hospital and Boston City Hospital merged, we lobbied to make sure Project ASSERT would stay alive. We were being recognized and winning awards, and had support from city councilors, which helped cement our place at BMC.
How has Project ASSERT changed over the years?
The program has changed exponentially over the years. But as we've moved along with the times, our mission – to provide every patient who comes into our hospital with substance use disorders with culturally competent help – has remained the same.
Most of our work is related to substance use disorders, but we were also one of the first hospital departments to help our patients with social determinants of health. We fed patients, helped provide clothing and shelter placement, and started the St. Francis Fund out of our own pockets to help patients with transportation costs. Our goal is really to help remove stress and barriers for our patients, from bigger things like finding a job to smaller details, like telling them the best place to park when they go to the ED.
The patient population has changed over the years. We provide services in more languages now. And we've also expanded and added more staff members as partner of Faster Paths to Treatments.
We help patients receive naloxone rescue kits to reverse an overdose and more treatment option like medication for addiction treatment (MAT), which is newer. Medication treatment is instrumental in saving lives and helping patients maintain sobriety.
Medical culture and how it views substance use disorders has also changed over the last 25 years. Can you speak about that, and how Project ASSERT has both led and responded to those changes?
From the beginning, we've challenged the assumptions of which patients are affected by substance use disorders. But the opioid epidemic has also changed those assumptions. We're seeing younger patients, many of whom are brought in by their parents. More patients are coming from the suburbs. But regardless of who comes through our doors, we're still doing our best every day to meet demands and keep a positive attitude in the face of what our patients endure.
For the last 10-15 years, we've partnered with the Emergency Department on a program for new ED residents. We take the residents on a tour of the community to welcome them to BMC, give them a frame of reference for care, and show them what the pulse of our patients' communities look like. We want them to be stakeholders in the community, not just doctors at BMC.
What do you see for the short-and-long-term future of Project ASSERT?
In the short-term, we need help to meet the demand and provide resources for our patients to gain good health and maintain sobriety. We're glad that we have MAT, and that there are efforts being made to reach people outside the hospital who need help. We have a groundswell of support, and everyone is doing their best. But there is a lot of unmet need.
Long-term, our focus is on the sustainability of the program and influencing others in terms of how we treat patients. We want to ensure both families and doctors have a good understanding of substance use disorders. Reducing stigma should start in the classroom, whether it's in medical school, public school, or the community as a whole.
We're also thinking about how we can best approach new technologies to serve our patients in a more efficient and expedited way. Patient need to feel that they come first and their needs will be met.
Our patients do get better. And even those who still continue to struggle throughout their lifetime need a place at the table. We're proud of how we've been able to keep doing this work for all our patients. For us and for our patients, it's progress, not perfection.
PrEPing Patients for HIV Prevention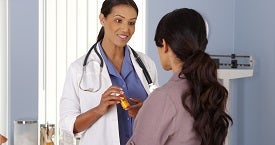 Although the number of new HIV infections in Boston has been declining, over 150 people were diagnosed with a new infection in 2018. Boston Medical Center's PrEP Program thinks that number should be zero, and they are hard at work getting there.
The program provides pre-exposure prophylaxis (PrEP) to patients at risk of being infected with HIV. PrEP – as a daily pill – prevents the transmission of HIV. As the only PrEP program with dedicated PrEP navigators in the region, the goal of the program is not just to provide PrEP to eligible patients. Rather, they aim to reduce barriers to getting the medication, as well as lessen associated stigma.
"Many providers have concerns about stigmatizing patients from marginalized populations, but data shows that these same communities have traditionally received less medical care, and therefore may not have had access to the prevention efforts," says Cassandra Pierre, MD, MPH, a physician in the Infectious Diseases practice. "We believe that's it's part of health equity to be sure that our patient population is getting access to prevention tools, that they're being screened appropriately, and that they're getting treatment that they need."
To reduce barriers, the PrEP Program's guiding principle is that PrEP should be prescribed in places where people are getting their care. Therefore, patients either ask their physician for PrEP or are identified in a primary care visit. This determination is made by screening for a variety of factors, including sexual preferences, substance use, and whether or not a person has a high-risk sexual network. Potential patients are also identified by the PrEP Program team, who flag patients throughout the hospital with positive sexually transmitted infection (STI) tests, particularly gonorrhea and syphilis, which is another identifier of someone at a potentially higher risk of contracting HIV.
"We also try to reach people who may not fit what we traditionally think of as risk criteria," says Jessica Stewart, the PrEP program coordinator. "We know for instance that the lifetime risk for a Black woman for getting HIV, regardless of sexual or substance use history, is one in 48, which is high. This isn't a group that you might think of as high risk."
Once a patient is identified as a candidate for PrEP, they receive testing to ensure they are eligible for the medication, including an HIV test, other STI testing, and kidney function tests; these tests must be repeated every three months for patients on PrEP. Patients also receive counseling about risk prevention and what PrEP does and does not protect against, as well as instructions for use.
Outside of the STI Clinic, most providers who prescribe PrEP are in General Internal Medicine, as well various other locations including Obstetrics/Gynecology, Family Medicine, and Faster Paths. The PrEP program itself consists of Stewart and several dedicated PrEP navigators. Together, they provide case management services, reach out to patients after a prescription is given, help resolve pharmacy issues, and ensure patients receive the follow-up care necessary to keep taking PrEP. The team also works closely with Jessica Taylor, MD, in GIM, and Pierre, as well as two nurse practitioners in the STI Clinic who prescribe PrEP.
Over the years, the PrEP Program has also worked to ensure that PrEP is accessible for all patients, working with insurance companies, the company who makes Truvada, and federal programs to lower costs of both the medication and required testing.
Since BMC began prescribing PrEP in 2013 – one year after it went on the market – over 900 patients have been started on the medication. However, Stewart estimates that there are potentially still thousands of patients at BMC alone who could benefit from PrEP.
To expand their reach, the PrEP Program plans to increase marketing and partnerships with community organizations, as well as providers at BMC and other institutions. In addition, a best practice alert will soon be going live in Epic that will show providers the testing guidelines for HIV. These call for at least one lifetime test for everyone, and more frequent testing for those at high risk of infection.
Stewart and Pierre also note that patients and providers don't always assess risk adequately. Therefore, there could be other places where patients could be flagged as potential candidate for PrEP, such as needle exchange sites and methadone clinics. They hope that a focus on PrEP will expand to these sites, as well as to other academic medical centers.
"There's a pervasive cultural misconception that PrEP is for men who have sex with men," says Pierre. "While that is one group who can benefit, we want to expand awareness for patients and providers about who PrEP is for. We want to help patients with any risk for HIV, not just those at high risk."
What do you do, Good Grief Program?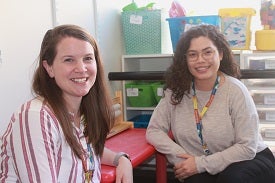 Since 1996, the Good Grief Program at Boston Medical Center has provided therapeutic services to children and families at BMC who have experienced a significant loss. The program has been a longtime supportive force for grieving families in need of healthy coping strategies and resources to empower them as they navigate the healing process. 
The BMC Brief caught up with (pictured from left) Maureen Patterson-Fede, LICSW, program manager; Minelia Rodriguez, mental health counselor; and (not pictured) Brianna Duval, clinical psychology intern, to learn more about the program.
What do you do at BMC?
We support children and their families in the wake of a crisis including death, divorce, or traumatic separation from a primary caregiver. We provide consultations that offer parents a safe space to ask how a particular loss is impacting their child and discover ways to support their unique bereavement process. Our program provides ongoing parent-child or individual therapy for children who get their care at BMC. Additionally, we host family nights, which are fun gatherings intended to support bereaved families by providing information on the grieving process and offering connection to others who have been through similar experiences. These family nights may also help ease the transition to more traditional therapy for some of our patients.
We work very closely with a few public schools in Boston to train them on how to support resiliency and wellbeing for students who are dealing with a loss. We also provide trainings and consultations to schools, agencies, and individuals interested in learning more about supporting grieving children.
How did the Good Grief Program start?
The roots of the Good Grief Program are concurrent with the publication of the Harvard Child Bereavement Study, which took a longitudinal view of the impact parental deaths have on children. The study confirmed what we now know to be true: children are impacted by loss. Once this logic was more widely understood and accepted, the need for supportive programs arose.  
In its infancy, the program consisted of a few individuals who collected and distributed resources on how to best support bereaved children. At the time, the team's efforts were incredibly useful because they helped people understand the many layers of grief and the profound impact it can have on children.
In 1996, the program moved to BMC and has since evolved to provide targeted therapeutic services to children and their families in the wake of a crisis or loss.   
Are your services only for patients or are they open to the public?
Every week, we offer caregiver consultations that are open to the public. This is a service where parents or guardians of a child can meet with one of us to discuss how grief is impacting their child. We work with parents to develop strategies to communicate a loss with a child. We collaborate on finding honest, age-appropriate words to introduce these difficult topics and start a conversation with the child. Our group has found that when children have access to these honest, easy-to-understand explanations, they can feel more supported.  We also help parents identify potential grief triggers and signs that a child may need more support.
Our community-based programming (or "family nights") is also open to the public. These events are usually held at different establishments in the community and are a great way for families dealing with the death of a loved one to discuss their experiences in a fun and relaxed atmosphere – usually over food and games. Families are welcome to attend as many of these events as they need.
When it comes to our ongoing grief counseling sessions, those are designated for children who receive their primary care at BMC. We work to fully support these children and their families when they are presenting with more complex grief responses.
What is the most common misconception about grief that you'd like to dispel?
There are so many – it's hard to choose! One of the biggest misconceptions about grief is that it only applies to the death of an individual. In reality, people grieve losses every day that have nothing to do with death. For example, the physical displacement of a parent from a home due to divorce can significantly impact the family dynamic and cause grief in some children. For adults, a sudden diagnosis or loss of personal property can elicit feelings of grief because it's a deviation from normalcy – which is something we grownups thrive on.
How did your team recognize National Children's Grief Awareness Day?
The big day is always recognized on the third Thursday of November because the holiday season can be a challenging time for grieving families. This year, we hosted a "Cooking through Grief" night at the Teaching Kitchen in Yawkey Cafeteria. The event was open to the public and designed to help families gain more understanding about how the mind and body are connected and how adopting healthier habits in the kitchen can lead to better mental health.  
Four families attended the event and worked together to make chicken soup, a meal inspired by the book Tear Soup, which provides a recipe for healing. Each participant took time to remember the special person they lost by sharing that person's favorite meal with the group and then explaining how those small memories have become a significant way in which they commemorate them today.
"Cooking through Grief" is just one example of some of the programming we offer - we have many other opportunities coming up in December and into the New Year. If a family is interested in learning more about these events or participating in one, they can call our program directly at 617-414-4005.
What do you like to do for fun outside of work?
Patterson-Fede: I have a toddler who totally consumes my life! Being a new parent is a ton of work but witnessing every step of her development is a lot of fun for me.
Rodriguez: When I was in school, I took a film photography class and fell in love with it. So, in my personal time, I really enjoy exploring the Boston area with nothing but my digital camera and good eye.
Duval: I recently moved to Boston from Seattle so aside from exploring the city, I love hiking, camping, and spending time outdoors. 
Making BMC Friendly to All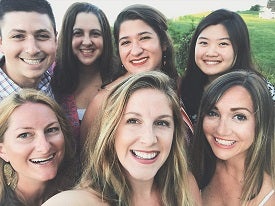 Autism spectrum disorder (ASD) is a neurodevelopmental disability associated with core deficits in social communication and restricted, repetitive behaviors. As a result of this diagnosis and its associated comorbidities, individuals with ASD see healthcare providers more frequently than their typically developing peers.
Complicating this further, providers report a lack of knowledge and comfort on how to best interact with patients who have ASD and the current American academic medical curriculum does not sufficiently educate students on how to adapt care to meet the unique needs of patients this diagnosis. In national studies, caregivers to children with ASD report difficulties using healthcare services, a lack of shared decision making with clinicians and safety concerns for their child while in the hospital.
Boston Medical Center is not immune to these issues. Therefore, to help better address the needs of patients with autism, the hospital launched its Autism Friendly Initiative (AFI) in 2017 to ensure that all patients, including those with ASD, can access exceptional care without exception.
The AFI is one arm of BMC's Autism Program, which works to assist and empower individuals and families affected by ASD and related disabilities through direct patient support, provider education, and community-based outreach. The AFI brings together a multidisciplinary Steering Committee to ensure that the work is empirical, effective, and sustainable.
The committee's initial work included needs assessment, which encompassed a literature review, input from stakeholders, and caregiver focus groups to learn of families' first-hand experiences within health care systems. The AFI also conducted a hospital-wide survey to assess staff and clinician comfort and knowledge in caring for patients with ASD. 
"We wanted to think broadly about the whole system," says Shari King, MA, MPH, Program Director of the Autism Program. "From the second a patient steps on campus, their experience is formed by every interaction they have. Therefore, our Committee involves not only pediatric providers, but also adult care providers, Pharmacy representatives, Public Safety, Facilities, and others."
Autism-friendly Initiatives
The initiative focuses on three domains: tailored staff trainings, environmental adaptations, and communication tools meant to improve the care experience for patients with ASD.
Training Available to All
The first part is training available to any staff member at BMC, and can be tailored to individual teams. In addition, training is required for all medical, dental, and genetic students at Boston University. All new security officers on campus are also trained on ASD and how to best intervene when circumstances with patients escalate.
Topics of the training include fundamental basics of ASD (diagnostic criteria, phenotypes, and manifestations); barriers faced by patients with ASD and families in the health care setting; and strategies to facilitate interactions with ASD. The training also includes a parent panel, which provides critical insight into the family experience of navigating the hospital for a patient with ASD.
"Our trainings are designed to be beneficial for all employees wherever they sit," says King. "We feel that everyone should have the baseline ability to provide high-quality care to any patient with ASD."
Sensory Toolbox
The Initiative also distributed a "sensory toolbox" to approximately 20 hospital departments across BMC. It's a physical box filled with tools that can help calm or distract patients during stressful office visits or procedures, such as bubbles, light-up toys, weighted blankets, and noise-cancelling headphones.
According to Alexander Friedman, MPH, Project Coordinator of the Autism Friendly Initiative, the boxes are in high demand. Some departments report that they're in use every day, are now a part of routine clinical practice, and that many families will request them on subsequent visits.
Autism Support Checklist
The autism support checklist (ASC) is a questionnaire that collects unique patient information such as communication abilities, behavioral triggers, calming strategies and safety needs. This information is noted in a patient's medical record, ensuring it's available for all providers a patient sees, regardless of any prior relationship with the patient.
"Even if a clinician recognizes that a patient has ASD, the heterogeneity and breadth of the disorder means that the needs of a patient tend to be highly individualized.  The ASC is intended to help visits go more smoothly by ensuring that care to patients can be uniquely tailored to their needs," says King.
The ASC is translated into five languages (Spanish, Portuguese, Arabic, Simplified/Traditional Chinese) and can be downloaded for public use from the BMC website. 
What's Next?
The Autism Friendly Initiative is working to strengthen its reach by continuing to scale up interventions throughout the campus, expand work into the adult space, and explore new partnerships within BMC and beyond.
"It is vital that we continue to gain valuable insight from our patients and staff  to inform the expansion of this important work and ultimately contribute to a much-needed emerging body of best practices in the care of patients with ASD," says King.
Awards and Accolades
BMC Health System Named to Top 100 Women-led Businesses in Massachusetts List
Boston Medical Center Health System, under the leadership of president and CEO, Kate Walsh, was named #5 on a list of the Top 100 Women-led Businesses in Massachusetts by the Globe Magazine and The Commonwealth Institute. The list is created by examining each company or nonprofit's revenue or operating budget, number of full-time employees, workplace and management diversity, and innovative projects.
BU Medical Group Celebrates Seven Clinical Excellence Award Winners
The Boston University Medical Group Clinical Excellence Awards annually honor members who have made exceptional contributions to BUMG's clinical mission and who have exemplified their core values through outstanding clinical work. This year's winners are:
Advanced Practice Provider Excellence: Cherisse Carlo, NP (Internal Medicine) and Lisa Mendelson, NP (Hematology Oncology)
New Faculty Excellence: Sabrina Sanchez, MD, MPH (Surgery) and KC LaMattina, MD (Ophthalmology)
Excellence in Care: Manishi Desai, MD (Ophthalmology) and Soukaina Adolphe, MD (Pediatrics)
Excellence in Leadership: Eileen Costello, MD (Pediatrics)
Quality and Patient Safety Week Poster Awards
During this year's 6th Annual Quality and Patient Safety Week, nine posters were given awards. The posters represent quality and patient safety projects from across the hospital. The winners are:
Implementation of a Pharmacy-driven Protocol for the Inpatient Administration of Darbepoetin: Hope Serafin
Improving Emergency Department Admission Medication Reconciliation Workflow Efficiency: Natalija Farrell, Bryan Gendron, Erin Smith
A Multidisciplinary, Collaborative Improvement Effort to Optimize CRRT Workflows in Adult ICU Patients: Megan Feeney
Depression Remission & Response: Development & Implementation of a Workflow to Address Positive PHQ-9 Screens at South Boston Community Health Center: Jacqueline Perry
Reducing Blood Culture Contamination Rates in the ED: Maureen Plunkett, Jillian Robar, Lauren Nentwich, William Baker, Chris Andry, Andrew Berens, Rumunda Holder, Beverly Orr, Billie Chan, Karin Rallo, Kathy McGinn, Nelson Figueroa
Improving Verbal Hand-Offs in the BMC Pediatric Emergency Department: Bethasbee Stone, Grace Ye, Charise Freundlich
Implementation of an Autism Support Checklist (ASC) at Boston Medical Center: A Pilot Intervention: Belinda O'Hagan, Alexander Friedman, Lauren Bartolotti Busa, Shari King
Increase Nuclear Medicine/ PET Cardiac Outpatient Completion Rate: Donna Veronelli, Ian Mackler, Gemma Doherty & Jessie DeGraan
Achieving Meaningful HF Readmission Reductions In A Safety Net Hospital: Deborah Whalen
Daniel Alford Receives John P. McGovern Award for Excellence in Medical Education
Daniel P. Alford, MD, MPH, Director of the CARE Unit and Director of the SCOPE of Pain Program, has received the John P. McGovern Award for Excellence in Medical Education from the Association for Multidisciplinary Education and Research in Substance use and Addiction (AMERSA). The McGovern Award is AMERSA's highest honor and recognizes exemplary leadership in the fields of substance use education and research.
Emelia Benjamin Receives Two Awards from the American Heart Association
Emelia J. Benjamin, MD, ScM, a cardiologist and Vice Chair of Faculty Development and Diversity in the Department of Medicine, has received two awards from the American Heart Association.
The first is the Laennec Clinician/Educator Lecture, which recognizes her contributions and achievements in the field of clinical cardiology.
The second is the Council on Genomic and Precision Medicine Distinguished Achievement Award, which recognizes Benjamin's substantial professional contributions to genomic and precision medicine.
Emelia Benjamin Honored with 2020 Alliance for Academic Internal Medicine Award
Emelia J. Benjamin, MD, ScM, a cardiologist and Vice Chair of Faculty Development and Diversity in the Department of Medicine, has received the 2020 Alliance for Academic Internal Medicine (AAIM) Diversity, Equity and Inclusion Award.
The award is presented to an individual who has effectively improved diversity within a medical school or community teaching hospital or who has worked to ensure patients of all races and ethnicities receive the highest quality of care.
David Coleman Awarded Robert H. Williams, MD, Distinguished Care of Medicine Award
David L. Coleman, MD, Chairman of the Department of Medicine, will receive the 2020 Robert H. Williams, MD, Distinguished Chair of Medicine Award from the Association of Professors of Medicine (APM). This award is presented annually to a physician who has demonstrated outstanding leadership as the chair of a department of internal medicine.
Laurence H. Beck, Jr. Receives Distinguished Researcher Award
Laurence H. Beck, Jr., MD, PhD, a nephrologist, has been named as a winner of the Distinguished Researcher Award from the American Society of Nephrology. The award is one of the Society's Midcareer Awards, which recognize substantial contributions to and leadership in the area of accomplishment.
Return to BMC News