BMC Receives Grant to Reduce Opioid Deaths in MA Communities by 40 Percent in Three Years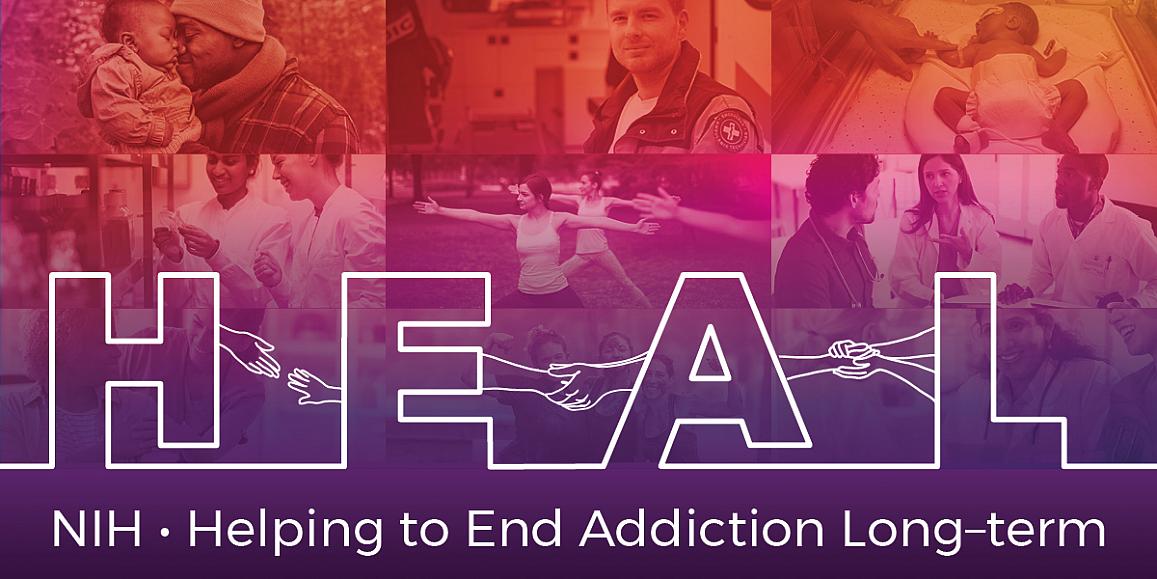 Boston Medical Center has received an $89 million research grant from the National Institute on Drug Abuse (NIDA) to lead a study aimed at reducing opioid overdose deaths by 40 percent in Massachusetts communities heavily impacted by the opioid crisis over the next three years. This grant is the largest ever awarded to BMC by NIDA and follows a highly competitive process that included many leading academic medical centers from across the country. 
BMC's study is part of the National Institutes of Health's HEAL (Helping to End Addiction Long-term) Initiative, a bold, trans-agency effort to speed scientific solutions to stem the national opioid crisis. Led by Jeffrey Samet, MD, MA, MPH, Chief of General Internal Medicine at BMC, researchers will study innovative addiction treatment interventions in order to create a national model aimed at curbing the opioid crisis.
"The opioid crisis in Massachusetts has been devastating, as it has been across the country," said Samet. "This research study is a major step forward. We will take what we've learned at Boston Medical Center and across Massachusetts over the past 20 years and work with our partners to bring those initiatives together to make a serious dent in the overdose death rate. It means pulling out all the stops."
The approach funded by this grant builds on existing BMC partnerships to identify people with and at risk for opioid use disorder (OUD), provide overdose risk reduction, and foster access to medication for OUD for high-risk individuals. BMC will partner with 16 communities across the state to test the impact of Office-Based Addiction Treatment (OBAT) and the deployment of additional interventions. Eight sites will implement OBAT and eight will implement OBAT and additional programs, such as community education, accelerated access to medication during hospitalization, jail, and detoxification as well as prevention and intervention programs in communities, schools, and doctor's offices.
The effort also includes a Community Advisory Board to ensure that that the voices of the community are included in the interventions.
This grant recognizes BMC's leadership and expertise in addiction treatment, research, and education, and our long-standing focus on creating strong partnerships with our peers and community-based organizations and institutions. It will help further our efforts to bring these best practices to communities across Massachusetts and ultimately the United States.
"I am so proud that we will be leading this important initiative to study the impact of clinical interventions and programs, many of which have been developed by teams at BMC, in communities across the state to reverse the trajectory of this national public health crisis," said Kate Walsh, president and CEO. "It is thanks to the hard work, dedication and commitment of many people across the hospital that BMC was chosen to lead this critical work."
Meet Your VP: Jamie Watson, Vice President of Revenue Cycle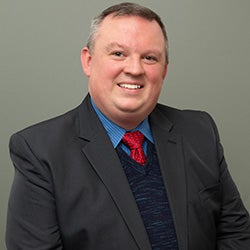 The BMC Brief sat down with Jamie Watson, who became BMC's Vice President of Revenue Cycle in 2018, after a move from Savannah.
Q: Your title is VP of Revenue Cycle. How would you explain revenue cycle to someone who knows nothing about health care?
A: The job of Revenue Cycle is to ensure we obtain all the information necessary to get reimbursed for the high-quality care we deliver to patients. We work with both BMC and the Boston University Medical Group to do this.
I oversee Pre-registration, Registration, Financial Assistance, Medical Records, Revenue Integrity, Coding, Clinical Documentation Improvement, Insurance Billing, Payment Posting, and Patient Collections, so Revenue Cycle definitely covers a wide area.
We help register patients correctly, get their insurance information, work with insurance companies to get paid correctly, and follow up with patients if they owe money to BMC, all to ensure that we're fully reimbursed. 
Q: Revenue Cycle has had a big year! Can you tell us about some of the projects that were done?
A: Just before I got here, in May of 2018, the team completed our RevUp! project and went live with Epic revenue cycle applications. This brings all our revenue cycle activities onto one shared patient record. By having one complete record per patient, we're able to leverage the information that BMC and our physician practices collect to make clinical decisions – and billing and reimbursement – easier. RevUp! replaced SDK, GE, and a number of other applications.
Since I joined, a big part of what I've been working on is forming strategic vendor relationships to close gaps in the revenue cycle. I'm also continuing to look for opportunities to increase collections and reduce insurance denials. This leads to better care for our patients and a better financial outlook for BMC.
Q: What are your top three priorities for Revenue Cycle for the rest of the year?
A: The first is to continue the consolidation of functions and move people into the new Quincy office. By putting Revenue Cycle all in the same location, it will allow us to continue to improve and streamline our efforts, as well as ensure best practices. The new space is really nice – it's bigger and better suits the needs of our teams. It has free parking and onsite gym, too.
The second is a project we're launching with a product called 3M 360. This will put our coding and clinical documentation teams on the same user interface, integrated within Epic. It will incorporate all physician queries and document reviews into the Epic record, which will help us ensure that we're accurately capturing all diagnoses and appropriate clinical indicators. This ultimately will lead to improved performance on many quality metrics.
The third is to develop a long-term vision for Revenue Cycle at BMC, with the goal of creating a best-in-class revenue cycle division.
Q: What is something people don't know about your department?
A: One thing people probably don't realize is that we work very closely with the Care Management team. We do this to make sure we get authorizations for services and bill at an appropriate level of care.
By working closely together, we're able to coordinate clinical appeals. This results in our ability to fight denials, and helps us recapture tens of millions of dollars a year in revenue. It also helps us provide better, more comprehensive and cost-effective care to patients.
Q: What role do employees outside the department play in revenue cycle?
A: The biggest role that our clinical partners play is to ensure we have complete and accurate clinical records of the care we provide. This helps us generate claims that most accurately reflects the highly complex care we deliver every day to the patients we serve.
Complete and accurate clinical records help us formulate the most accurate bills, so we can get the most appropriate reimbursement for the care we provide. In addition, it helps our patients get the care they need covered by insurance.
Q: What do you like most about working at BMC?
A: I love working for a hospital that serves the underserved and has such a strong, community-driven mission. I love looking for creative ways to find funding sources to pay for the work we do in our community, so that we can continue to sustain the work.
Q: What do you do for fun outside work?
A: My husband and I like to travel. We love to explore new cities, and learn about new cultures and how people live in other parts of the world. I went to Madrid last year, and it was a fantastic experience.
We also have an RV, and love camping and spending time exploring with our dogs.
Tackling the Next Potential Public Health Threat at the NEIDL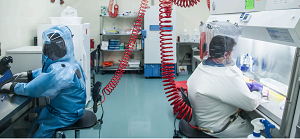 Many people don't know what goes on in the large concrete and blue glass building set back from Albany Street. Or they may have heard rumors of government experiments or dangerous pathogens.  While it is true that the lab works with the government and does study potentially dangerous pathogens, there's nothing secretive or dangerous about the work itself. Rather, scientists at the National Emerging Infectious Diseases Laboratory are hard at work finding ways to protect all of us from diseases as mundane as the flu and as rare as the Marburg virus. 
The NEIDL (pronounced needle), as it's known, is part of a national network of facilities studying infectious diseases that are—or have the potential to become—major public health concerns. It includes a biosafety level 4 (BSL) lab, which means it can study pathogens that have no therapeutics or vaccines, can be transmitted through the air, and cause severe to fatal disease in humans.  Because many disease processes of emerging and infectious diseases are not well-understood, they require labs that have containment abilities to study. That makes the NEIDL one of the few laboratories in the United States where research on certain emerging pathogens can be performed safely. The NEIDL does not conduct any classified research, and all projects reviewed by committees, including an Institutional Biosafety Committee (which has community representatives) and the Boston Public Health Commission.
"Emerging pathogens are a true public health threat around the world," says Ronald Corley, PhD, the director of the NEIDL. "Pathogens emerge around the world, but someone exposed anywhere can land in the U.S. within 36 hours after exposure. This means we need to be able to respond rapidly with diagnosis, treatment, and containment. The research done at the NEIDL allows us to have that response."
Most other BSL 4 labs are government laboratories; while there are three other non-government facilities in the country, the NEIDL is the only one on an academic campus, as part of Boston University. This allows them to engage scientists from a wide variety of backgrounds, from pathology to infectious disease to engineering, on problems relating to emerging and infectious diseases. Together, these scientists are able to tackle emerging and infectious diseases from numerous angles. Because researchers know so little about many of these diseases, engaging experts across various fields allows them to make more progress. 
The NEIDL is also currently collaborating with the Center for Regenerative Medicine (CReM), a joint effort between Boston University and Boston Medical Center that works on different aspects of developmental biology, stem cells and cell lineage specification with a major focus on induced pluripotent stem cells.
"We're particularly excited about the collaboration with CReM," says Corley. "We need innovative tools in order to understand how these pathogens cause disease, and CReM can provide some of the most innovative tools out there."
The NEIDL also collaborates widely with other institutions, both nationally and internationally. For example, one of their researchers works with other academic organizations to understand the structure of enzymes that copy genes. They also work with government agencies to test the next generation of vaccines and therapies.
"Our goal is just to bring the best minds to study the special problems that these pathogens present," says Corley.
The research done at the NEIDL and through these collaborations focuses on how infectious and emerging pathogens cause disease, how they can be diagnosed, and how to best develop multi-disease therapeutics to treat those infected. For example, a group of faculty members, including computational biologists, virologists, and people working in regenerative medicine are studying why Ebola and the Marburg viruses make people very sick, but the bats who carry these diseases do not get sick. This research can potentially lead to new therapeutics. Another group is studying how mosquito-borne viruses are transmitted, with the hope of creating a vaccine that would protect people and animals from being infected by these viruses.
"If you look at what's happened with HIV over the last 30 years, research has turned it from a lethal virus into a disease people can live with for decades," says Corley. "That's what we want to do with other pathogens."
The NEIDL intends to do this by continuing to recruit faculty and students with a wide range of expertise in particular pathogens and types of problem-solving. They are also committed to training the next generation of scientists to work safely with emerging pathogens.
Currently, there are approximately 130 staff members, half of whom are on the science side, and the other half of whom work in environmental health and safety, facilities, and security. The NEIDL plans to increase the staff to approximately 300 employees over the next few years, primarily on the science side.
"People are worried about pandemic flu, or virus X, but we don't know what we'll come across even next year," says Corley. "But the research program we've built at the NEIDL can help us respond rapidly to whatever comes next. We've developed a national and international reputation for excellence in emerging and infectious disease research, and will continue to build that reputation."
Celebrating the Many Faces that Create our Greatness at Diversity & Inclusion Month
Diversity and inclusion are at the heart of BMC. While BMC has had a longstanding annual Diversity and Inclusion Week, this year the hospital dedicated the month of April to celebrating the unique characteristics and global cultures that make our medical campus such a special place to work and receive care. Events throughout the month focused on improving our understanding of each other's differences so that we can strengthen our culture of respect and enhance our empathy towards colleagues, patients, and their families.
Event Recap: Voice of the Transgender Woman: Gender Competency Training with Dreya Catozzi
Week two of Diversity and Inclusion Month, which was focused on gender identity, featured a workshop entitled, "Voice of the Transgender Woman: Gender Competency Training with Dreya Catozzi."
Dreya, who is a patient navigator for BMC's Center for Transgender Medicine and Surgery and the Executive Director of the Urban Trans Women Resource Center, began by giving an overview of her story, because, as she said, she can only tell her story, not speak for all transgender women or women or color. Despite earlier hardships, Dreya says that she doesn't regret past actions, because they brought her to where she is now, with the ability to help her community thrive.
Having your basic needs met, as well as having a support system, allows people to thrive, says Dreya. But for many transgender people, especially transgender women of color, these can be hard to obtain. While the ability to have basic needs met has improved over time for many, there are still barriers.
And those barriers have a wide variety of negative effects. For example, transgender women are more likely to live in poverty, experience psychological distress, have a fear of seeking health care, and have had a negative health care experience than the average population. In fact, studies show that approximately one-third of transgender people are below the poverty line.
In addition, while the increased visibility for transgender people over the last few years has been largely positive, it also brings increased vulnerability. This includes an increase in murders of transgender people over the last few years, particularly transgender women of color.
"Ignorance leads to so many issues," said Dreya. "Homeless, death – fast or slow. You feel like there are no doors open to you."
Dreya's goal in doing educational sessions such as this – and what she asks of others – is to build resources and educate others so that the transgender community can thrive, not just survive.
Dreya left the audience with her tips for making everyone, but particularly transgender people, feel more comfortable in all spaces, in our increasingly-diverse world:
Don't make assumptions about anyone's gender.
Treat everyone with compassion, understanding, and respect.
If you're unsure of someone's preferred pronouns, just use their name.
Accept fluidity and non-traditional gender presentations.
It's okay to ask if you have questions. Just make sure you ask respectfully.
"It's really not that hard to respect people," said Dreya. "Respect is the biggest thing, whether or not you agree with people's preferences."  
Event Recap: Voice of the Black Male Doctor in Medicine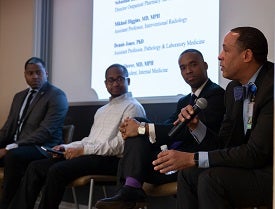 Week three of Diversity and Inclusion Month focused on "from the front lines." This week included a panel discussion entitled "Voice of the Black Male Doctor in Medicine," with panelists Sebastian Hamilton, PharmD, MBA, Director of Outpatient Pharmacy; Mikhail Higgins, MD, MPH, an interventional radiologist; Dennis Jones, PhD, assistant professor of pathology and laboratory medicine at BUSM; and Jason Sherer, MD, MPH, a senior resident in General Internal Medicine.
John Polk, MD, assistant dean for Student Affairs at BUSM and the moderator for the panel, kicked things off with an overview of the importance of recognizing the voice of the black male in medicine.
Health care disparities disproportionately affect black people, a problem that is compounded by a lack of black people working in health care. And yet, there are fewer black males currently attending medical school than there were in the 1970s – no other group has had a similar decline relative to the general population.
The panelists spoke about this problem and potential solutions. For example, all panelists called out the importance of mentorship for black males in medicine. By creating a community, you can find the support you need to continue on in a potentially lonely and isolating situation. Mentors don't necessarily have to be someone who looks like you, but they should understand your position. In fact, it's best to have a team of mentors for different areas in your life.
And once you've made it through, it's important to pull others up with you, said the panelists. Mentor others, work to create opportunities for others, and ensure you are modeling success.
"You want to get to a point where you recognize your differences, but also realize you have something to contribute," said Polk.
Panelists also spoke about the privilege of their position and the help they can provide to others.
Sherer recounted an experience he had treating an 80-year-old black woman. It was the first time she was treated by someone of her own race, which was an important experience for her.
"Health is a pillar of happiness," said Higgins. "It underlies everything else. In this profession, we have the privilege of caring for people's health. But health disparities keep people from happiness. I feel fortunate that I can be an advocate for patients."
Awards and Accolades
BMC Wins Practice Greenhealth Awards
For the third year in a row, BMC has received a Top 25 Environmental Excellence Award from Practice Greenhealth! This is the highest honor Practice Greenhealth gives, and exemplifies BMC's environmental excellence and groundbreaking achievements and innovation in health care sustainability.
In addition, BMC won a Circles of Excellence award from Practice Greenhealth in climate. This award honor up to ten of the highest performing hospitals nationwide in each area of sustainability expertise. The climate award highlights visionary hospitals taking the lead on overall climate program development, to take action to mitigate the health impacts of climate change.
Kettie Louis, DNP, Honored as a Health Equity Hero
Kettie Louis, DNP, a nurse practitioner in Obstetrics and Gynecology, will be honored as  Health Equity Hero by EqualHealth. Louis is part of the first group to receive this award, which honors her leadership in EqualHealth and work towards inter-professional collaboration and training. Louis is a board member and long-time member of the nursing team at EqualHealth, where she contributes to nurse training programs and research on nursing education in Haiti. She is co-leader of EqualHealth's Women's Leadership Roundtable.
EqualHealth was founded in the immediate aftermath of Haiti's devastating 2010 earthquake with the mission of supporting the next generation of health professional leaders in Haiti.
Deborah Carey, RN, Receives a DAISY Award
Deborah Carey, RN, a NICU nurse, has received a DAISY Nurse Leader Award. This award recognizes the clinical skill and especially the compassion nurses provide to patients and families all year long. Nurses are nominated by any member of their organization. Carey was recognized for her dedication to patients and families in the NICU, as well as her investment in training the next generation of NICU nurses.
News of Note
Michael Olsen Joins BACO as Executive Director
Boston Medical Center Health System recently welcomed Michael Olsen as Executive Director of the Boston Accountable Care Organization (BACO). BACO is one of the four ACOs for which BMC HealthNet Plan serves as the managed care organization partner. In 2018, the State redesigned the MassHealth program to include an ACO model under which provider organizations are accountable for the cost and quality of care.
A seasoned health care management executive, Olsen most recently served as Senior Director of Network Strategy and Contracting at Beth Israel Deaconess Care Organization. He also held leadership positions at CIGNA Health Care and Partners HealthCare. Olsen holds a Bachelor of Arts in Business Administration from the University of Washington and Master of Business Administration from the Darden Graduate School of Business Administration at University of Virginia.
Toby C. Chai, MD, Named Chief of Urology and Professor and Chair of the Department of Urology
Toby C. Chai, MD, has been named Chief of Urology at Boston Medical Center, and Professor and Chair of the Department of Urology at Boston University School of Medicine. He also will serve as President of Boston University Medical Center Urologists, Inc. Chai will join BMC and BUSM on August 1.
Currently, Chai is Professor of Urology and Obstetrics, Gynecology, and Reproductive Sciences at Yale University School of Medicine. He serves as Vice Chair of Research in the Department of Urology and Co-Director of the Female Pelvic Medicine and Reconstructive Surgery Program at Yale New Haven Hospital.
Chai completed his medical degree at Indiana University School of Medicine, his urology residency at University of Michigan Medical Center, and a fellowship at University of Virginia. Prior to joining Yale, he held the John D. Young Professorship in Urology at the University of Maryland School of Medicine.                                                              
Return to BMC News