The BMC Brief, Volume 7, Issue 7
After Mustafa's son told Mustafa two men tried to lure him into their car during a routine trip to the store, the father of five quickly realized it was a kidnapping attempt and knew it was becoming more dangerous for his family to live in Iraq. Mustafa had been working with an organization advocating for humanitarian efforts and freedoms. As a result, he and his family encountered threats to their safety and well-being. "Some people didn't like freedom," he explains. "They don't know how to love other people."
Finding Home: A Refugee's Story

I said to my son, 'Just be careful next time,' but actually I was very scared."
After Mustafa's son told Mustafa two men tried to lure him into their car during a routine trip to the store, the father of five quickly realized it was a kidnapping attempt and knew it was becoming more dangerous for his family to live in Iraq. Mustafa had been working with an organization advocating for humanitarian efforts and freedoms. As a result, he and his family encountered threats to their safety and well-being. "Some people didn't like freedom," he explains. "They don't know how to love other people."
Mustafa and his family made the difficult decision to leave their home in Iraq, and set their sights on the Boston area where his brother lived. "A big reason I came to the United States was to be sure my family would be safe," says Mustafa. However, it was not without its struggles. "When you move to a new place, you leave many things behind you, like your history, friends, family. Everything," he adds. "I faced many challenges."
There to help Mustafa and his family was the Immigrant and Refugee Health Program at Boston Medical Center, where Internist Sarah Kimball, M.D., is the medical director. "We see our program as a place where people can have both their health care needs met and a whole host of social needs, like immigration navigation and medical case management," notes Kimball. "We put in place the pieces we know are particularly challenging for our immigrant and refugee patients so they can be as healthy as any of the rest of us in Boston."
One of Kimball's first steps in caring for Mustafa was to perform an examination to assess his overall health. It was then Kimball discovered Mustafa had high blood pressure and diabetes. "I was surprised and I was scared," Mustafa recalls. While medication was needed to treat Mustafa's conditions, Kimball knew it was not as simple as writing a prescription for someone who is still acculturating to life in a new country. A core component of the program is to factor how all aspects of a patient's life could impact disease management. "It can be hard for patients to worry about the silent conditions when they're worried about safety, their jobs, being able to understand people in their community," she explains. "You can't just look through a biomedical lens."
While addressing Mustafa's chronic conditions from a medical standpoint was important, it was just one piece of his care. Kimball also looked at Mustafa's life from a broader perspective, like employment and housing, as they are all connected to one's health. "Often, we have to think outside of the box in terms of what else has to be in place in order to take care of something that could be fairly straightforward, like high blood pressure," she notes. "We often say immigration status is a social determinant of health and it's really predictive of what services patients can access, what their experience is…We can't just focus on medical issues. We have to focus on people's abilities to acculturate, like their comfort in their neighborhood and sense of safety."
The wraparound care approach came as a welcome surprise to Mustafa. "When you hear of BMC, you think of a center that takes care of medical things. But I found out they take care of everything around you," he says. To facilitate the family's adjustment to a new area, the program assisted them with learning English, applying for green cards, teaching them about services throughout the hospital and community, navigating the education system and even providing career advice to Mustafa's college-aged daughters. Their medical team also helped with the tough New England winters by providing Mustafa's children with warm winter coats—having arrived in January, the family was not yet prepared for the cold temperatures. One instance which struck Mustafa was when his son's pediatrician asked if he needed a bicycle, to ensure he was playing outside.
As Mustafa and his family continue to deepen their roots in the United States, it feels more like home each day and they are hopeful for what lies ahead—something Mustafa says would not have been possible without BMC. "BMC does not just take care of our health," he concludes. "They are taking care of my family's future."
You can hear more about Mustafa and his story here.
In Their Words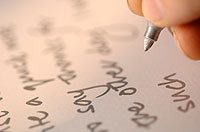 BMC frequently receives letters from patients sharing their experiences with the hospital. This is an excerpt from a letter was sent to Kate Walsh, president and CEO.
Dear Ms. Kate Walsh,
I've never written to a C.E.O. before. I don't know how to address you with the respect you and your hospital truly deserve. I also don't know proper protocol. So respect is in, and protocol is out.
I recently had major surgery at BMC. Dr. [Jennifer ] Tseng removed a growth on my pancreas the size of a small apple. Operation went very smoothly – quick recovery and minimal pain. I believe only Tylenol was needed. As good as that sounds, it's not why I'm writing this letter. I'm writing because of the people working at BMC. I'm talking about the people parking my car. I'm talking about the people cleaning my room. I'm talking about everybody I came into contact with. I even got a hug from my surgeon (totally cool!).
Kate, here's where protocol goes out the window and I inject some humor.
Kate,
Guess what. You have black people, white people, and 30 shades in-between. All working together.
Kate,
Guess what else. You have different religions working together. There's Christians, Muslims, Jews, and every other religion working together.
Hey Kate,
Guess what else. They all get along. All these different colors, all these different religions, they all get along. I could see the kindness and respect they had for each other. That kindness and respect was given to me and everyone else.
Kate,
The diversity at your hospital is awe-inspiring. It gives me hope that we as humans can someday live in the same harmony as your small city of people at BMC.
With all my respect,
Al
Three Rivers, MA
P.S. Kate, one last thing. BMC could "teach the world to sing!" I give all my heart to everyone at BMC. There isn't enough paper for me to express the goodness I feel about everyone at BMC. So I won't, but it will always be in me.
Five Things You Might Not Know About BMC HealthNet Plan

With the launch of MassHealth ACO program in March, you may have been hearing more about the BMC HealthNet Plan and how we are working even closer together as an integrated health system. Working together as a system is critical for us to be successful in the MassHealth ACO program and moving forward will allow us to better care for and serve our patients.  While some of you may work regularly with colleagues at BMC HealthNet Plan, we know that there are likely others who have questions about what exactly the plan, also known as BMCHP, is and how we work together. The BMC Brief is here to help, with five things you might not know about BMCHP.
BMCHP is part of the BMC Health System.
While you might think of only the hospital when you hear "BMC," this is only one way we help care for patients. Boston Medical Center and BMCHP, along with 14 community health centers, are part of the broader BMC Health System that helps care for patients across Massachusetts in a number of ways.
Another important organization within our system is Boston Accountable Care Organization (BACO). a network of providers that serves BMC and community health center primary care patients, including those covered by some commercial payors and the MassHealth ACO program. BMCHP partnered with BACO to participate in the State's MassHealth ACO program with the goal of improving patient outcomes by promoting healthy behaviors, developing population health management programs, improving data exchange, and promoting
BMCHP has a long history of serving BMC patients and others in New England.
BMCHP was established in 1997 by BMC to support the mission of the hospital, making it one of the state's original managed care organizations. At the time, Massachusetts was considering other ways to offer coverage to low-income families and individuals, and BMC saw an opportunity to help serve its patients who use MassHealth, the state's Medicaid program, by creating its own managed care organization. Under the MassHealth program, people get a choice of plans for insurance coverage – BMCHP is one of those choices.
BMCHP takes a population health management approach to help members stay healthy.
Instead of just paying for basic medical care, BMCHP develops plans to help improve the health outcomes of their members. They do this by assessing members' physical, social, and emotional health, as well as the health and needs of members' communities. With this information, BMCHP is able to help address social determinants of health, such as housing and food insecurity, including collaborating with physicians to ensure patient needs are met. They also set up complex care management and disease-specific management programs that provide members with personalized care. These programs all contribute to improving health outcomes and lowering costs.
BMCHP operates across Massachusetts and New Hampshire.
BMCHP is one of the largest managed care organizations in Massachusetts. It serves over 400,000 members in Massachusetts and New Hampshire, including approximately 240,000 MassHealth members and 70,000 Medicaid members in New Hampshire (where it's known as WellSense Health Plan). BMCHP also serves approximately 88,000 members through a commercial health plan available on Massachusetts' Health Connector. BMCHP has members in nearly every county in both Massachusetts and New Hampshire.
BMCHP also offers a Senior Care Option program.
In January 2016, BMCHP began participating in the Massachusetts Senior Care Options (SCO) program. Through this program, BMCHP provides comprehensive, integrated care for seniors who are 65 and older, are eligible for MassHealth Standard and who may also be enrolled in Medicare. BMCHP offers a model of care that coordinates and promotes coverage of specialized geriatric services that helps them better meet the specific needs of seniors, including through social support services, while reducing the cost of care. Currently, BMCHP serves members in five Massachusetts counties under this program: Barnstable, Bristol, Hampden, Plymouth, and Suffolk. They hope to expand across the state.
To learn more about the BMC HealthNet Plan, visit their website.
What do you do, Internal Medicine Education Administration Team?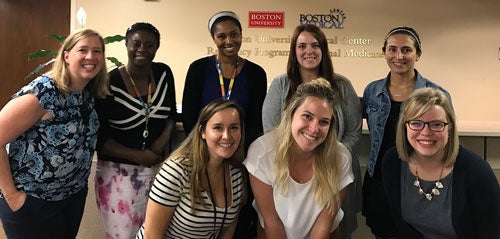 Q: What does your department do?
A: We are the administration team that oversees the internal medicine (IM) residency training program and the IM student clerkship experience. On the student education side, we're responsible for the medicine 1 and 2 clerkships, the sub-internship and advanced acting internship experiences, and internal medicine bootcamp. Bootcamp is a relatively new program for fourth year students. It's a two-week intensive experience designed to prepare students for internship through a series of simulation exercises.  
On the residency program side, we're responsible for all the operations of the internal medicine residency program, which includes primary care, categorical and preliminary tracks, as well as six individualized pathway options for specialized training in global health, HIV, quality improvement and patient safety, urban health, research through the Framingham Heart Study, and medical education. We are the largest graduate medical education training program at BMC. Altogether our student and resident education programs impact over 400 trainees in BU and BMC annually.
Part of our responsibilities is making sure that all these programs are compliant with ACGME and LCME regulations, which are the national governing bodies that oversee resident education and medical schools, respectively. We're required to collect and submit data routinely to ensure compliance and maintain accreditation.
We also work with a large group of core faculty to help improve skills by providing them with feedback on their teaching from all levels of trainees. We're very involved in faculty development programs, such as our annual medical education and leadership retreats.
Q: What's a typical day like for your department?
A: There's no typical day for us, but that's part of what makes our jobs fun. Our focus changes a lot depending on the time of year it is. We might be focused on recruiting a new intern class or orientation and onboarding or administering in-training exams.
We're very customer service-focused. We spend a lot of time responding to the needs of our customers, who are our students, residents, and faculty. We respond to a steady flow of inquiries via phone, email and/or in person. We also do a lot of troubleshooting!
For example, right now we're prepping for recruitment season. We're also working to improve our evaluation process, soliciting grand rounds speakers, updating our research database, working on our website, and planning a major alumni event. 
Q: We've heard you have a lot of team spirit! How do you keep that going?
A: Team spirit is the core of who we are and what we do here. We really embrace the diversity of our team and value that quality in our training program. That diversity contributes to our team spirit. We're always looking for ways we can be there for our trainees.
We always try to have fun. We work really hard in this office, but for most people, this is more than just a job. We're extremely passionate about the work we do here. It all stems back to people's commitment to the mission of BMC and their passion for medical education. That really unites us as a team.
And it's important for our wellness as a group to be able to have a little fun. These jobs can be stressful at times, so we do try to bring that team spirit.
Q: What's one thing you want staff to know about the Internal Medicine Education Administration team?
A: People might not realize what it takes to enroll 50 new interns each year. We review over 4,000 applications to the program and interview about 400 candidates. We don't conduct the interviews ourselves, but we organize all of the logistics involved in interviewing approximately 20 applicants per day. It requires the entire team and many, many faculty members to make this happen. It takes a village to recruit and train an intern, and we coordinate that village.
Also, because we're a large operation in terms of our training programs, that gives us the opportunity to seek out and develop a diverse set of skills amongst individual team members.  Each administrator on our team has specific areas of expertise.  This is unique as compared to some of the smaller training programs at BU/BMC. We have seven administrators total – five focus on resident education and two focus on student education.
Q: What do the core values mean to your team?
A: As a team, we embrace BMC's core values to the fullest. With respect to "many faces create our greatness," our team member's heritages represent various U.S. locations, Colombia, the UK, and Uganda. Recruiting a very diverse intern class every year is an important part of our operations. We also strive to embrace the diversity of our trainees in the program and find ways to support them. It's really at the heart and soul of what we do here.
We're a team that also moves mountains every day. We're very skilled at problem-solving and figuring out how to make things happen and how to make improvements for our training programs.
For example, in our onboarding process, we bring on 50 new interns each year. The onboarding process is a huge endeavor that involves many, many people at BUSM and BMC. We work very closely with the graduate medical education office and the faculty here. We also have to ensure that all interns are fully credentialed and troubleshoot any issues that arise in the process. We coordinate all of those moving parts to ensure that new interns have a smooth experience and can start seeing patients on day one. It takes the entire team to make that happen.
Our team also embodies the mission of BMC beyond their routine responsibilities. For example, we have employees who volunteer at the Pine Street Inn, the Outreach Van Project and with the Refugee Clinic. We touch BMC in many ways that go beyond the expectations of our positions.
Q: What does your department like most about being part of BMC?
A: The best thing is being able to see evidence of the quality experience our trainees receive. We love seeing them thrive and working closely with them to make that happen. The whole broad team we work with is great, from our team members to faculty, residents, and other administrators.
News of Note
Sebastian Hamilton Appointed Member of MA Board of Registration in Pharmacy
Sebastian Hamilton, director of outpatient pharmacy, has been appointed to the Massachusetts Board of Registration in Pharmacy for a term beginning August 1. The board tracks, provides codes for, and sets quality standards for pharmacists, pharmacy interns, and pharmacy technicians.
Department of Pathology and Laboratory Medicine Accredited
The Department of Pathology and Laboratory Medicine has been accredited by the Accreditation Committee of the College of American Pathologists after a recent on-site inspection. Both Anatomic Pathology and Laboratory Medicine passed the inspection with a less than one percent deficiency rate.
Xinning Li Voted into American Shoulder and Elbow Society
Xinning, Li, MD, an orthopedist at BMC, was voted into the American Shoulder and Elbow Society. The American Shoulder and Elbow Surgeons (ASES) is a society made up of leading national and international orthopaedic surgeons who are experts and specialize in the surgery of the shoulder and elbow. It has only 250 worldwide members, including approximately five in Massachusetts.
Return to BMC News