CAR T-cell Therapy Program
Please note that any messages left outside of clinic hours will be returned as soon as possible.
617.414.1542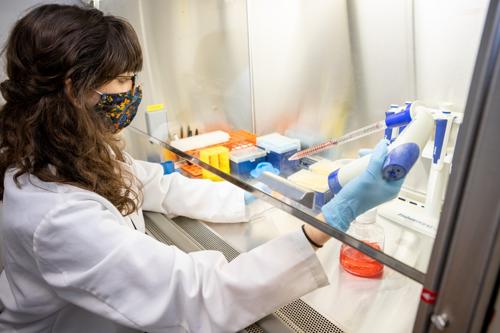 Welcome to the CAR T-cell Therapy Program at BMC. Chimeric antigen receptor (CAR) T-cell therapy is an innovative and powerful new cancer treatment now available at BMC. This cell-based gene therapy uses your own T cells (a type of white blood cell) to find and destroy cancer cells in your body. The program currently treats non-Hodgkin Lymphoma and in the future will be available to treat Multiple Myeloma as well. 
The CAR T-cell Therapy Program team consists of providers from across specialties within the hospital. We are equipped to care for patients with a diverse range of medical needs and circumstances. No matter what you may need throughout your journey, you can count on us to be here to treat you, not just your cancer.
Cancers Treated with CAR T-cell Therapy
At Boston Medical Center (BMC), the care of patients with multiple myeloma is a collaborative, multidisciplinary process. BMC's Cancer Care Center organizes its services around each patient, bringing together the expertise of diverse specialists to manage care from the first consultation through treatment and follow-up visits. Read more
Non-Hodgkin lymphoma (NHL) is a type of cancer that starts growing in the body's lymph system. The lymph system is part of the immune system that helps fight off disease. NHL is a general term for several types of lymphoma. The other major type of lymphoma is Hodgkin lymphoma. Read more
Our Team
The CAR T-cell Therapy Program at BMC brings together the expertise of a wide range of specialists. Led by Dr. Fabio Petrocca, a world-renowned expert in CAR T-cell therapy, our multidisciplinary team provides coordinated care between hematology, critical care, neurology, cardiology, blood bank, laboratory medicine, social work, pharmacy, and emergency medicine. 
Frequently Asked Questions About CAR T-cell Therapy
What is CAR T-cell therapy?
CAR T-cell therapy is a type of cancer treatment called immunotherapy that uses your body's own immune system to help fight cancer. CAR T-cell therapy is most often used after other types of cancer treatment have not worked, or if your cancer has come back after treatment. It is a one-time treatment that takes about two to three months to complete.
CAR T-cell therapy is approved by the U.S. Food and Drug Administration (FDA) to treat multiple myeloma and certain types of leukemias and lymphomas. Experts hope that in the future CAR T-cell therapies will be approved to treat other types of cancers.
How does CAR T-cell therapy work?
T cells are a type of white blood cell. They work in your body to help fight infection. In CAR T-cell therapy, some of your T cells are removed from your blood and modified in a lab to help them target cancer cells. Then they are returned to your body to help fight cancer.
The first step is collecting some T cells from your blood by a process called leukapheresis. It is done as an outpatient procedure in the clinic and takes a few hours. Then your T cells are sent to a lab, and a chimeric antigen receptor (CAR) to fight your specific type of cancer is added to them. This turns your T cells into CAR T cells. This process takes a few weeks. When it's done, the lab will send the T cells back, and they will be given to you in an infusion in the hospital. A few days before the infusion, you may receive chemotherapy to help CAR T cells fight the cancer. After the infusion, you will stay in the hospital for a week or longer of recovery time so that your doctor can watch for side effects. Your team will continue to monitor your health for several weeks after you return home.
What are the side effects of CAR T-cell therapy?
CAR T-cell therapy is a powerful cancer treatment that can cause side effects. In some cases, the side effects can be severe. Your health care team will watch you carefully for side effects for a few weeks after your treatment. Side effects may include:
Cytokine release syndrome (CRS), which can cause a high fever, chills, a fast heartbeat, headaches, trouble breathing, and muscle aches
Problems with the nervous system, including confusion, loss of balance, shaking (tremors), or seizures
Low blood counts
Increased risk of infection
Allergic reactions
An increased risk of bleeding
Latest from HealthCity
CAR T, a personalized cell therapy, has been a game-changer for certain blood cancers, but its high cost has been a huge barrier to equitable access.
HealthCity is Boston Medical Center's online publication that explores the most pressing issues in healthcare. At HealthCity, we believe that healthcare must transform itself to become more equitable, sustainable, and open source.