November 22, 2016 Volume 5, Issue 11
What Makes Us Great
What Makes Us Great

Over the past several months, BMC has embarked on a journey to define how we collectively talk about our sense of pride and our focus for the future, with a wide range of stakeholders working to identify how we perform and behave when we are at our best. 
"This is an exciting time for our hospital. We are positioning ourselves to shape the future and move forward by aligning many things we are already doing," says Kate Walsh, President and CEO. "We are 6,000 people with 6,000 voices and one goal. This is a platform for us to talk about who we are, what we stand for and show the world our BMC pride."
The work of the past several months has led to a defined and articulated purpose, three values, a vision for 2030, and an envisioned future.  Together, this framework reflects the foundation of our culture and provides a platform to reinforce strategy, accelerate performance, and create a positive work environment. The purpose and values are not newly created, but flow from BMC's already vibrant culture.
"Just as we have our own personal vision, it's important to have a clear organizational vision," says Alastair Bell, Chief Operating Officer. "Many hospitals have a vision, but great hospitals--- and our goal at BMC is to be a great hospital, have defined a mission that is meaningful and relevant to each person who works here."
BMC's cultural foundation begins with a purpose, which is the unifying objective that drives our culture, activities, and strategy, and sets the tone for growth and a successful future. For BMC, the purpose is to provide exceptional care without exception. This has been the longstanding purpose of BMC and will not change.
BMC's purpose is reinforced by three values, which guide beliefs, behaviors, and decision-making. The first of these values is "built on respect, powered by empathy." This value is about doing the right thing for our patients and each other every day, and putting yourself in other people's shoes to ask what matters to them and how you can make their day better. The second value is "move mountains." To move mountains, employees should not just ask why, but also why not when trying to meet our patients' needs, innovating and problem solving whenever necessary. The third value is "many faces create our greatness." This value recognizes the fact that diversity is one of the greatest strengths of the hospital, and that everyone has a unique story, which brings a valuable perspective and contribution.
Coming together as an organization around BMC's purpose and values will help the hospital reach its "audacious goal," which is to make Boston the healthiest urban population in the world by 2030. This is a long-term goal that will require rigorous and innovative work in the hospital and within our community. It will require changing the way we treat patients, from episodic care to keeping them well, but BMC is well-positioned to achieve this goal, with programs such as the Food Pantry and the upcoming accountable care organization pilot program. BMC's envisioned future is a vivid description of what it will look like to achieve this goal. 
"Our culture is why people come here," says Walsh. "It's why people stay as long as they do. It's why people feel connected to the work they do. Everyone in the hospital can have a meaningful impact on our culture and on our patients, and I'm very proud of all our employees and the work they do."
Are you or your team doing something great? Please share it at bmcROCKS@bmc.org.
What do you do, Olga Elias?
Name: Olga Elias
Title: Outreach worker/Spanish medical interpreter, Grow Clinic
Time at BMC: Eight years
What do you do at BMC?
I serve as a liaison between the Grow Clinic's three providers – a nutritionist, social worker, and pediatrician – and our Spanish-speaking patients and families. This means that I help break down language and cultural barriers to ensure that a patient's family is clear on what they need to do and all the information they've been given. I also help providers figure out what they can do if a patient isn't understanding or following through on what they should be doing.
If necessary, I can also help families outside of clinic hours if necessary, such as filling out a benefits application or going to school meetings. A lot of our patients have trouble filling out their forms for food stamps or MassHealth. The programs might make mistakes, so I go over the forms with our patients, or call the appropriate program to try to solve issues and go with them to submit information.
I also keep track of everyone's appointment, calling families to remind them about their appointments and coordinating transportation if necessary. Lastly, I keep up with the supplies that the clinic needs, to make sure we have nutritional supplies, diapers, highchairs, and toys for our patients and their siblings. I also use those toys to entertain kids when they come into the clinic, since our appointments are so long.
What brought you to BMC?
I used to work for an airline but took early retirement when the company moved outside of Boston. After that, I took an interpreter class. During that class, I saw there was an opening at the Grow Clinic. I had never worked at a hospital before, but I love it.
What's something people might not know about the Grow Clinic?
A lot of people think that we're just a clinic that deals with the nutritional needs of our patients, but it goes beyond that. We get involved with everything that has to do with the home environments of the children who come to our clinic. For example, we do home visits, which are mostly to monitor how children are eating, but also to look at what the environment is like during mealtimes.
Another thing people might not know is that most of our funding is philanthropic. Donations help keep our clinic running. We are currently accepting toy donations. Every year, we have a holiday party and give toys not just to our patients, but to their siblings as well. For a lot of our patients, this is the only holiday celebration they might get.
What do you like most about working at BMC?
I like the fact that everyone gets involved with the nitty-gritty of patient's needs, including their social needs. I also find the diversity of patients fascinating, and love the fact that we help the people most in need. I wish we could do more, but this is very rewarding for me.
What do you do for fun outside of work?
I love music, especially classical music, so I try to go to Symphony Hall once or twice a month. If there's a good play, I'll go to that. I get together with my friends for coffee or to see a movie, and go for long walks around the reservoir and to yoga. I also travel occasionally, mostly to see my family in Puerto Rico. 
Do you know a staff member who should be profiled? Send your suggestions to communications@bmc.org.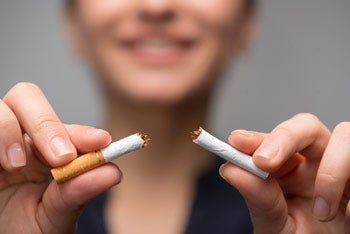 Is Smoking Equally Bad for All? A New BMC Study Aims to Find Out
By now we all know that smoking is bad for your health, but is it equally bad for everyone? Science says maybe not. There is evidence that the effects of smoking can be even worse in HIV-positive patients despite effective antiretroviral therapy, and a new study at Boston Medical Center aims to find out why.
The study, which was funded by the National Institutes of Health with $5.5 million for five years, is recruiting well-controlled HIV-positive BMC patients, both smokers and non-smokers, to examine how smoking affects age-related diseases in HIV-positive people. The researchers ultimately hope that an understanding of the biological interaction of smoking and age-related diseases processes in HIV-positive smokers will help make smoking cessation and early detection and treatment of these diseases a priority for both doctors and patients.
"HIV is a chronic disease now, so we need to address other health issues that these patients are at higher risk for, many of which are diseases associated with older age," says Nina Lin, MD, an infectious disease physician, director of the Clinical Trial Unit for Infectious Disease, and a co-principal investigator of the study, along with Avrum Spira, MD. "Many of these diseases, such as cardiovascular diseases, lung cancer, hypertension, and chronic obstructive pulmonary disease, are also associated with smoking. In general, we know that HIV-positive patients have a higher and earlier risk of these diseases, with even exponentially greater risk for those who smoke, but it is not clear why. Because HIV-infected individuals are three to five times more likely to smoke, this makes smoking a major public health issue in those living with HIV. Our HIV-infected patients are more likely to die of smoking-related illness than HIV itself."
The study will recruit approximately 100 HIV-positive smokers who are patients at BMC. They will be put on the Pulmonary Department's eight-week smoking cessation program, which helps participants with pharmacotherapy, cognitive therapy, social support, nicotine replacement, stress reduction, and relapse prevention. In addition, participants will receive one-on-one weekly counseling sessions and financial incentives for quitting. All study participants will undergo a baseline spirometry, bronchoscopy and blood draw.
The researchers hope to be able to have at least 20 participants successfully quit smoking for ten consecutive weeks. These patients will undergo repeat bronchoscopy and blood sample collection. These changes will be compared to 20 study participants who did not quit. The goal is to look at both local lung and systemic cellular and molecular changes to figure out the biology of how smoking and chronic HIV interact in patients.
The researchers will be assessing changes in inflammation, oxidative stress, and airway gene expression. With lung samples collected, the researchers will also be able to address a question which has not been clearly answered, which is whether treated HIV-infected patients have hidden HIV reservoirs in their lungs that is causing lung damage despite being on effective treatment, and if a low level of HIV is allowed to replicate in the lung in the setting of smoking.
Previous research shows that there are many types of damage that can be reversed when anyone stops smoking. The researchers believe that data from this study will help better define the level of reversibility of smoking-related damage in HIV-infected patients. By understanding those types of damage, the researchers at BMC hope to further demonstrate how beneficial it can be to quit, especially for people with HIV, and help identify potential treatment targets to reverse the damage.
To learn more or sign a patient up for the study call the Clinical Trial Unit at 617-414-2842.
Awards and Accolades
Center for Regenerative Medicine Wins Three Awards from the National Institutes of Health
The Center for Regenerative Medicine (CReM) at Boston Medical Center (BMC) and Boston University School of Medicine (BUSM) has received three prestigious awards from the National Institutes of Health (NIH) to further its commitment to induced pluripotent stem cell (iPSC) research and education.
Two of the NIH awards, totaling $5 million, will support a new National Heart, Lung, and Blood Institute (NHLBI) initiative called the Progenitor Cell Translational Consortium, which aims to develop stem cell-based treatments for heart, lung, and blood diseases. CReM, the only institution in the country to receive two of these awards, will focus on how gene-editing and cell-based therapies can be used for treatment of pulmonary diseases.
Additionally, CReM and the Boston University (BU) Clinical and Transitional Science Institute (CTSI) received a $4.1 million award from the National Center for Advancing Translational Sciences to form a national network for iPSCs banking, sharing, and training. The consortium, which will be led by BU principal investigators Darrell Kotton, MD, director of CReM and Seldin professor of medicine at BUSM, and Andrew Wilson, MD, assistant professor of medicine, will include researchers from the University of Pennsylvania, Harvard University, and the University of Chicago.
The consortium aims to make patient-derived iPSCs, along with the tools and expertise for their genetic manipulation, available to the greater research community on a large scale with the goal of understanding these complex diseases and developing potential therapies.
Becker's Names BMC One of 50 Greenest Hospitals
BMC was named one of the 50 greenest hospitals in America by Becker's Hospital Review. Over the past few years, BMC has received the City of Boston Carbon Cup, increased our recycling rate by 50 percent in one year, and earned the Greenhealth Emerald Award for our sustainability efforts.
Lucy Marcil Wins Anne E. Dyson Child Advocacy Award
Lucy Marcil, MD, MPH, a Pediatrics resident, has been awarded the Anne E. Dyson Child Advocacy Award. The award, which is given by the American Academy of Pediatrics, celebrates the outstanding efforts of pediatricians-in-training as they work in their communities to improve the health of children. Marcil was honored for her work with StreetCred, a program that helps BMC patients and their families file their tax returns benefit from the refunds they are entitled to.
Daniel Alford Honored with Award for Distinguished Contributions to Behavioral Medicine
Daniel P. Alford, MD, MPH, FACP, director of the Clinical Addiction Research and Education Unit and the Office-Based Opioid Treatment Program at Boston Medical Center has been awarded the American College of Physicians (ACP) Award for Distinguished Contributions to Behavioral Medicine. The award recognizes distinguished contributions to the integration of behavioral medicine with traditional medicine and is given to an individual who has furthered the care of patients by recognizing the importance of caring for the whole patient, both mind and body.
Alford was recognized for his local and national work teaching physicians about addiction and safe opioid prescribing for chronic pain. He has also created, implemented, and evaluated addiction medicine curricula for generalist physicians, including the BUSM Safe and Competent Opioid Prescribing Education (SCOPE of Pain) program, which has trained over 50,000 health care professionals around the country.
Department of Neurology Honored for Work in Haiti
The Department of Neurology Global Health Initiative will receive an award from the Board of Directors of the Haitian-Americans United, Inc. (H.A.U.) for outstanding work in providing neurological care to patients in Haiti.
News of Note
BMC Takes Further Steps to Become Carbon-Neutral
Boston Medical Center, MIT, and Post Office Square Redevelopment Corporation have formed an alliance to buy electricity from a large new solar power installation, adding carbon-free energy to the grid and demonstrating a partnership model for other organizations in climate-change mitigation efforts.
The agreement will enable the construction of a roughly 650-acre, 60-megawatt solar farm on farmland in North Carolina. Called Summit Farms, the facility, the largest renewable-energy project ever built in the U.S. through an alliance of diverse organizations, is expected to be completed and to begin delivering power into the grid by the end of this year.
BMC was already on target to reduce its emissions by at least 50 percent by 2018 through a $300 million clinical campus redesign that includes upgrades to heating, cooling, and ventilation systems, a new biodigester to compost food waste, and other improvements. 
Michael Silverstein Appointed to US Preventive Services Task Force
Mike Silverstein, MD, MPH, a pediatrician at BMC, has been appointed to the US Preventive Services Task Force, the leading organization that makes recommendations in the area of prevention and evidence-based medicine. The U.S. Preventive Services Task Force is an independent, volunteer panel of national experts in prevention and evidence-based medicine that works to improve the health of all Americans by making evidence-based recommendations about clinical preventive services such as screenings, counseling services, and preventive medications. 
Return to BMC News