Center Publishes Healthy and Ready to Learn Baseline Report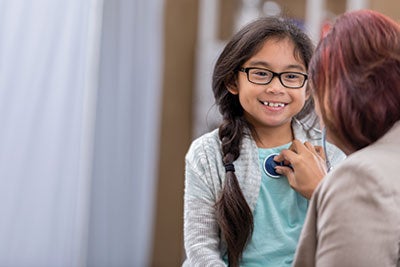 The vision for the Boston Medical Center's Center for the Urban Child and Healthy Family is health equity—that all children have an equal opportunity to be healthy and to achieve their full potential. This vision will be achieved through redesigning the pediatric care model to maximize the health and well-being of children and families facing adversity. The Center has set a goal that by 2028, all children cared for by BMC Pediatrics are healthy and ready to learn, with adequate supports to thrive, by five years old.
The new model of health care delivery consists of core components that are essential to its effectiveness. In order to assess whether these core components have an impact on "healthy and ready to learn," a set of variables was identified to establish a baseline of where pediatric primary care patients currently stand against this benchmark. 
In addition to understanding variables like immunization rates, presence of a dental home, completion and results of vision and hearing screenings, body mass index (BMI), and responses to the THRIVE social determinants of health screener, a supplemental questionnaire was implemented, using questions from validated screening tools. Specifically, the BMC Healthy and Ready to Learn by 5 Survey is composed of the FLOURISH measure, Section G of the National Survey of Children's Health and the Parent Scale of Competency, thereby including questions about children's behavior, emotional development, approaches to learning and parental perceptions of their competency as caregivers. Through implementation of the Pediatric Practice of the Future, we will compare our progress to this baseline and will continue to rigorously assess the degree to which the new model of care is improving the health and well-being of children and their caregivers.