Podcast: 10 Simple Tips for Healthy, Budget-Friendly Cooking
Tracey Burg, RD, RDN shares 10 simple tips for healthy, budget-friendly cooking for any size family. She also discusses her cooking class in the BMC cooking kitchen where attendees can learn how to cook a healthy meal for 4 for under $10.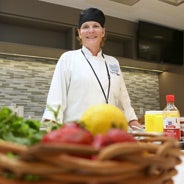 Featured Speaker:
Tracey Burg
Tracey Burg is the Culinary/Nutrition Manager at Boston Medical Center's Nutrition Resource Center, Food Demonstration Kitchen, and Preventive Food Pantry. She is a registered dietitian, former chef, and graduate of the Culinary Institute of America. At BMC she develops curriculum and presents culinary classes for various patient groups and staff to increase knowledge of healthy cooking techniques and promote nutritional and behavioral changes for improved health. During her tenure at BMC, the NRC has been featured on numerous television and news outlets and has received several awards.
For the past 20 years, Tracey has been a Culinary Instructor/Educator for school foodservice programs in Massachusetts and around the country where she teaches culinary skills to school food service workers. She currently works with the John C. Stalker Institute of Nutrition and Dietetics at Framingham State University and the USDA's Institute for Child Nutrition at the University of Mississippi.