Whether your child requires surgery as a result of an illness, accident, or a condition present at birth, our pediatric surgical team is dedicated to providing treatment that will achieve the best possible outcome, while providing care in a family-friendly setting that addresses the unique needs of young patients.
We provide general and specialized surgical treatment for the entire spectrum of common and complex conditions affecting pediatric patients, from before birth through infancy, childhood, and adolescence.
Because Boston Medical Center (BMC) provides comprehensive medical, surgical, and maternity care for patients of all ages, your child has access to our hospital's extensive range of pediatric and adult specialists and services in one location. There is rarely a need to seek care elsewhere regardless of your child's condition or age. As a safety-net hospital, we also understand and can help address the needs of patients and families who may lack resources that are important to good outcomes.
We provide leading-edge surgical treatment for common conditions such as appendicitis or hernias, to rare and complex conditions such as cancerous and non-cancerous tumors, as well as congenital conditions and traumatic injuries.
At BMC, we offer conventional open surgery as well as the latest minimally invasive procedures, which reduce hospital stays and shorten recovery time. We have extensive experience in lifesaving technologies such as extracorporeal life support (ECLS/ECMO), as well as pediatric trauma and critical care. If you have a high-risk pregnancy that may require prompt surgical treatment for your newborn, we work in collaboration with BMC's maternal/fetal medicine specialists and the specialists in our neonatal intensive care unit to ensure that care is well-coordinated.
Contact Us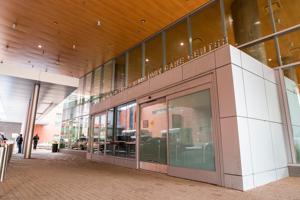 Our Team
Your child's treatment will include a multidisciplinary team of highly experienced healthcare professionals at Boston Medical Center (BMC).
Dr. Christopher Muratore, board-certified and fellowship-trained in pediatric surgery, leads the team. Anesthesia is provided by BMC's board-certified, fellowship-trained pediatric anesthesiologists in our state-of-the-art operating rooms. Care is also provided by pediatric surgeons from Boston Children's Hospital, who work in partnership with the BMC Division of Pediatric Surgery.
In addition to a pediatric surgeon, pediatric physician assistant, and pediatric anesthesiologist, your child's team will typically also include nursing professionals, child life specialists, social workers, and others. All are specially trained and experienced in the care of young patients, from newborns to adolescents.
Depending on your child's unique needs, this team may also include specialists and subspecialists from BMC's large and diverse Department of Pediatrics. These highly experienced professionals work collaboratively with members of the Pediatric Surgery team. This ensures that your child receives care that is comprehensive, well-coordinated, and reflects the combined expertise of a broad range of pediatric specialists.
We believe that parents, and other family members, are also important members of the care team and involve you in all decisions affecting your child. We also communicate with your child's referring doctor to ensure continuity of care for your child.
In addition to comprehensive surgical care, BMC offers many resources to meet the unique needs of young patients and their families. These include our Pediatric Emergency Department, a Child Life Program, and Interpreter Services.
Research Overview
In addition to providing excellent clinical care, the Division of Pediatric Surgery engages in research to advance and improve care, and education to train the next generation of surgeons. 
Our research uses surgical data to better understand and improve patients' outcomes, with a particular focus on children in our community who are socioeconomically disadvantaged. We also are involved in advocacy work to improve access and care for this patient population.  
As part of Boston Medical Center, the primary teaching hospital of the Boston University Chobanian & Avedisian School of Medicine, the Division of Pediatric Surgery teaches and trains medical students and surgical residents, as well as students at the Boston University School of Public Health.