The BMC Postpartum (MotherBaby) Unit strives to be a welcoming environment where postpartum people and their families are respected and valued, regardless of gender identity and/or sexual identity. We are proud that BMC is a World Health Organization (WHO) and UNICEF-designated Baby Friendly hospital, which recognizes our excellence in providing evidence-based care and education while respecting individual preferences.
Our state of-the-art unit supports each postpartum person and their family's individualized goals and journey around newborn feeding, rooming-in, bonding, and medical care. We care for both you and your baby in your postpartum room to enhance bonding and offer opportunities for continuous learning.
We also offer families specialized support and care during their time with us on the postpartum unit, whether due to fetal or neonatal loss, a NICU stay for your infant, or other health and safety reasons.
Visiting Hours
Partners are welcome anytime. General visiting hours for all others are 8 a.m. - 8 p.m.

Quiet time is practiced on the unit seven days per week from 2-4 p.m.
Contact Us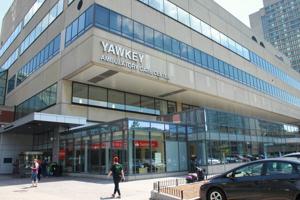 Our Team
Additional Information
Neonatal Intensive Care Unit
A specialized team of professionals in the Level III, 15-bed NICU, care for infants who require close observation and additional therapy. They provide families with medical and emotional support.
Department News
BOSTON – New research results demonstrate how inflammation from a COVID-19 infection during pregnancy could potentially impact long-term infant health, including infant growth and brain development…
BOSTON – New research from Boston Medical Center assesses the impact of a statewide effort to improve breastfeeding rates in Mississippi, using an evidence-based strategy to evaluate the Communities…
Latest from HealthCity
A less than 5% transmission rate in newborns suggests the placenta has properties that prevent COVID-19 infection.