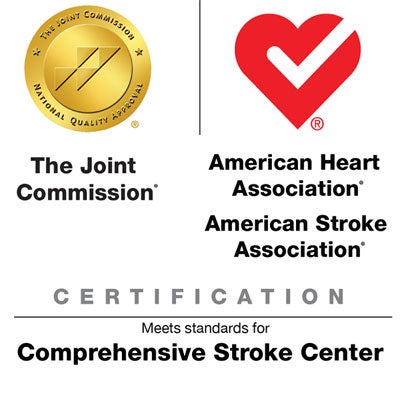 BMC Achieves Comprehensive Stroke Certification from The Joint Commission
We're proud to announce that Boston Medical Center has achieved Disease Specific Care Center Comprehensive Stroke Certification (CSC) from The Joint Commission! This new level of certification is in collaboration with the AHA & ASA's Brain Attack Coalition. It recognizes the significant resources in staff & training that comprehensive stroke centers must have to treat complex stroke.
Podcast: "Stroke: What You Need to Know"
BMC recently became a certified comprehensive stroke center, and that means patients can count on BMC to give them the best stroke care available. David Greer, MD, shares important stroke warning signs and what you need to know if you suspect you or a loved one is suffering a stroke. Listen to the podcast.
DAWN study extends endovascular treatment window for patients with large vessel blockage up to 24 hours
May 2017. Dr. Raul Nogueira and Dr. Tudor Jovin, principal investigators of the DAWN study announced their breaking preliminary results at the European Stroke Organization Congress meeting. Removing blood clots in stroke patients presenting late (after 6 hours, before 24 hours), or who wake up with symptoms, with select clinical and imaging criteria, can reduce disability. The DAWN trial was stopped early after review of data of 200 patients (from planned 500) demonstrating multiple pre-specified stopping criteria were met, in favor of endovascular intervention. At Boston Medical Center, we offer treatment of stroke patients with large vessel occlusion in early and late time windows. Learn more about the DAWN study.
Littleton woman who suffered stroke gifted a little Fenway dirt
Thanks to Dr. Thanh Nguyen and her team, 94-year old Lois Eleiott is able to continue to cheer on her beloved Red Sox after overcoming a stroke. Read the full article on The County
Top 10 Healthy Foods to Prevent Stroke and Heart Disease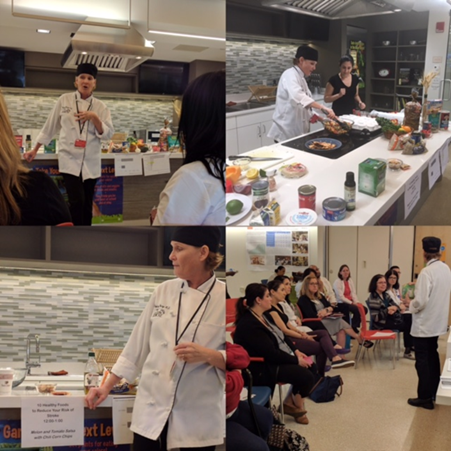 BMC chef/Dietician, Tracey Burg held a special class for Stroke Month for stroke survivors, family and the BMC Stroke Team. The Teaching Kitchen will be holding more of these classes throughout the month.
Boston Medical Center receives Get With The Guidelines-Stroke Gold Plus Quality Achievement Award with Target: Stroke Honor Roll Elite Plus
American Heart Association recognizes Boston Medical Center's commitment to quality stroke care
BOSTON, May 19, 2017 ― Boston Medical Center has received the American Heart Association/American Stroke Association's Get With The Guidelines®-Stroke Gold Plus Achievement Award with Target: StrokeSM Honor Roll Elite Plus. The award recognizes the hospital's commitment to providing the most appropriate stroke treatment according to nationally recognized, research-based guidelines based on the latest scientific evidence.
Hospitals must achieve 85 percent or higher adherence to all Get With The Guidelines-Stroke achievement indicators for two or more consecutive 12-month periods and achieve 75 percent or higher compliance with five of eight Get With The Guidelines-Stroke Quality measures to receive the Gold Plus Quality Achievement Award.
To qualify for the Target: Stroke Honor Roll Elite Plus, hospitals must meet quality measures developed to reduce the time between the patient's arrival at the hospital and treatment with the clot-buster tissue plasminogen activator, or tPA, the only drug approved by the U.S. Food and Drug Administration to treat ischemic stroke. If given intravenously in the first three hours after the start of stroke symptoms, tPA has been shown to significantly reduce the effects of stroke and lessen the chance of permanent disability. Boston Medical Center earned the award by meeting specific quality achievement measures for the diagnosis and treatment of stroke patients at a set level for a designated period.
These quality measures are designed to help hospital teams follow the most up-to-date, evidence-based guidelines with the goal of speeding recovery and reducing death and disability for stroke patients.
BMC House Staff win 2015 Quality Improvement award for Stroke Neurology Handbook
Our residents won the "Quality, Safety and Patient Experience Award."
The Neurology Clinical Handbook was developed to standardize the initial step wise approach of patients with Neurological emergencies, such as status epilepticus, ischemic stroke, hemorrhagic stroke and status migrainosus. It was also developed to promote adherence to treatment guidelines through the American Heart Association/American Stroke Association (AHA/ASA) Get With The Guidelines-Stroke (GWTG-S) quality improvement initiative. In July 2014, the Neurology Clinical Handbook was distributed to first year residents. The methodology included Plan-Do-Study-Act cycle focused on content within the handbook, usefulness of the handbook assessed by resident reporting and a chart review of first-year Neurology residents' GWTG-S quality measures documentations. At three and six months a user survey was distributed among the Neurology residents. All of the respondents felt the handbook included pertinent information for the stroke rotation and used the handbook as a tool to evaluate stroke patients in the emergency department at Boston Medical Center. First year residents were more likely to adequately document four out of seven AHA/ASA GWTG-S quality measures. The handbook was revised and a second edition was developed and distributed in July 2015.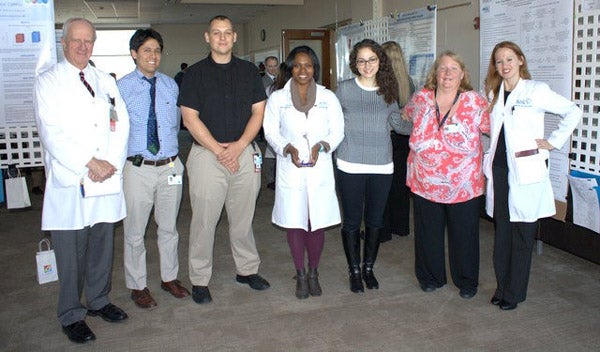 Our residents won the "Quality, Safety and Patient Experience Award."
In October 2015, the Quality, Safety and Patient Experience Week Poster Selection Committee awarded the poster, Improving Care Among Stroke Patients Through a Resident-Based Neurology Handbook, with the House Staff Award.
MR CLEAN, ESCAPE, EXTEND IA, and SWIFT PRIME studies demonstrate clinical benefit for intra-arterial stroke treatment in select patients with large vessel occlusion.
For the first time, the Netherland-sponsored randomized controlled trial MR CLEAN demonstrated superior clinical benefit of intra-arterial therapy compared to standard medical therapy in acute ischemic stroke patients with large vessel occlusion. Most patients presenting in this study received IV tPA, and of those allocated in the intra-arterial arm, most patients were treated with a stent retriever.
At the International Stroke Conference in Nashville, TN (February 2015), additional studies confirmed benefit of intra-arterial stroke therapy in the ESCAPE, EXTEND IA and SWIFT PRIME studies. Clinical benefit was seen in 53-70% of patients treated in the interventional group compared to 30-40% of control patients. In April 2015, the REVASCAT study was presented at the American Academy of Neurology Meeting in Washington DC and also demonstrated clinical benefit of endovascular therapy for large vessel occlusion stroke.
The MR CLEAN, ESCAPE, EXTEND IA, SWIFT PRIME and REVASCAT studies herald an exciting new era for acute ischemic stroke therapy. This therapy is offered to eligible stroke patients with large vessel occlusion at BMC by the Stroke and Neurointerventional teams.
BMC Neurology Team awarded 2014 BMC House Staff Quality Improvement (QI) Award for Acute Stroke Simulation
Congratulations to Dr. Jami Johnsen, Dr. Luciana Catanese,Dr. Julie Grimes, Dr. Benjamin Saunders, Dr. Hesham Masoud and Ms. Judith Clark on winning the BMC house staff QI Award! The Quality & Patient Safety Week Poster Selection Committee announced their poster "Improving Resident Performance in Acute Stroke Management Through Simulation Based Training," was selected to receive the 2014 BMC House Staff QI Award.
Judith Clark, BMC Stroke Coordinator, is awarded 2014 AHA SCORE Star Award
In June 2014, Ms. Clark was awarded the American Heart Association / American Stroke Association SCORE (Stroke Collaborative Reaching for Excellence) Star award. She was selected by her SCORE peers as the first of three finalists for the award. The SCORE Star Award was developed in 2011 to recognize a stroke coordinator who has demonstrated leadership among his/her peers. The collaborative model, which serves as the framework for SCORE, relies on shared learning among participants. SCORE members share best practices and tools through formal presentations and networking. Ms. Clark has been a true leader in SCORE and the program has benefited from her passion and commitment to stroke care. She has presented to the group on many occasions and most recently has been involved in the development and implementation of stroke training for skilled nursing facility staff.
BMC Receives 2013 SCORE Defect-Free Care Award and the Highest Performer on NIH Stroke Scale Award
The Stroke Collaborative Reaching for Excellence (SCORE) is a stroke registry and quality improvement initiative implemented as a partnership of the Massachusetts Department of Health, US Centers for Disease Control and Prevention, and the American Stroke Association's Get With the Guidelines.
Boston Medical Center was awarded the 2013 Defect-Free Care (>80% of stroke patients) award and the Highest Performer on NIH Stroke Scale (Large Volume) Award. The defect-free care measure demonstrates the percent of patients receiving all of the interventions for which they were eligible. The defect-free care measure incudes ten stroke consensus measures, such as deep venous prophylaxis, discharge on antithrombotic therapy, anticoagulation for atrial fibrillation, smoking cessation counseling, antithrombotic therapy by end of hospital day 2, discharged on statin, stroke education, rehabilitation assessment, and dysphagia screening. Data from October 2011 to September 2012 were analyzed for this award.
Patient Story: After a Stroke, Family Matriarch Looks Toward the Future
On December 28, 2009, Barbara Hackett woke up in her South Boston apartment near Carson Beach with the same intention she has every morning. "I woke up to put the kettle on for a cup of tea, but I found that I couldn't get up and fell down out of bed. I don't remember anything after that," she said... It was her neighbor who found her on the floor paralyzed and unable to speak," remembered Wendy, her calm voice slightly quivering.
The neighbor called 911, and the ambulance delivered Barbara to Boston Medical Center, where she was quickly triaged as a stroke victim. Each minute became critical for Barbara's prognosis. Dr. Thanh Nguyen, director of interventional neuroradiology and interventional neurology at BMC, oversaw Barbara's treatment.
BMC Receives Achievement Award from the American Heart Association for Stroke Care
Boston Medical Center was recognized for its achievement in implementing the American Heart Association/American Stroke Association Get With The GuidelinesSM (GWTG) for stroke care. This level of achievement shows BMC's commitment and success in implementing a higher standard of care for stroke patients.
Boston Medical Center offering Cyberknife Radiosurgery to treat Brain AVM and Tumors
Physicians at Boston Medical Center (BMC) are now offering patients an alternative to surgery for hard to reach brain arteriovenous malformations (AVM) and tumors. The CyberKnife Robotic Radiosurgery system is a non-invasive treatment for benign or cancerous tumors located nearly anywhere in the body. Read more about Cyberknife Radio Surgery Treatment of AVM and Tumors
ECASS 3 study extends IV tpa time window for acute stroke to 4.5 hours
Results of a study suggest that treatment with intravenous tissue plasminogen activator given 3 to 4.5 hours after symptom onset can provide improvement in clinical outcomes after an acute ischemic stroke.
Study finds a high rate of silent stroke
Routine brain scans in a group of middle-aged people showed that 10 percent had suffered a stroke without knowing it, raising their risk for further strokes and memory loss. Read Full Article on Boston.com
Prevalence and Correlates of Silent Cerebral Infarcts in the Framingham Offspring Study
Silent cerebral infarctions, also termed covert infarcts or simply MRI infarcts, are parenchymal lesions that have the MRI characteristics of previous infarcts but have not been associated in that individual with clinical signs or symptoms corresponding to a stroke.
CHD and Stroke Death Rates Declining, but Will They Continue to?
New mortality data from the US Centers for Disease Control and Prevention (CDC) show that, since 1999, death rates from coronary heart disease and stroke have fallen by about 25%.
New Stroke Treatment Vacuums Blood Clots
It is a tiny vacuum cleaner for the brain: A new treatment for stroke victims promises to suction out clogged arteries in hopes of stopping the brain attack before it does permanent harm. Read Full Article on CBS News
Research
The Stroke & Cerebrovascular Center at Boston Medical Center (BMC) is committed to furthering the evidence-based practice for cerebrovascular disease, developing research protocols and collaborating with other institutions for NIH-funded projects. Most of the research projects at BMC are in the form of a clinical trial, where patients with stroke are invited to participate by taking a new medication.