The BMC Brief, Volume 7, Issue 12
Congratulations to all on a great year! Here's a look back at some of the major events, milestones, and awards of 2018.
2018 Year in Review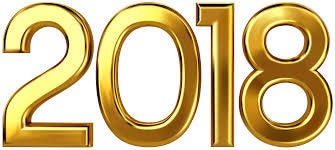 Congratulations to all on a great year! Here's a look back at some of the major events, milestones, and awards of 2018.
January
Jonathan Woodson, MD, Director of the Institute for Health System Innovation and Policy at Boston University and former assistant secretary of defense for health affairs in the U.S. Department of Defense, spoke at the annual MLK Day event.
Boston Medical Center's Institutional Review Board (IRB), which is shared with Boston University School of Medicine, BU School of Public Health, and the Goldman School of Dental Medicine, has been awarded accreditation with distinction from the Association for the Accreditation of Human Research Protection Programs.
February
The Demonstration Kitchen becomes the Teaching Kitchen and begins to offer even more great classes to employees and patients.
The CATALYST Program at Boston Medical Center received the 2018 Hilary E.C. Millar Award for Innovative Approaches to Adolescent healthcare from the Society for Adolescent Health and Medicine.
BMC's Cancer Center was reaccredited by the Commission on Cancer for three more years.
March
The MassHealth accountable care organization (ACO) program went live. This change affected more than half of BMC's patients, so there was a lot of work to be done. From the BMC HealthNet Plan call center to front-line staff at the hospital to Patient Financial Services and providers, everyone around the BMC Health System worked hard to ensure that patients can continue to get the exceptional care they need and want.
April
Boston Medical Center was listed on Becker Hospital Review's "150 Top Places to Work in Healthcare" list.
For the second year in a row, BMC received a Top 25 Environmental Excellence Award from Practice Greenhealth.
BMC also won three Circles of Excellence awards from Practice Greenhealth, in energy, climate, and green building. BMC was designated a LGBTQ Healthcare Equality Leader by the Human Rights Campaign. The status is awarded to healthcare facilities that attained a score of 100 in the Healthcare Equality Index (HEI) 2018.
76 members (including 12 employees) of Team BMC took to the streets to run the 122nd Boston Marathon. The runners raised more than $775,000 for BMC's exceptional programs and services for patients.
May
Nora Volkow, MD, director of the National Institute on Drug Abuse (NIDA), spoke at the 7th Annual Translational Science Symposium held at Boston University School of Medicine.
A group of nearly 200 community health workers gathered at the Community Health Workers Symposium to discuss their role in health care and learn from BMC's expertise in this area.
For the second year in a row, BMC was named one of Becker's Hospital Review's "100 Great Hospitals in America." Hospitals are chosen for this award based on their excellence in clinical care, patient outcomes, and staff and physician satisfaction.
Over 30 BMC nurses were nominated for The Boston Globe's 2018 Salute to Nurses. Nurses are nominated by patients, families, and colleagues for their dedication to and care for their patients. The Office Based Addiction Treatment Program (OBAT)'s nursing team was featured on the cover of the Salute to Nurses feature.
BMC was named Plan Sponsor of the Year by PlanSponsor, an organization that provides information and resources for retirement benefits decision makers. The award recognizes BMC commitment to providing employees with comprehensive retirement resources and education for every stage of retirement planning. 
June
BMC celebrated 21 exceptional individuals and six team winners at the annual Be Exceptional Awards. The awards focused on our core values - built on respect, powered by empathy; move mountains; and many faces create our greatness - as well as our 2018 priority goals: quality of care, patient experience, and growth.
Reverend Liz Walker, senior pastor at Roxbury Presbyterian Church, and Eilene Grayken were voted in as trustees to the Boston Medical Center Board of Trustees.
Boston Medical Center has received a $13.5 million award from the Patient-Centered Outcomes Research Institute (PCORI) to test two different methods of delivering cognitive behavioral therapy – face-to-face and online – to children with anxiety.
The Providence/Boston Center for AIDS Research (CFAR) was awarded a $9.1 million grant from the National Institutes of Health to support new and continuing initiatives. CFAR is a collaboration between Boston University/BMC, Miriam Hospital, the Lifespan Health System, and Brown University.
BMC hosted a pelvic floor physical therapy course for the transgender population that was the first of its kind in the country. The course focused on physical therapy examination and treatment of transgender patients.
A team at BMC will receive a $3.2 million grant over five years from the Massachusetts Executive Office of Health and Human Services to help increase access to long-acting reversible contraception.
A team of researchers from BMC and BU has received a $899,999 grant from the National Science Foundation for a project entitled "QuBBD: From Personalized Predictions to Better Control of Chronic Health Conditions."
July
The Department of Pathology and Laboratory Medicine has been accredited by the Accreditation Committee of the College of American Pathologists after a recent on-site inspection. BMC'S new five-year combined family medicine and psychiatry residency program began. The program helps train doctors to respond to a pressing need in healthcare – better integration of behavioral healthcare into clinical settings. BMC has the sixth joint family medicine-psychiatry residency program in the country, and the only one in New England.
August
Kate Walsh took employees on a journey through time during the annual Service Awards, which celebrated more than 700 employees who marked 5, 10, 15, 25, 30, 35, 40, 45, or 50 years of service to BMC. A special shout-out to the five employees who have been at BMC for 45 years and our one 50-year employee!
Employees got the opportunity to take a break and socialize with their colleagues during the Staff Appreciation and Wellness Event. The Healing Pups and Team BMC helped everyone enjoy the summer weather!
September
The Grayken Center for Addiction at Boston Medical Center made publically available a set of free online resources to help employers understand and address substance use disorders (SUD) in their workforce. The Employer Resource Library provides actionable steps that any organization can take to support employees who are dealing with their own or a family member's issues related to substance use disorders.
In a public signing ceremony on September 21, BMC entered into a formal partnership with the United States Army Reserve to provide active Army reserve soldiers, veterans, and their family members with opportunities for training and development and connect them with careers at BMC. Well Sense, Boston Medical Center Health Plan's New Hampshire business, was named a top company to work for in New Hampshire by Business New Hampshire Magazine for the second year in a row.
October
BMC moved all services from the Newton Pavilion, marking a significant milestone in bringing our clinical campus redesign to completion. Throughout the month, the hospital completed over 100 moves, moving 250 patients and many, many truckloads of equipment from the building. Thank you to the hundreds of people across the hospital who worked around the clock over the past month to ensure each patient move went seamlessly!
This year's 14th Annual Raphael Miara Patient Safety Symposium also marked the official launch of OK to Proceed?, a new book and digital toolkit that outlines what every health care provider should know about patient safety and illustrates ways to reduce preventable harm. The book was edited by Keith Lewis, MD, Chair of Anesthesiology, Rutgers Biomedical and Health Sciences; Rafael Ortega, MD, Vice Chairman of Academic Affairs, Department of Anesthesiology; and Robert Canelli, MD, Assistant Professor, Department of Anesthesiology, and represents a collective effort, from every corner of our campus, to further prioritize patient safety so that we can save more lives.
November
Boston Medical Center received an "A" in patient safety from The Leapfrog Group's Fall 2018 Hospital Safety Grade. The designation recognizes BMC's efforts in protecting patients from harm and meeting the highest safety standards in the United States.
Boston Medical Center Health System was named #1 on a list of the top 100 women-led businesses in Massachusetts by the Globe Magazine and The Commonwealth Institute. The list was created by looking at organizations' revenue or operating budget, workplace and management diversity, and innovative projects.
The BMC employee wellbeing program was honored with two awards at the annual WorkWell Massachusetts Award Program. The hospital was the first ever recipient of the new Innovator of the Year award, and also received a silver level achievement award. This event, organized by the Worksite Wellness Council of MA, also recognized BMC for developing and implementing a successful wellbeing program that supports employee vitality, provides tools to avoid burnout, and reduces stressors.
December
National Network Helps BMC Deepen Work in Social Determinants of Health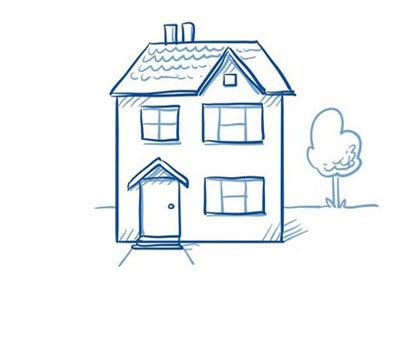 Part of our exceptional care at Boston Medical Center is helping to provide upstream solutions – solutions focused on the root cause – to health care problems, such as providing fresh, condition-specific food at the Preventive Food Pantry or connecting patients with organizations who can provide housing. But what if we were able to move even more upstream and alter people's life courses earlier? That's the goal of BMC's partnership with the Healthcare Anchor Network.
The Healthcare Anchor Network is a national organization dedicated to helping health systems leverage their assets to improve community health and wellbeing. Primarily, it focuses on the areas of hiring, purchasing and investment for equitable, local economic impact. Through initiatives in these areas, participants in the network aim to focus on root causes and inclusive economic activities to change people's lives for the long-term. Recently, the network has also begun to focus on policy, which can help disrupt barriers to thriving.
"Programs like the Preventive Food Pantry do wonderful things for our patients, but we have to think about how and why people get to a place where they need those programs," says Thea James, MD, Vice President of Mission and Associate Chief Medical Officer. "We need to create opportunities for people and help set them up to succeed, such as workforce development connected to the Food Pantry. We need to address the root cause of health issues, which is usually income. If we set higher bars for what's possible, we can change people's lives for the long run."
BMC has been involved in the Healthcare Anchor Network since it began two years ago, as it was an ideal fit for the hospital's focus on social determinants of health and Vision 2030 – to make Boston the healthiest urban population in the world. BMC has internal initiatives in all of the Healthcare Anchor Network's focus areas, including hiring initiatives in Human Resources, Supply Chain Operations initiatives to diversify vendors, and exploring community investments for BMC.
The network's mission also aligns with BMC's determination of need obligation, which requires hospitals undergoing large construction projects to commit a certain percentage of the total cost to the community. To meet this obligation, BMC has made a $6.5 million dollar investment in housing, and is integrating this investment with the network's focus on investment for local impact.
BMC isn't building its own housing units or serving as a landlord; instead, it is investing this money in a diverse group of community partnerships in neighborhoods where many of our patients already live, which will enable them and other residents to access a larger pool of stable, affordable housing.
The first project made possible by BMC's housing investment will be a space with new housing units in Dudley Square; it's scheduled to open in 2019. In doing research for the building, BMC found that the community also wanted a supermarket, so the hospital partnered with Good Food Market in Washington DC to open their first Boston store, providing $1 million through a no-interest loan. In addition, 60 percent of the laborers on the housing project come from the surrounding community, further tying the project to the Healthcare Anchor Network mission.
"We choose partners who are aligned with our values," says James. "This helps us further provide inclusive economic opportunities for the communities we serve."
BMC has also partnered with other hospitals throughout Boston, who have joined BMC as part of our determination of need obligation and investing in underserved communities across Boston. For example, Boston Children's Hospital is matching the $1 million in housing stabilization grants BMC is giving, and Brigham and Women's Hospital is giving $250,000 a year for three years to focus on violence prevention.
"It's a really wonderful experience for academic medical centers to work together to transform communities," says James. "We're learning so much and just starting to figure out what's possible for providing pathways to economic thriving and sustainability."
What do you do, Katie Parrish?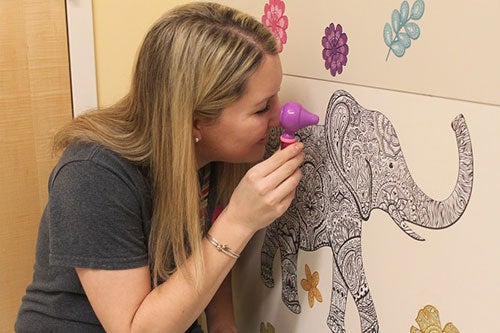 Name: Katie Parrish
Title: Child Life Specialist
Time at BMC: Approximately one year
Q: What do you do at BMC?
A: My job as a certified child life specialist (CCLS) is to help children cope with the hospital environment through developmentally appropriate play, preparation, procedural preparation and support, and normalization activities. I work 50 percent of the time in the pediatric Otolaryngology clinic and 50 percent of the time in the OR (including pre-op, the OR, and PACU). I try to help empower kids throughout their hospital experience to have choices when possible and have some ownership over their care.
Q: What does this look like in each area?
A: In Otolaryngology, I work primarily with pediatric surgeons to provide opportunities for developmentally appropriate play, promote effective coping throughout the clinic visit, and to provide procedural support and distraction. For example, if we're doing a nasal scope or a tongue tie procedure, I can teach the child what to expect and provide support and distraction to lessen anxiety and help them cope during the procedure. In addition, I prepare children for their upcoming surgery, sleep study, or other referrals our clinic places for families during their ENT visit.
In the operating room, I spend a lot of time in pre-op with the children and families from the moment they walk in for surgery through the OR and following back up in PACU. In pre-op, we do a lot of medical play, such as playing peekaboo games with the anesthesia mask with the babies and toddlers to desensitize them to the mask or practicing breathing in and out of the anesthesia mask with the older children. I make a coping and distraction plan with the kids, and then go into operating room and help coach and distract the patient through anesthesia. We typically have one parent present during anesthesia induction to provide additional comfort, so I will escort them out of the OR and debrief the experience with them since many have a hard time watching their child fall asleep for surgery.
Q: What's the benefit of medical play and other aspects of Child Life for children at BMC?
A: The hospital environment can be very overwhelming. This is a way to give them ownership over the experience and help them cope better. It can make the hospital experience fun and play-based, instead of being all about the medicine. It also gives kids a chance to contribute to their own health care experience through learning more about what to expect and play.
We have a strong background in child development and are play-based. We engaged in "play with purpose," assessing patients and providing them with developmentally-appropriate normalization activities, coping tools and strategies, and procedural support and distraction as needed. We want kids visiting or staying in the hospital to have a fun and positive experience and for families to feel comfortable and supported as well.
Q: What brought you to BMC?
A: I'm from Boston originally but was in Washington DC for many years, working as a Hematology/Oncology/Bone Marrow Transplant child life specialist.  I chose to come to BMC because I love the mission of the hospital as well as the population here. The way my position is split between Otolaryngology and the OR is new and I was excited by the challenge of taking on this new position as well as helping to grow our child life program overall.
Q: Do you have any stories that stand out as a "best day" at BMC?
A: I worked with a teenager who had a history of some mental health challenges, previous traumatic hospital experience, and severe needle-phobia. The work I did with her and the support of our OR staff for the patient made what may have been yet another traumatic experience a very empowering situation for this young patient.
In our operating room, most patients age 10 and up have to get an IV for anesthesia induction instead of a mask, so I knew ahead of time that she would be encountering this situation. I worked with her in ENT clinic and we walked through what to expect and brainstormed with her what she thought would make her feel better and be able to cope in the pre-op setting. The patient frequently repeated she was not going to let the team to the IV but when I gave her the option of using a non-pharmacological pain reduction technique called "Buzzy," she was able to gain some ownership over how to reduce her anxiety when she came back to the hospital for surgery.
When the patient came in for surgery, I met her in pre-op with our amazing nursing team and reminded her about using "Buzzy" as part of her pain plan. It's a vibrating pain-reduction tool in the shape of a bee that you can use with patients "between the pain and the brain," above where the IV goes in. It disrupts the pain signals as the needle goes in so many patients report not feeling the needle stick. Through encouragement and explanations of what was happening from me, coupled with a calm and skilled pre-op nurse, we placed "Buzzy" above her IV insertion site and the patient was able to stay completely still stay still and even said at the end that she didn't feel anything! To me, that was such an endorsement being able to empower this girl to have a positive hospital experience, to help her overcome her past trauma and fears, and to give her a little control in a challenging medical situation.
Q: What do you like most about working for BMC?
A: The diversity of the families we serve. I feel like I've learned so much more than I've taught the kids about their experience here. I love learning about the different cultures and experiencing all the different family dynamics. I also truly value our teamwork both in our child life department and across the two areas I work in.
Most of my day is conducted in a language other than English, which is a really great challenge for me as a clinician. Though I speak French and Spanish, many of the languages our patients speak are unfamiliar to me. The benefit of child life is that I don't need to understand or speak 17 languages to interact with the kids. Play is a universal language and it's a really great way to connect with kids whether or not I can understand what they're saying verbally.
Q: What's next for Child Life?
A: We are growing as a program, which is great. Currently, we have four Child Life specialists; they cover the PICU and inpatient units, primary care, and the Emergency Department. We're now hiring a brand-new position for Radiology. Next summer, we're hiring a new pediatrician in Otolaryngology, so I'm hopeful my position will grow as well.
Q: What do you do for fun outside of work?
A: Since I moved back to Boston, I love re-exploring the city. So much has changed since I've lived away from Massachusetts, so I love re-exploring the city like a tourist! I also love swimming, skiing, visiting the Cape, and spending time with friends.
Madison Park High School Students Learn Health Care Job Skills in New BMC Training Program
Every high school student deserves the opportunity to pursue their interests beyond the classroom. Now, thanks to a job training and educational program recently launched by Boston Medical Center and The Possible Project, students at Madison Park Technical Vocational High School who are interested in health care have that chance.
Students, from sophomores to seniors, come to BMC for career trainings and job shadowing. This direct instruction teaches them the technical skills necessary for both medical assistant and certified nursing assistant positions. Through the program, students receive a hands-on, project-based experience that is often left off the table in traditional classrooms.
 "As one of the region's largest employers, we know firsthand that the greatness of our city and hospital comes from the many faces in our community," said Lisa Kelly-Croswell, BMC's Senior Vice President, Chief Human Resources Officer, and driving force behind this new partnership. "There is tremendous talent and heart in Boston's public schools and neighborhoods. Our collective efforts and enthusiasm will translate into educational and job opportunities for students, as well as advance our vision to make Boston the healthiest urban population in the world."
The Possible Project, a nonprofit organization, also provides Madison Park students with skills beyond what's taught in the classroom. Together, The Possible Project and BMC's training will teach students an entrepreneurial mindset, professionalism, team spirit, and communications and customer service skills. The goal is to provide mindsets and soft skills that are crucial to success in today's economy, particularly when combined with the technical expertise students gain at BMC.
At the end of the school year, seniors will be eligible to apply for open medical assistant and nursing assistant jobs, as well as support services roles at BMC. Currently, more than 500 positions are available.
"With the need for qualified health care personnel on the rise, it is paramount that we, career vocational technical education high schools, prepare our students to meet that demand, said Kevin McCaskill, Executive Director of Madison Park Technical Vocational High School. "An alliance with BMC is a game changer for us and we are truly thankful and grateful for the role The Possible Project played in developing this partnership."
Awards and Accolades
Susan Coakley Honored by Whittier Street Health Center
Susan Coakley, CEO of the Boston Medical Center HealthNet Plan, was honored at the December Women for Whittier Tea and Talk at the Whittier Street Health Center, along with seven other "phenomenal female leaders."
Natalie Pierre Joseph Named HPV Vaccine is Cancer Prevention Champion
Natalie Pierre Joseph, MD, an adolescent medicine specialist at BMC and a clinical associate professor in Pediatrics at the Boston University School of Medicine, has been selected by National Center for Immunization and Respiratory Diseases as the Massachusetts 2018 HPV Vaccine is Cancer Prevention Champion.
Led in partnership by the Centers for Disease Control and Prevention (CDC), Association of American Cancer Institutes, and American Cancer Society, the HPV Vaccine Is Cancer Prevention Champion Award Program recognizes clinicians, clinics, practices, groups, and health systems that are going above and beyond to foster HPV vaccination in their community.
Joseph was recognized for her educational training about HPV vaccination and cancer prevention to students, research staff and colleagues, impressive HPV vaccination record, and research on HPV vaccine initiation among low-income and minority women in public healthcare settings. 
David Henderson Receives Award from the American Psychiatric Association Foundation
David Henderson, MD, chief of Psychiatry at BMC, has been selected as the recipient of the Alexander Gralnick, MD Award for Schizophrenia Research from the American Psychiatric Association Foundation. The award acknowledges research achievements in the treatment of schizophrenia, emphasizing early diagnosis and treatment and psychosocial aspects of the disease process.
News of Note
Tuhina Neogi Named Chief of the Section of Rheumatology
Tuhina Neogi, MD, PhD, a rheumatologist at BMC and professor of medicine at Boston University School of Medicine, has been named chief of the section of rheumatology, in the department of medicine at BUSM and Boston Medical Center.
Neogi leads an internationally known research team focused on knee osteoarthritis and gout, pain mechanisms in osteoarthritis and methodologic issues in rheumatic diseases. She has published more than 190 peer-reviewed journals.
She serves on a number of national and international committees and organizations, including guideline writing and FDA committees. Her work has been supported continuously by the National Institutes of Health as well as national foundations.
Neogi is a recipient of the prestigious Henry Kunkel Young Investigator Award from the American College of Rheumatology and the Robert Dawson Evans Research Mentoring Award from BUSM's department of medicine. She also leads the CTSI's Research Career Support Program.
Jodi Abbott Named Medical Director of the Education Center Curriculum and Outreach for the AMA
Jodi Abbott, MD, MSc, HCM, a clinician in the OB/GYN Antenatal Testing Unit at Boston Medical Center and associate professor of obstetrics & gynecology (OB/GYN) at Boston University School of Medicine, has been selected as the Medical Director of the Education Center Curriculum and Outreach for the American Medical Association (AMA), effective Jan. 9, 2019.
Abbott will join the senior team of the AMA's new Education Center to provide physician leadership for the development and oversight of a comprehensive curriculum that serves the lifelong learning needs of physicians and the broader healthcare team. She will be responsible for national strategy and development, external collaborations, as well as research and evaluation for this new initiative.
Abbott, who also serves as BUSM's Assistant Dean for Medical Education, Patient Safety and Quality Improvement, directs the core clerkship and is OB/GYN's Vice Chair for Education. A maternal fetal medicine specialist, she has developed numerous innovations in medical student quality improvement clinical initiatives leading to national student recognition. She is the recipient of the 2017 BUSM Clinical Educator of the Year Award and the 2016 Association for Professors of Gynecology and Obstetrics Teaching Award.
Return to BMC News