COVID-19 (coronavirus disease 2019) Information
If you are experiencing a medical emergency (or think you may be), please call 911 immediately.
Boston Medical Center is here for you when you need us. However, because COVID-19 is so contagious, we ask that patients not come to the hospital unless necessary. To help you determine your next steps, the State of Massachusetts has made available a screening tool at: buoy.com/mass. This easy to use screening tool is based on the latest guidance from the US Centers of Disease Control and is endorsed by the Massachusetts Department of Public Health. This screening tool, although not medical advice itself, is useful to help you decide whether to call your primary care physician, go to the hospital, or care for yourself at home.
Coronavirus: Check your symptoms
buoy.com/mass está disponible en español
Patients are reminded that since the buoy.com/mass is not a substitute for medical advice from a professional, if you are in doubt as to whether your symptoms require you to be examined, please call your primary care physician's office and seek further guidance. Although the emergency room is available for emergencies, absent an actual emergency, the best way to be assessed for COVID-19 during this public health crisis is the above.
---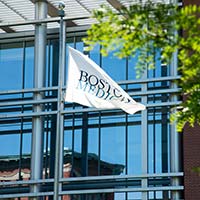 The primary focus of Boston Medical Center is and always will be your health and the health of our community as a whole. We are closely monitoring the spread of COVID-19 (the 2019 novel coronavirus) and following guidance from the Centers for Disease Control and Prevention (CDC) and local public health authorities to keep you safe.
Since the onset of the outbreak in our community, we have been working to slow the spread of the virus in a number of ways. Please see below for recent updates and tips on how to protect yourself and your family as this situation progresses.
For information about COVID-19, including the most up-to-date information about Massachusetts, visit the MA Department of Public Health website. Information is available in multiple languages.
Please note: If you are a patient who has traveled to or through an area with widespread COVID-19 in the last 30 days or have symptoms such as cough, fever, or shortness of breath, and you have an upcoming clinical appointment, please contact the practice before coming into the hospital.
As always, thanks for choosing BMC to provide you with exceptional care, without exception.
Videos: Updates From Our Leaders
How BMC is helping to protect against COVID-19
Postponed Elective Surgeries/Procedures and Routine Appointments
We are reducing elective surgeries, routine appointments, and other procedures that are not essential for your immediate health. Your doctor's office will reach out to schedule a new appointment, or set up a telehealth appointment if possible and necessary. If your visit is needed right away, call your doctor's office.
Set up Tents on Campus
Three tents have been set up on campus – two near the Emergency Department and the driveway of the Shapiro Building, and one on the Menino side of campus – to prepare for a potential influx of patients requiring screening and testing for COVID-19 or as additional Emergency Department space.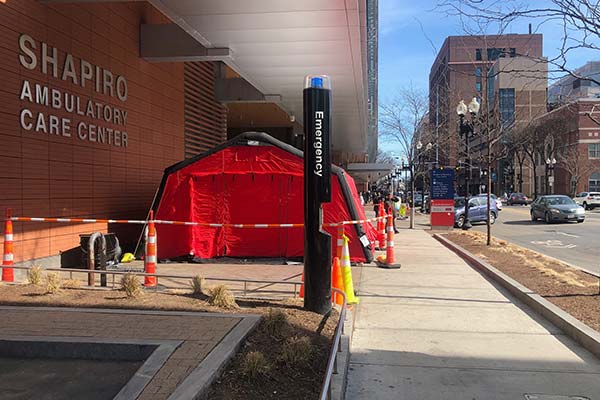 Enhanced Disinfection Processes
While the difference in cleaning for COVID-19 and other viruses, like the flu or common cold, is minimal, BMC has increased the frequency of those cleanings throughout every area of the hospital. We continue to use disinfectant products deemed effective by state and federal public health officials. BMC has also installed more alcohol-based hand sanitizing stations across campus to make it easier for patients and staff to keep hands clean and prevent the spread of germs.
Changed Hospital Access Points
To help you stay safe, please call your doctor's office to confirm your appointment before coming to BMC. Note the following changes in accessing our hospital and clinics:
The Yawkey main entrance and Yawkey Mass Ave. entrance are closed.
The Moakley entrance is limited to patients coming for an appointment in Moakley.
The Emergency Department entrance should be used only by patients presenting for emergency care at the ED.
Shapiro, Preston, Crosstown, Family Medicine, and DOB are only open to patients with appointments in these buildings.
All patients should continue to use the Menino entrance, unless otherwise noted above.
Updated BMC's Visitor Policy
As of March 18, to protect the health of patients and staff, BMC is restricting all visitors unless pre-approved by each patient's care team under extenuating circumstances.

IF a visitor is pre-approved per the care team, they will be screened for upper respiratory symptoms, including fever, sore throat, and cough. If they have obvious signs of illness, they will not be allowed to visit.

Visitors under 18 are prohibited from visiting any patients.
Connections to Community Resources
We recognize that you may be experiencing challenges during this time, which can impact your health. We have developed specialized COVID-19 Resource Guides to help. These resource guides contain available community, state, and federal resources to support you and your loved ones through the remainder of the coronavirus pandemic.

If you can't find what you are looking for in these guides, please use our free Massachusetts Community Resource Directory, MASSTHRIVE.ORG, to quickly find and contact resources in your neighborhood. For COVID-19 specific resources, type in COVID19 and your zip code to find the latest resources available. This directory is being updated daily and provides the ability to search and share resource information in over 100 languages.
Updated Cafeteria and Gift Shop Services
There will be no self-service food in the cafeterias, including the salad bar, self-service pizza, and soup.
Yawkey Cafeteria and Shapiro Café are open. Access to Shapiro Café is available only through the 2nd floor.
The Moakley coffee shop has been closed.
The Menino gift shop has been closed.
How you can protect yourself and loved ones against COVID-19
Call Your Provider if Symptoms Arise
If you are experiencing a serious respiratory illness with fever, cough, and shortness of breath, please call your primary care physician's office. Be sure to tell them if you have been in contact with someone with a confirmed or suspected case of COVID-19. Your provider will give you instructions on whether or not you should come into the office, and how you can be tested for COVID-19.

There are simple, everyday preventive actions outlined by the CDC that can help prevent the spread of viruses like COVID-19 and the flu: Remember to Take Preventive Actions
Wash your hands often with soap and water for at least 20 seconds.
Avoid close contact with people who are sick.
Avoid touching your eyes, nose, and mouth with unwashed hands.
Use an alcohol-based hand sanitizer that contains at least 60 percent alcohol if soap and water are not available.
Avoid shaking hands, even in a business setting.
Practice Social Distancing
The CDC and other health care organizations have recommended that you practice "social distancing" to protect yourself and others from COVID-19. Their recommendations include:
Stay home and avoid contact with others.
Avoid taking public transportation, taxis, or ride-shares.
Keep your distance from others (about six feet).
Consider taking the stairs between floors to avoid crowding elevators.
Consider vending machines for light snacks to avoid crowding cafeteria lines.
Take Care of Your Mental Health
We recognize that it is normal to experience stress or anxiety as a result of the rapidly evolving COVID-19 pandemic.Taking care of your mental health and wellbeing - in addition to your physical health - is very important. Please take a moment to check-in with yourself. Here are a few tips for identifying and processing your emotions.
Note MBTA Schedule Changes
As of Tuesday, March 17, MBTA trains and buses are running with reduced service. Bus and subway lines are running on Saturday schedules, and the commuter rail lines are running on a reduced schedule. Please visit the MBTA site for more information.
Know the Facts and Share them with Loved Ones
Since this situation is rapidly evolving, some of these updates will change to better protect you and our community from the virus. Please visit the CDC or DPH for local, state and national updates.
We recognize that this is a challenging time for everyone and appreciate your patience as we all deal with this unprecedented situation.