Grayken Center Report - June 2019
BMC Awarded $89 Million As Part of the NIH HEAL Initiative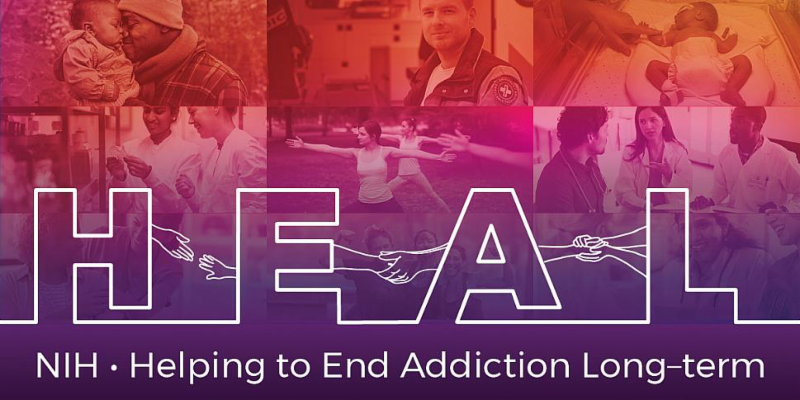 Boston Medical Center (BMC) was awarded $89 million in funding from the National Institute on Drug Abuse (NIDA), part of the National Institutes of Health (NIH), to lead a research study with the goal of reducing opioid deaths by 40% in some of the most heavily impacted Massachusetts communities. BMC's study is part of the NIH HEAL (Helping to End Addiction Long-term) Initiative, a bold, trans-agency effort to speed scientific solutions to stem the national opioid crisis. BMC is one of only four recipients of these HEALing Communities Study grants nationwide. The other three are: the University of Kentucky, Lexington; Columbia University, New York City; and Ohio State University, Columbus.
Led by Jeffrey Samet, MD, MA, MPH, Chief of General Internal Medicine at BMC and a professor of medicine at Boston University School of Medicine, and in collaboration with the Commonwealth of Massachusetts, partner organizations and communities across the state, researchers will study innovative addiction treatment interventions in order to create a national model aimed at curbing the opioid crisis.
The approach of BMC's study will be to partner with 16 communities across the state to test the impact of a community-engaged intervention with an integrated set of evidence-based practices delivered across healthcare, behavioral health, justice, and other community-based settings. 
"The opioid crisis in Massachusetts has been devastating, as it has been across the country," said Samet. "This research study is a major step forward. We will take what we've learned at Boston Medical Center and across Massachusetts over the past 20 years and work with our partners to bring those initiatives together to make a serious dent in the overdose death rate. It means pulling out all the stops."
Massachusetts is a leader in clinical care innovations for substance use disorders that have saved lives, but even within the state, many of these care models are not widely available. Through BMC's data and community-driven approaches, the researchers will work with communities to help address gaps in care and deploy innovative models of treatment that have been shown to support recovery.
"Two years ago, BMC launched the Grayken Center for Addiction to make a national impact in the fight against the opioid epidemic. This grant is further recognition of BMC's expertise in this field and its longstanding commitment to forge strong partnerships with peers and community-based organizations and institutions to make a major impact on individuals and families affected by the opioid epidemic," said BMC President and CEO Kate Walsh.
Known as HEALing Communities, the national study is being carried out in partnership with the Substance Abuse and Mental Health Services Administration (SAMHSA), which provides support for many of the local prevention, treatment and recovery support services to be studied.
Learn More about HEALing Communities
---
New Hotline for Massachusetts PCPs Offers Guidance in Treating Addiction and Chronic Pain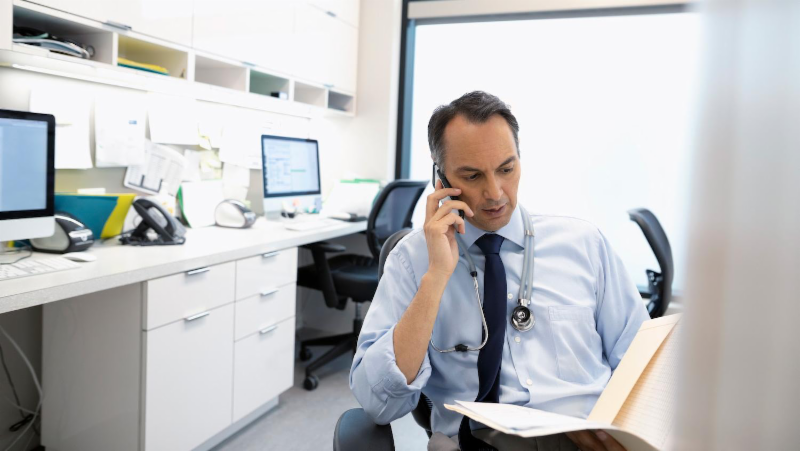 For busy primary care providers managing substance use disorders and chronic pain in their clinics, expert help is just a phone call away.
Back in 2003, soon after buprenorphine was approved by the Food and Drug Administration for the treatment of opioid use disorder, primary care physician Laura Kehoe, MD, was among the first in her clinic to begin writing prescriptions. She felt passionately that all doctors should play a part in treating people with addiction, and so she'd taken the federally mandated training to receive a waiver to prescribe the medication.
"But I still had this anxiety," Kehoe recalls. "It was new to me. Was I going to harm my patients? Was I going to help them? Was the DEA going to come and take my license away if I didn't do everything right?"
As it turned out, the best antidote to her anxiety wasn't the reading-up she'd done, or what she'd learned in the eight-hour waiver training, or even the coaching she'd received during her residency. It was the real-time conversations she had with a senior mentor who'd begun prescribing buprenorphine ahead of her and helped her navigate questions and decisions as they arose.
"I just needed somebody to walk me through it in the moment," says Kehoe, who is now the medical director of the Substance Use Disorder Bridge Clinic at Massachusetts General Hospital (MGH) in Boston.
Thanks to a new hotline known as the Massachusetts Consultation Service for Treatment of Addiction and Pain (MCSTAP), that type of in-the-moment guidance is now available to providers across the state who are wrestling with the complexities of managing opioid use disorder (OUD) and chronic pain in primary care. Kehoe is one of 10 physicians with addiction expertise - from institutions including Boston Medical Center (BMC), MGH, and UMass Memorial Medical Center - who staff the lines for MCSTAP (pronounced "McStap") and talk with providers each weekday from 9 to 5.
Unlike other training and continuing medical education that addresses OUD in broad strokes, MCSTAP's phone consultations provide concrete, patient-specific advice based on the patient's medical history, lab tests, and presentation that day, says Christopher Shanahan, MD, the medical director of MCSTAP and the director of the Community Medicine Unit at BMC.
"It's very hard being a primary care doc. You don't have any time, and there's usually eight things going on at once with a patient," Shanahan says. "If you had all the time in the world you could figure it out, but sometimes you're kind of stuck. You have a feeling - I should or shouldn't be doing this, but I'm not sure - and you need to talk to somebody. And that's where a hotline comes in."
Building confidence in appropriate opioid and MOUD prescribing
MCSTAP, which launched in January 2019 and is one of a handful of similar efforts nationwide, is funded by the Massachusetts Executive Office of Health and Human Services and was created as part of an expansive new law designed to step up the state's efforts in fighting the opioid epidemic. The legislation also mandates new restrictions on opioid and benzodiazepine prescribing and greater access to medications for OUD, among many other measures.
The service is ramping up at a time of heightened scrutiny and uncertainty for providers who are managing chronic pain and OUD in their patients. With opioid-related overdose deaths hovering at record highs, physicians have been caught between tighter guidelines for opioid prescribing on the one hand, and on the other, patients with chronic pain who say they rely on opioids to function.
A survey and a series of focus groups conducted last fall by the Massachusetts Behavioral Health Partnership, which administers MCSTAP, confirmed that primary care practices are struggling with these competing demands and with the opioid crisis overall. Nearly 10% of the 115 survey respondents indicated they were "very uncomfortable" treating patients with chronic pain, OUD, or both.
Providers expressed a lack of confidence in tapering pain patients off opioids, managing pain through non-pharmaceutical means, initiating medications for OUD, and prescribing for OUD when a mental health diagnosis is also present. In addition, an overwhelming majority of respondents described access to programs that treat chronic pain or OUD and the lack of case management support for patients with those conditions as "significant" challenges.
MCSTAP is intended to fill these gaps. When a provider calls the service, a resource and referral specialist triages the call and hands it off to a physician consultant, who calls the provider back within 30 minutes. The consultant and provider then discuss the case and a tentative treatment plan. If needed, the resource and referral specialist follows up with relevant resources culled from a vetted and curated list maintained by William James College. In some cases, the consultant and provider also schedule a follow-up call.
The majority of the calls Kehoe has fielded to date have involved questions about diagnosing OUD and starting interventions, including medications like buprenorphine. Many of the providers she has spoken with have received the waiver training to prescribe medications for OUD, and are very motivated to help their patients, but still feel overwhelmed at times when faced with a patient in clinic, Kehoe says.
"One of the biggest things we can provide is validation and reassurance to providers, whether they are really new to this, or really seasoned," she says.
MCSTAP can only be as effective as the number of providers it reaches. Shanahan and team have spent the spring promoting the service in meetings and presentations to accountable care organizations, physician groups, and healthcare organizations in Massachusetts. The goal is to make the MCSTAP number (1-833-PAIN-SUD) top of mind for primary care providers across the state.
The MCSTAP team is also developing a clinical manual for their website that will cover a host of topics including screening and assessments, brief interventions for OUD, managing acute and chronic pain, and dual diagnoses.
Although MCSTAP is available only to providers in Massachusetts, states including Arkansas, California, and Maryland have established similar consultation services. The low-tech delivery model and the huge demand for consultations regarding opioids, OUD, and chronic pain means hotlines like MCSTAP are cost-effective and easily scalable, Shanahan says.
"It's pretty damn simple," Shanahan says. "You just need some experienced docs who have the expertise and who know how to talk to people in a way that helps them learn."
This article was originally published on HealthCity
---
Stigma and Substance Use Disorder: Breaking Down Barriers to Treatment and Sound Public Policy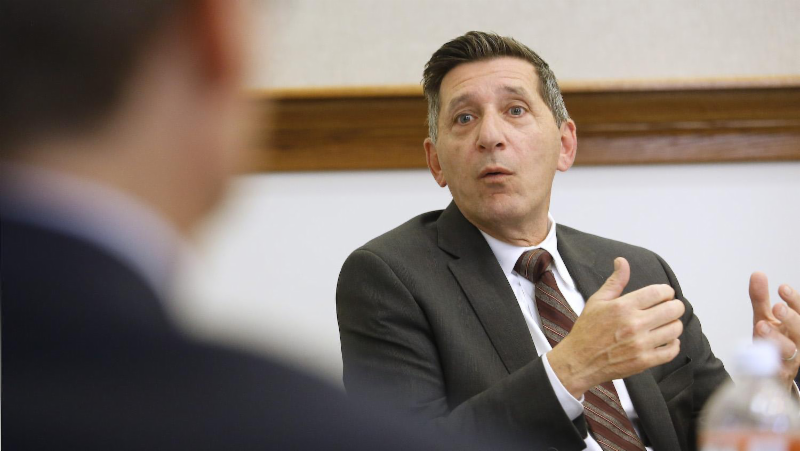 There may be no more dangerous contributor to the current opioid epidemic than stigma. Stigma is the lack of respect for a person or a group of people because they have done something or have traits of which society disapproves. And stigma isn't just an abstract concept - it's present every day in how society perceives people with a substance use disorder (SUD). People with a SUD are referred to as addicts, junkies, and worse. When we call people things like addicts or junkies, not only are they incredibly judgmental words, but they also pigeonhole someone's entire being to that one characteristic.
And I have my own experience with stigma. As someone who's been in recovery for 30 years, I still experience it. When President Obama chose me as the next Director of the Office of National Drug Control Policy (ONDCP) in 2014, one staffer said that because of my addiction history, there was no way I would be confirmed by the Senate - and this was for a job where knowledge around addiction and substance use disorder is essential. Ultimately, I was confirmed, and my background was essential in communicating our mission to many of the individuals and groups I met with.
It's clear that the impact of stigma isn't just personal. Clinical outcomes and public policy are held hostage by stigma and fear. Negative and stigmatizing attitudes from clinicians lead to the under-treatment of patients with substance use disorders and a reticence among patients to share important information about their substance use for fear of judgment and retribution. Certainly, general public attitudes contribute to these opinions among medical professionals but are also compounded by a lack of dedicated and specific training for clinical staff as part of routine medical education and clinical preparation.
Negative and stigmatizing attitudes from clinicians lead to the under-treatment of patients with substance use disorders.
In one study, Dr. John Kelly of the Recovery Research Institute gave nearly identical patient vignettes to doctoral level mental health clinicians. Using the term "substance abuser" was shown to cause clinicians to assign blame and to agree with a punishment for the patient, more so than when the term "substance use disorder" was used. The use of the terms "clean" and "dirty" still pervade references to whether or not someone is in recovery or reference to a drug toxicology screen. Many within the recovery community still refer to their "clean time," even as these folks bear a special responsibility to convey appropriate language.
Furthermore, the language we use reflects our belief system. While the neurobiology of addiction has clearly demonstrated the validity of the disease approach to substance use disorder, the language used to describe both the condition and those affected remain rooted in our belief that people with a substance use disorder are somehow morally flawed. For decades, the public at large has viewed, and continues to view, addiction as simply a matter of individual choice. This view is largely driven by a lack of scientific understanding of the genetic, environmental, and neurobiological aspects of substance use disorders and addiction. Language is perpetuated by the general public, by the media, by the medical community, and even among those in the recovery community. Historically, we have used language to isolate and to treat those affected in a less than compassionate and therapeutic way.
At ONDCP, in January 2017, we issued guidance to all federal agencies encouraging them to use only clinically appropriate language on their websites, documents and other public facing communications. Later in 2017, The AP Stylebook, which provides guidance to journalists seeking to use precise language, discouraged the use of works like "junkie," "addict," and "abuser" and encouraged reporters to replace these words with phrases like "he was addicted" or a "person with a substance use disorder." These changes reflect a movement toward person-centered language similar to that of other disabilities. Changing this language is not just a polite thing to do. As is clear, the words we use have a dramatic impact on both clinical care and about how medical professionals actually see and treat people with addiction.
"The Words we use to describe addiction can reshape perceptions and reduce stigma, lowering the morbidity and mortality of the current crisis."
- Michael Botticelli
As is often the case with stigmatized diseases, those affected by substance use disorder internalize those beliefs. This self-stigma becomes a major determinant in why those with a substance use disorder delay seeking care, or avoid care all together. Self-stigma also substantially contributes to a profound sense of isolation and loneliness - which can further exacerbate the disease leading to potentially fatal consequences. The 2016 National Survey on Drug Use and Health asked respondents to cite the reasons why they did not seek out treatment even though they knew that they had a substance use disorder and needed treatment. Twenty-five percent of respondents said that fear of negative opinions among neighbors and friends and their employer were significant barriers to seeking care. These people recognized that they needed treatment, but the stigma was strong enough to prevent them from even looking for it.
One cannot minimize the role that stigma continues to play in thwarting evidenced-based, compassionate public policy. This will only change through concerted efforts to reform our language, reform our images and portrayals of those affected by addiction, and appropriately share sympathetic personal narratives. Eliminating stigma is crucial as public health and health care professionals promote ways to get more individuals with substance use disorder into treatment. Addressing stigma will also address the way we develop public policy, like access to insurance coverage, or the traditional law enforcement approach to addiction such as incarceration rather than diversion to treatment. To reduce the morbidity and mortality of the current opioid crisis, everyone can make a difference by working to reduce stigma and its consequences.
This article originally appeared on BASIS, an online publication of the Cambridge Health Alliance
---
Do Something: The Importance of Tackling Substance Use Disorder in the Workplace
Employers are grappling with a growing workplace health issue: the impact of the opioid epidemic on employees and their families. There are questions of benefits coverage, leave policies and how to support workers suffering from addiction. The crisis is complicated by a legacy of stigma around addiction, which is particularly problematic at a time when addiction rates continue to rise. Employers are rightly concerned about productivity and other economic impacts. The good news is that there are a range of practical steps any employer---large or small---can take both to minimize the business impacts and also to maintain valued workers.
The Health and Economic Impact of the Opioid Epidemic
Throughout the United States, the impact of the opioid epidemic is widespread, both geographically and across all demographic groups. More Americans have died of overdoses than from gunshots, car crashes, or HIV/AIDS in any given year. Overdose deaths also surpass US military casualties in the Vietnam and Iraq wars combined. Deaths have risen in all categories of drugs for both men and women, all people ages 15 and older, all races and ethnicities, both rural and urban areas and among both the employed and unemployed.
The epidemic has also hurt the economy. One estimate put the national economic costs of the opioid epidemic at $504 billion as of 2015, or 2.8% of the GDP. The majority of these costs are due to healthcare spending, criminal justice costs, and lost productivity due to addiction and incarceration. About a quarter of costs are attributed directly to overdose deaths and the associated lost earning potential. Princeton Economist Alan Krueger found that the epidemic accounts for a 20% decline in labor force participation among men.
What does this all mean for employers? It means that more likely than not, their employees and their families have been affected. And luckily, employers are in a position to help
As massive as these problems might seem, the personal and economic costs of addiction are not inevitable. Addiction can be treated effectively, and people can and do achieve long-term recovery. Addiction is a medical condition that impairs health and function and is characterized by the prolonged, repeated misuse of a substance. It is a chronic disease---like diabetes, hypertension and asthma. And like those other chronic diseases, addiction can be managed successfully. In fact, most people who get into and remain in treatment stop using drugs.
At Boston Medical Center (BMC), we have long history of caring for people with addiction. Over the last 25 years, BMC has become one of the most comprehensive and influential centers for addiction treatment in the country. When we launched the Grayken Center for Addiction two years ago, one of the first things we did was to survey our own employees to understand how they're affected by the opioid epidemic and other addiction issues, and how we could help. We found that almost a third of BMC's employees had an immediate family member who had experience with a substance use disorder. We also found that a majority of those surveyed did not know what mental health and/or substance use treatment services their health insurance covered. And many were afraid to speak to a manager about their concerns due to fears about confidentiality and of missing out on career advancement opportunities. 
We knew that we had to do something to address these problems. And more than one thing - we had to try many different strategies to reduce stigma and fear and to increase the awareness of the help that was available, but that employees just didn't know about.
So we've embarked on a long-term effort to help our employees and their families. One thing we learned right away? The problem can seem overwhelming, but the most important thing is to just do something. Just by getting started, employers are already helping decrease the stigma of substance use disorder. Making sure employees know how to access treatment when they or a loved one need it reduces a key barrier to getting care. Once a company  gets going, it quickly becomes clear how many people are affected by this issue and how many are willing to work to help their fellow employees.  
For employers who want to get started now, here's a free online action guide we published based on our own experience.
A version of this article was originally published by the Northeast Human Resources Association (NEHRA)
---
Grayken Faculty and Staff Update 

Miriam Komaromy, MD Selected as First Grayken Center Medical Director
Miriam Komaromy, MD has been selected to serve as Medical Director of BMC's Grayken Center for Addiction beginning on July 1, 2019.  In her role as the Medical Director, Dr. Komaromy will participate in the development and execution of the Center's short and long term strategic priorities including continued development of BMC's addiction services, development and implementation of high impact clinical initiatives and, in conjunction with other faculty and staff, advancing innovation and quality of care in the addictions field.  She will have a faculty appointment at BU School of Medicine and in BMC's Department of General Internal Medicine. 
Dr. Komaromy was most recently a Professor in the Department of Internal Medicine at the University of New Mexico.  She received her medical degree from the University of California, San Francisco and completed her residency in Internal Medicine at UCSF/San Francisco General Hospital. She is certified by the American Board of Addiction Medicine. 
Over the course of her career, Dr. Komaromy has provided clinical, research, education, and policy leadership in a variety of settings, including leading the Extension for Healthcare Outcomes (ECHO) Institute's programs for addiction and psychiatry and serving on the American Society of Addiction Medicine's National Board of Directors and as medical director for an addiction treatment hospital and for a health center program serving homeless patients. 
As Associate Director of the ECHO Institute, Dr. Komaromy led national programs focused on expanding addiction and mental health care over the last decade. She developed the first addiction-and psychiatry-focused ECHO program and recently led a federally-funded program that developed and launched five opioid ECHO hubs across the country, including a hub at BMC. 
A national leader in clinical education for the American Society of Addiction Medicine, Dr. Komaromy received the Educator of the Year award for 2019.  She serves as Chair of the Fundamentals of Addiction Medicine committee and is the Vice-Chair of the ASAM National Medical Education Committee.  
In her research, Dr. Komaromy has focused primarily on health disparities and care for traditionally underserved populations.  Most recently, Dr. Komaromy received a Fulbright Scholar award from the US State Department, teaching in Vietnam, Thailand, and Indonesia and completing a study of treatment of Opioid Use Disorder in Vietnam.  
New Vice Chair For Addiction Psychiatry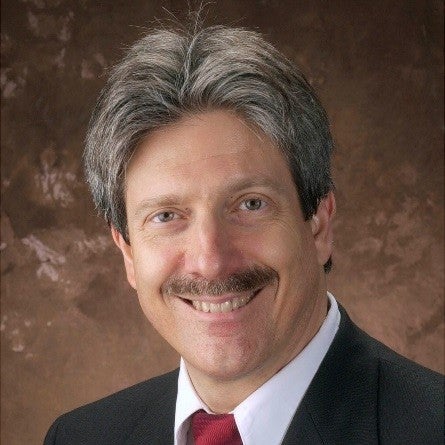 Michael Dawes, MD
Michael Dawes, MD, will be joining BU Psychiatry as Vice-Chair for Addiction Psychiatry effective July 1, 2019.  Dr. Dawes is a graduate of University of North Carolina School of Medicine and has Board certifications in both Addiction Psychiatry and Addiction Medicine.His primary implementation science focus is improved access to medications that treat Substance Use Disorders and engagement in SUD treatment. He has experience in mentoring residents and fellows to pursue careers in Addiction Treatment and keen interest in fostering the development of the next generation of clinician-researchers who treat SUD.
Addiction Medicine Fellows at BMC
Second Year Fellows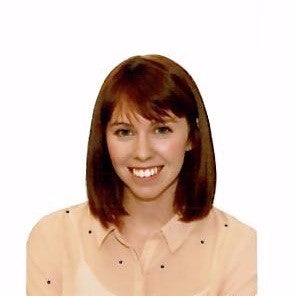 Miriam Harris, MD
Miriam Harris, MD
Medical School: McMaster University, Hamilton, Ontario, MSc from McGill University, Montreal, Quebec; Epidemiology and biostatistics (expected)
Residency: University of British Columbia; Fellow at McGill University, Internal Medicine
Current project: Assessing Opportunities for Tailored Risk Communication about Fentanyl Use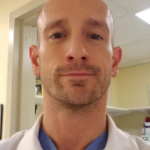 Jeoffrey Hill, MD
Jeoffrey Hill, MD
Medical School: Tufts University School of Medicine
Residency: St. Elizabeth's Medical Center, Internal Medicine
Current project: Prescription medication misuse
Incoming First Year Fellows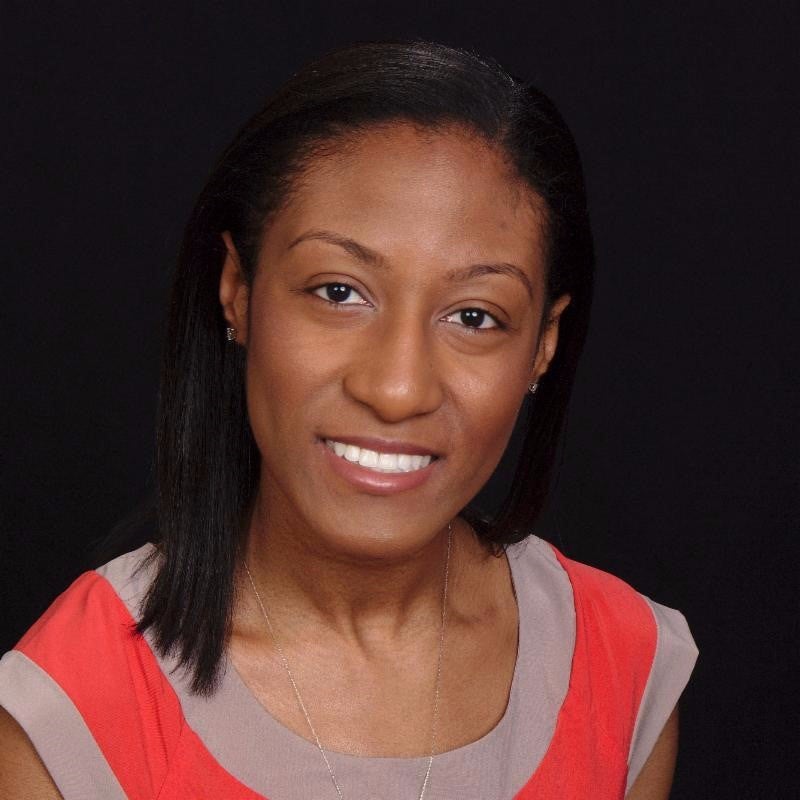 Alyssa Peterkin, MD
Alyssa Peterkin, MD
Medical School: New York Medical College
Residency: Mount Auburn Hospital 
Interests include: alcohol use disorder, under represented populations, harm reduction and public health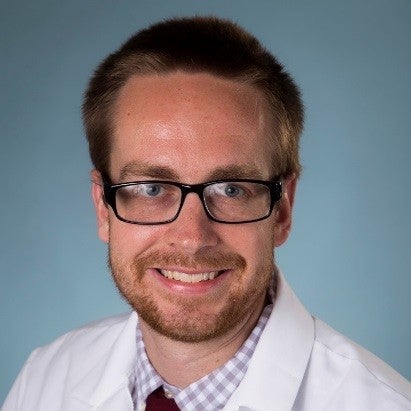 David Kispert, MD
David Kispert, MD
Medical School: Creighton University School of Medicine
Residency: Maine Medical Center 
Interests include: harm reduction, disparities in care
---
About Us
The Grayken Center for Addiction at Boston Medical Center was launched in 2017 to promote innovation in the delivery of care for people affected by substance use disorders. The Center is a national resource for revolutionizing addiction treatment and education, replicating best practices, and providing policy, advocacy and thought leadership to the field.
---
Grayken in the News 
New York Times, March 6, 2019
A letter from addiction experts indicated that CDC guidelines around pain prescribing have been too widely interpreted, leading to harm for vulnerable patients with chronic pain. Michael Botticelli and Dan Alford signed the letter, and discuss their reasons for doing so. 
Reuters, April 18, 2019
Boston Medical Center was announced as a lead institution for an NIH study taking place in four states intended to reduce overdose deaths by 40% in each, with funding of $89 million.
NPR, May 8, 2019
A new study found disparities in prescribing medication for opioid use disorder and Michael Botticelli discusses possible reasons for differential prescribing of buprenorphine, including inadequate reimbursement and cultural resistance. 
U.S. News & World Report, May 30, 2019
Research led by Joshua Barocas, MD, found that of overdose deaths in Massachusetts in 2014 and 2015, 83% involved a substance other than opioids. 
WBUR/Associated Press, June 5, 2019
In partnership with The Grayken Center, the AGCMA (Association of General Contractors of Massachusetts) developed a new resource guide for the industry, aiming to help construction companies confront a high rate of fatal opioid overdoses.