How is a femur shaft fracture treated?
Most femoral shaft fractures require surgery to heal. It is unusual for femoral shaft fractures to be treated without surgery. Very young children are sometimes treated with a cast.
Most femur fractures are fixed within 24 to 48 hours. Sometimes it will be delayed until other life-threatening injuries or unstable medical conditions are stabilized. To reduce the risk of infection, open fractures are treated with antibiotics as soon as you arrive at the hospital. The open wound, tissues, and bone will be cleaned during surgery.
For the time between initial emergency care and your surgery, your doctor may place your leg either in a long-leg splint or in traction. This is to keep your broken bones as aligned as possible and to maintain the length of your leg.
Skeletal traction is a pulley system of weights and counterweights that holds the broken pieces of bone together. It keeps your leg straight and often helps to relieve pain.
External fixation.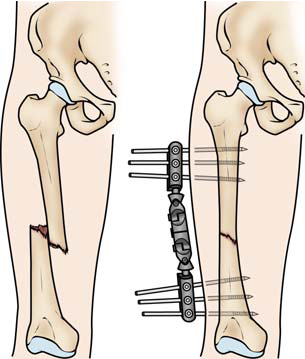 In this type of operation, metal pins or screws are placed into the bone above and below the fracture site. The pins and screws are attached to a bar outside the skin. This device is a stabilizing frame that holds the bones in the proper position.
External fixation is usually a temporary treatment for femur fractures. Because they are easily applied, external fixators are often put on when a patient has multiple injuries and is not yet ready for a longer surgery to fix the fracture. An external fixator provides good, temporary stability until the patient is healthy enough for the final surgery. In some cases, an external fixator is left on until the femur is fully healed, but this is not common.
Intramedullary nailing.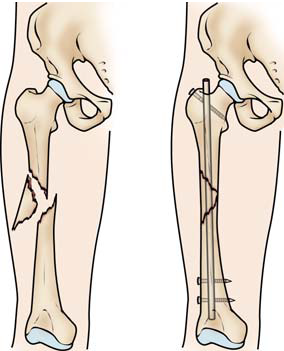 Currently, the method most surgeons use for treating femoral shaft fractures is intramedullary nailing. During this procedure, a specially designed metal rod is inserted into the canal of the femur. The rod passes across the fracture to keep it in position.
An intramedullary nail can be inserted into the canal either at the hip or the knee. Screws are placed above and below the fracture to hold the leg in correct alignment while the bone heals.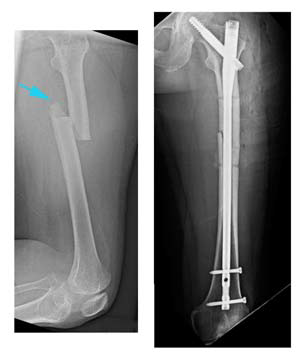 Intramedullary nails are usually made of titanium. They come in various lengths and diameters to fit most femur bones.
Plates and screws
During this surgery, the bone fragments are first repositioned into their normal alignment. They are held together with screws and metal plates attached to the outer surface of the bone.
Plates and screws are often used when intramedullary nailing may not be possible, such as for fractures that extend into either the hip or knee joints.
What is recovery from a femur shaft fracture like?
Most femoral shaft fractures take 3 to 6 months to completely heal. Some take even longer, especially if the fracture was open or broken into several pieces or if the patient uses tobacco products.
Pain Management
Pain after an injury or surgery is a natural part of the healing process. Your doctor and nurses will work to reduce your pain, which can help you recover faster. Medications are often prescribed for short-term pain relief after surgery or an injury. Many types of medications are available to help manage pain. These include acetaminophen, nonsteroidal anti-inflammatory drugs (NSAIDs), gabapentinoids, muscle relaxants, opioids, and topical pain medications. Your doctor may use a combination of these medications to help control pain, as well as minimize the need for opioids. Some pain medications may have side effects that can impact your ability to drive and do other activities. Your doctor will talk to you about the side effects of your pain medications.
Weight bearing
Many doctors encourage leg motion early on in the recovery period. It is very important to follow your doctor's instructions for putting weight on your injured leg to avoid problems.
In some cases, doctors will allow patients to put as much weight as possible on the leg right after surgery. However, you may not be able to put full weight on your leg until the fracture has started to heal. Be sure to follow your doctor's instructions carefully.
When you begin walking, you will probably need to use crutches or a walker for support.
Physical Therapy
Because you will most likely lose muscle strength in the injured area, exercises during the healing process are important. Physical therapy will help to restore normal muscle strength, joint motion, and flexibility. It can also help you manage your pain after surgery.
A physical therapist will most likely begin teaching you specific exercises while you are still in the hospital. The therapist will also help you learn how to use crutches or a walker.
What are some possible complications of breaking your femur shaft?
Complications from Femoral Shaft Fractures
Femoral shaft fractures can cause further injury and complications.
The ends of broken bones are often sharp and can cut or tear surrounding blood vessels or nerves, though this is very rare.
Acute compartment syndrome may develop. This is a painful condition that occurs when pressure within the muscles builds to dangerous levels. This pressure can decrease blood flow, which prevents nourishment and oxygen from reaching nerve and muscle cells. Unless the pressure is relieved quickly, permanent disability may result. This is a surgical emergency. During the procedure, your surgeon makes incisions in your skin and the muscle coverings to relieve the pressure.
Open fractures expose the bone to the outside environment. Even with good surgical cleaning of the bone and muscle, the bone can become infected. Bone infection is difficult to treat and often requires multiple surgeries and long-term antibiotics.
Occasionally, the ligaments around the knee can be injured during a femoral shaft fracture. If you have knee pain after surgery, tell your doctor.
Complications from Surgery
In addition to the risks of surgery in general, such as blood loss or problems related to anesthesia, complications of surgery may include:
Infection
Injury to nerves and blood vessels
Blood clots
Fat embolism (bone marrow enters the blood stream and can travel to the lungs; this can also happen from the fracture itself without surgery)
Malalignment or the inability to correctly position the broken bone fragments
Delayed union or nonunion (when the fracture heals slower than usual or not at all)
Hardware irritation (sometimes the end of the nail or the screw can irritate the overlying muscles and tendons)