How is a femur shaft fracture diagnosed?
It is important that your doctor know the specifics of how you hurt your leg. For example, if you were in a car accident, it would help your doctor to know how fast you were going, whether you were the driver or a passenger, whether you were wearing your seat belt, and if the airbags went off. This information will help your doctor determine how you were hurt and whether you may be hurt somewhere else.
It is also important for your doctor to know if you have any other health conditions, such as high blood pressure, diabetes, asthma, or allergies. Your doctor will also ask you if you use tobacco products or are taking any medications.
After discussing your injury and medical history, your doctor will do a careful examination. He or she will assess your overall condition, and then focus on your leg. 
Your doctor will look for:
 An obvious deformity of the thigh/leg (an unusual angle, twisting, or shortening of the leg)
Breaks in the skin
Bruises
Bony pieces that may be pushing on the skin
Your doctor will feel along your thigh, leg, and foot looking for abnormalities and checking the tightness of the skin and muscles around your thigh. He or she will also feel for pulses. If you are awake, your doctor will test for sensation and movement in your leg and foot.
X-rays.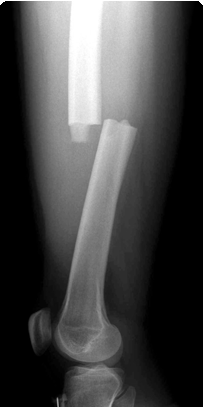 The most common way to evaluate a fracture is with x-rays, which provide clear images of bone. X-rays can show whether a bone is intact or broken. They can also show the type of fracture and where it is located within the femur.
Computerized tomography (CT) scans. If your doctor still needs more information after reviewing your x-rays, he or she may order a CT scan. A CT scan can provide your doctor with valuable information about the severity of the fracture. For example, sometimes the fracture lines can be very thin and hard to see on an x-ray. A CT scan can help your doctor see the lines more clearly