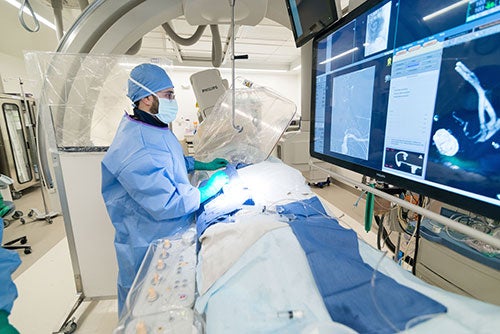 Dural arteriovenous fistulas (DAVF) are abnormal connections between arteries and veins near the brain. The word "dura" refers to the membrane that covers the brain. These are acquired lesions that occur most commonly without an obvious cause, but can be associated with trauma, surgery, tumors, or previous infections near the area of the lesion. While dural arteriovenous fistulas are lesions outside the brain, they may present with a wide range of neurologic symptoms. The presentation varies from an asymptomatic state, to ringing or humming in the ear (or pulsatile tinnitus) to life-threatening or fatal bleeding in the brain.
Much of the presentation depends on the venous drainage pattern, which is the most important determinant of prognosis. In benign fistulas, drainage does not involve the cerebral veins, and tinnitus or eye symptoms are often the most common forms of presentation. So-called "aggressive" or "dangerous" fistulas are characterized by retrograde cortical venous drainage, and present with bleeding in the brain, progressive neurological deficit, seizures, or intracranial hypertension.
Diagnosis
Before recommending treatment, an imaging study of the brain is required with CT (computed tomography) scan or MRI (magnetic resonance imaging). An angiogram is also necessary, in which a catheter is inserted into an artery in the groin and dye is injected into the pertinent arteries of interest.
Treatment
It is important to tailor management of DAVF to each patient. Specific goals should be put forward taking into account the natural history of the lesion (which mainly depends on its venous drainage pattern), its specific anatomical features and the patient's symptoms. Most dural fistulas can be managed by endovascular means but some are more appropriately approached by surgery. Some difficult lesions need the judicious combination of endovascular techniques and surgery.
Dural arteriovenous fistula Patient Stories
Mr. Hannum
Mr. Hannum developed a sudden and severe 10/10 headache one night while he was resting. He tried to go to sleep but the headache was not improving even with pain relieving medications. The next day he went to his PCP, Dr. Sarah Murai, who sent him to Parkland Medical Center in Derry, New Hampshire. In the ED, Dr. Douglas Dreffer, Dr. Ali Khairat, and APRN Jessica True helped to diagnose him with subarachnoid hemorrhage. He was then transferred to BMC ED where a CTA showed a complex dural AVF, or an abnormal connection of the blood vessels around his brain. This was likely the cause of the bleeding and was embolized endovascularly by Dr. Thanh Nguyen and Dr. Mohamad Abdalkader. As part of follow up for the patient, images were taken two months later which showed complete cure of his dural AVF. He is now back to living his life as he was before this event. He has been enjoying his time and recently spent 3 months in the Caribbean.
---
Thomas Powers
On December 31st, 2018, Thomas Powers was enjoying a calm New Year's Eve day. He was sitting at home, on his bed, when all of a sudden he noticed the room began to spin. Thomas was unable to move his right arm, and the next thing he remembers is waking up on the floor.
When he woke up, he was not sure how much time had passed (though he estimates two hours). Thomas called his wife, who brought him to the Emergency Room at St. Joseph's Hospital in Nashua, New Hampshire. A CT scan performed at St. Joseph's showed a hemorrhage in the left frontal region of Thomas' brain.
Thomas was swiftly transferred to Boston Medical Center, where he went under the combined care of Dr. Rafael Romero, Dr. Thanh Nguyen and Dr. Mohamad Abdalkader. Thomas underwent a cerebral angiogram – a diagnostic imaging test that helps to find blockages or other abnormalities in the blood vessels of the head and neck – which confirmed a left frontal dural arteriovenous fistula with cortical venous reflux. Endovascular treatment was recommended to prevent recurrent hemorrhage. He underwent embolization and disconnection of the fistula.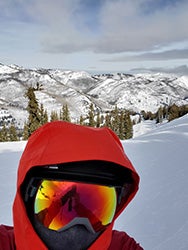 Mr. Powers skiing in Utah
A follow-up angiogram 3 months later confirmed the dural fistulawas cured!
Thomas had an outstanding recovery with complete resolution of his initial symptoms. On discharge, he only had mild sensory loss on his right hand, but, that has since gotten better. Thomas stated his care at BMC was "fabulous". "I would come here again in a heartbeat", he said.
In early February, less than a year after his treatment, Mr. Powers made it to Utah to ski. He stated, "Conditions were amazing. There is nothing like Utah snow."He skied for three consecutive days without any issues other than sore legs.
He is happy to be back to his usual activities.
---
Christopher Lord 
 Christopher started to hear a whooshing noise in his left ear in May 2020. It progressively was getting worse and affecting his hearing greatly because the noise was so loud. Although his MRI and CT scan were reported as negative at another hospital, we decided to move forward with a cerebral angiogram/venogram after we reviewed his imaging and saw abnormally dilated veins. The catheter angiogram revealed Chris had an extensive dural arteriovenous fistula (dAVF) involving the base of the skull adjacent to the cranial nerves and the ear.
After an embolization treatment procedure, Dr. Abdalkader and Dr. Nguyen successfully and completely disconnected the fistula.  He stayed overnight and was discharged home the second day. Since the procedure, the pulsatile tinnitus has completely resolved. His hearing is also back to normal. He has been able to get back to exercising and enjoying his life- noise free! He says: "I searched for months to find someone that would take my case seriously. I couldn't be happier that our paths finally met".
---
References
Eskey CJ, Meyers PM, Nguyen TN, Ansari SA, Jayaraman M, McDougall CG, DeMarco JK, Gray WA, Hess DC, Higashida RT, Pandey DK, Peña C, Schumacher HC. Indications for the Performance of Intracranial Endovascular Neurointerventional Procedures: A Scientific Statement From the American Heart Association. Circulation 2018 May 22; 137:e661-e689. 
https://www.ahajournals.org/doi/10.1161/CIR.0000000000000567
Abdalkader M, Nguyen TN, Norbash AM, Raz E, Shapiro M, Lenck S, Brinjikji W, Weber P, Sakai O. State of the Art: Venous Causes of Pulsatile Tinnitus and Diagnostic Considerations Guiding Endovascular Therapy. Radiology. 2021 07; 300(1):2-16