How do I make an appointment?
To schedule an appointment, please call 617.638.7480.
Prior to your first visit we ask that you have your medical records sent to us from your current primary care physician with a letter explaining the reason for your referral. You may fax this information to 617.638.7486.
Where is the Pulmonary, Allergy, Sleep & Critical Care Medicine located?
Shapiro Ambulatory Care Center
725 Albany Street
9th Floor, Suite 9B
Boston, MA 02118
How do I contact the other affiliated practices?
Pulmonary HIV
Yawkey Ambulatory Care Center
850 Harrison Avenue
1st Floor
Phone: 617.414.4290
Thoracic Oncology
Preston Family Building
732 Harrison Avenue
4th Floor
Phone: 617.638.5600
Fax: 617.638.7382
BU Medical Group on Comm. Ave.
930 Commonwealth Avenue
Brookline, MA 02215
Phone: 617.414.6800
Fax: 617.414.6817
Pulmonary Research Center
715 Albany Street
Room 304
Boston, MA 02118
Phone: 617.638.4860
Fax: 617.536.8093
Pulmonary Physiology Lab
Phone: 617.638.6177
Fax: 617.536.8093
Where should I park?
For appointments in the Shapiro Center, garage parking is available at the 710 Albany Street Parking Garage.
For appointments in the Preston Family Building, garage parking is available in the Doctors Office Building at 720 Harrison Avenue. Additionally, valet parking is available in front of the Doctors Office Building for $12 per day.
Metered street parking is also available in the neighborhood surrounding BMC.
How can I contact a nurse?
The nurse can be contacted by dialing the telephone number to the practice at 617.638.7480.
What should I do if I need to see my doctor and my doctor is away?
If your physician is out of the office it is important that you speak to the nurse about your concern and the nurse will work with a covering physician who will manage your care.
Can I see a different doctor in the office?
You may see a covering physician at any time during the absence of your primary care physician.
What are your normal business hours?
Monday - Friday 8:00 AM - 5:00 PM. There is a live answering service, for emergencies only, after 5:00 PM and on weekends and holidays.
What are the hours of operation for the BMC Pharmacy?
Click here to see a list of BMC pharmacy locations and hours
How do I refill an existing prescription?
Call the Pulmonary, Allergy, Sleep & Critical Care Medicine Prescription Line at 617.638.8000, Extension 89209. Leave your full name, date of birth, your physician's name, medication and dosage, the name of your pharmacy and your pharmacy's telephone number. Please also leave us your phone number in case we have a question about your request. Prescription requests are processed within 48 hours.
Do I need to cancel an appointment if I cannot make it?
If you are unable to keep your appointment, please, as a courtesy to your doctor and other patients, contact the office to cancel and reschedule the appointment. That cancelled appointment slot will be offered to another patient.
What should I expect if I am late for my appointment?
We will accommodate you if at all possible on the day of your appointment. If we are unable to do so, we will reschedule you for another day.
I don't speak English. How do I arrange for an interpreter?
You can request an interpreter at the time you are scheduling your appointment. BMC has interpreter services in more than 18 languages.
How can I request my medical records?
If your medical records are already kept here at BMC, contact the medical records department correspondence office at 617.638.8317. If your records are kept elsewhere, you will need to contact your primary care physician.
How do I get a referral to a specialist?
For managed care referral authorizations, please contact the managed care office at 617.638.7960.
How do I contact my doctor if I have a problem during office hours and after office hours?
Call 617.638.7480. After office hours your call will be answered by a live answering service. The service will contact the on-call physician for you.
What is your patient/visitor policy?
Because clinic space is limited, we ask you to limit the number of people you bring with you to your appointments. Also, because many of our patients are at increased risk of infection:
Children under the age of 16 are not allowed in the clinic.
Patients with colds should ask for masks.
No visitors allowed in the clinic who are sick or have a cold.
Do you have a smoking policy?
Smoking is strictly forbidden in the clinic, and in all BMC buildings. Smoking is permitted on outside grounds, away from building entrances, in areas where signs are posted.
May I use my cell phone during my visit?
Cell phone use is permitted in the clinic, but we ask, as a courtesy to others, that you keep conversations to a minimum, be aware and respectful of others, and wait to make unnecessary calls until you leave the clinic. Please observe hospital signs posted in areas where cell phone use is prohibited.
---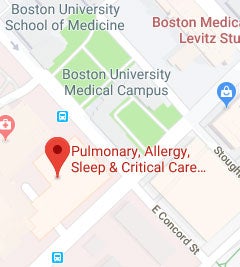 Hours
Monday - Friday: 8:00 AM - 5:00PM
Contact
725 Albany Street
Boston, MA 02118
Shapiro Center
9th Floor, Suite 9B