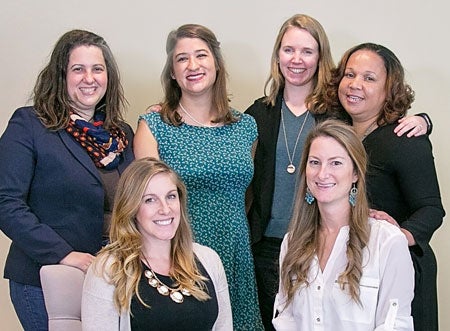 Shari King, M.A., MPH | Program Director
(617) 414-3666 | [email protected]
Shari conducts clinical oversight, personnel management and public relations for the Autism Program in addition to leading strategic planning and program implementation. She actively participates in the delivery of trainings, clinical consultation, advocacy and outreach efforts, as well as community networking and initiatives.
Lauren Bartolotti, M.A. | Program Manager
(617) 414-3691 | [email protected]
Lauren provides clinical supervision to Autism Program staff as they execute patient and family referrals. Lauren also manages the internship program which brings undergraduate and graduate students from local colleges and universities onboard for a rich applied experience.
Liz Ferriero, B.A., CEIS | Autism Resource Specialist, PLAN Coordinator
(617) 414-3698 | [email protected]
Liz provides guidance and support for families seen in the Developmental and Behavioral Clinic. Liz assists families in navigating local, state and federal resources and therapeutic supports. She also acts as a coordinator for the Parent Leadership in Autism Network (PLAN) program, which offers individualized peer support for parents of children with ASD.
Paula Cardoso, B.A. | Family Navigator
(617) 414-3662 | [email protected]
Paula works closely with the physicians and staff in the BMC Autism Program to address patient barriers and help ensure timely and appropriate treatment for children with ASD. This often includes facing financial and economic concerns, language and cultural issues, patient-provider communication, health care system obstacles, transportation problems, and bias/stigma. Paula meets with families during clinic sessions visits and closely assists with interactions within the school system and community agencies.
Simone Dufresne, M.A., CAS | Transition Navigator, TEAM Coordinator
(617) 414-3847 | [email protected]
Simone provides support, guidance, and resources to adolescents and families served within Developmental and Behavioral Pediatrics who are transitioning to adulthood. She developed and coordinates the program's Transition Clinic, through which she discusses transition resources and topics such as goal setting, school IEP planning, adult services, and life skills development. She also coordinates the Teens Engaged as Mentors (TEAM) initiative and manages the program's website.
Sarah Qin, MBA | Project Coordinator – Autism Friendly Initiative
(617) 414-4247 | [email protected]
Sarah is responsible for coordinating the Autism Friendly Initiative at BMC, which aims to improve the hospital experience for patients with autism spectrum disorders (ASD). As part of this overarching initiative, Sarah oversees several studies and is working with departments throughout the hospital to conduct trainings, improve systems, and provide resources to address barriers to care for patients with ASD.
Hillary Hollis, B.A. | Autism Resource Specialist
[email protected]
Hillary is a part-time consultant who provides support to families that have been seen in the Developmental and Behavioral Clinic. Hillary assists families in accessing community resources and therapeutic supports. She also helps families navigate the special education process and facilitates Applied Behavioral Analysis (ABA) referrals. Furthermore, she empowers families to advocate for their child's unique needs and provides support around new autism diagnoses.