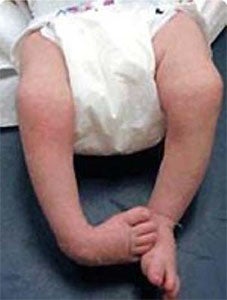 Clubfoot is a condition in which an infant's foot is turned inward, often so severely that the bottom of the foot faces sideways or even upward. Approximately one infant in every 1,000 live births will have clubfoot, making it one of the more common congenital (present at birth) foot deformities.
Clubfoot is not painful during infancy. However, if your child's clubfoot is not treated, the foot will remain deformed, and he or she will not be able to walk normally. With proper treatment, however, the majority of children are able to enjoy a wide range of physical activities with little trace of the deformity.
Most cases of clubfoot are successfully treated with nonsurgical methods that may include a combination of stretching, casting, and bracing. Treatment usually begins shortly after birth.
In clubfoot, the tendons that connect the leg muscles to the foot bones are short and tight, causing the foot to twist inward.
Although clubfoot is diagnosed at birth, many cases are first detected during a prenatal ultrasound. In about half of the children with clubfoot, both feet are affected. Boys are twice more likely than girls to have the deformity
What does clubfoot look like?

Clubfoot can range from mild to severe, but typically has the same general appearance. The foot is turned inward and there is often a deep crease on the bottom of the foot.
In limbs affected by clubfoot, the foot and leg are slightly shorter than normal, and the calf is thinner due to underdeveloped muscles. These differences are more obvious in children with clubfoot on only one side.
What are the different types of clubfoot?
Clubfoot is often broadly classified into two major groups:
Isolated (idiopathic) clubfoot is the most common form of the deformity and occurs in children who have no other medical problems.
Nonisolated clubfoot occurs in combination with various health conditions or neuromuscular disorders, such as arthrogryposis and spina bifida. If your child's clubfoot is associated with a neuromuscular condition, the clubfoot may be more resistant to treatment, require a longer course of nonsurgical treatment, or even multiple surgeries.
Regardless of the type or severity, clubfoot will not improve without treatment. A child with an untreated clubfoot will walk on the outer edge of the foot instead of the sole, develop painful calluses, be unable to wear shoes, and have lifelong painful feet that often severely limit activity.
Parents of infants born with clubfeet and no other significant medical problems should be reassured that with proper treatment their child will have feet that permit a normal, active life.
What causes clubfoot?
Researchers are still uncertain about the cause of clubfoot. Most believe that clubfoot is caused by a combination of genetic and environmental factors. What is known, however, is that there is an increased risk in families with a history of clubfeet.