Our Professional Practice
Boston Medical Center nurses are leading the improvement of health and health care and strengthening the discipline of nursing through new knowledge, innovations, and improvements. Each day, front-line nurses and nurse leaders in every corner of our system of care are advancing professional practice, clinical inquiry and the delivery of evidence-based care to the patients, families, and the communities we serve regionally, nationally, and around the world. In partnership with patients, families, physicians, nurses, and other caregivers at Boston Medical Center provide a high level, consistent standard of care by identifying patient needs, defining expected outcomes, and respecting patient rights.
Using the patient-centered care model, over 1,700 nurses in our system are driven to prioritize patient needs and demonstrate and deliver Exceptional Care Without Exception on a daily basis.Boston Medical Center nurses are leading the improvement of health and health care and strengthening the discipline of nursing through new knowledge, innovations, and improvements. 
Boston Medical Center (BMC) has developed and adopted a professional practice model that guides and reflects the care the nurses provide to our patients and can be found in all that we do. The nursing professional practice model aligns with the BMC mission, values and goals. Our model provides a unifying framework for what BMC nurses believe about professional nursing practice. We are committed to Patient-Centered Care, our care delivery model, and shared governance, both core components of our professional practice model.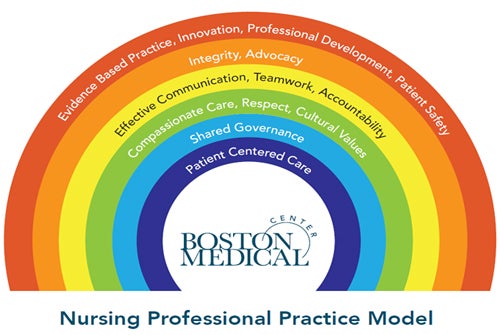 * Special thanks to the clinical nurses at Council Congress and throughout BMC who designed and implemented our nursing professional practice model.
---
Patient-Centered Care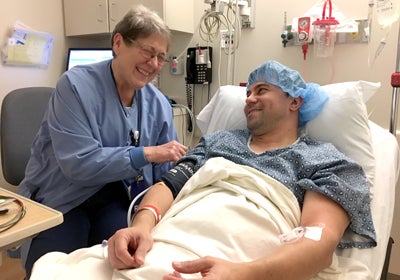 Patient-Centered Care is care that is respectful of, and responsive to, individual patient preferences, needs and values, and ensuring that patient values guide all clinical decisions" (IOM, 2015). Patient centered care is the practice of caring for patients (and their families) in ways that are meaningful and valuable to the individual patient.  It includes listening to, informing and involving patients in their care. As advocates, nurses provide compassionate care with dignity, respect and sensitivity to patients' cultural values and autonomy.
---
Shared Governance
BMC nursing leadership endorses shared governance. Shared governance is collaboration among all nurses, whether in scheduling staff, educating new staff, or implementing evidence-based practice.
It involves teamwork, problem-solving, and accountability, with the goals of improved staff satisfaction, productivity, and patient outcomes. It is working together to make decisions that affect nursing practice and patient care. We are committed to interprofessional collaboration focused on the primacy of patients. Institutions that utilize shared governance at the organizational, departmental, and unit levels experience decreased turnover rates, and increased nursing satisfaction. 
---
Nursing Philosophy: Nurse Theorist Dr. Madeleine Leininger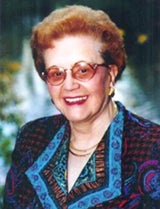 The Cultural Care: Diversity and Universality Theory by Dr. Leininger was developed to guide in the provision of culturally congruent nursing care provided to diverse populations. BMC Professional Nurses have a duty to provide supportive care that is tailored to specific individual and groups and consider what is culturally valued and believed by those populations (Leininger, 1988; 1996). BMC Nurses consider and incorporate those meaningful values into the patients' plan of care so patients and families feel respected. Nurses at BMC create goals and nursing care interventions that incorporate special cultural values important to their patients and families. 
Our professional practice model insures that our practice is consistent regardless of where the care is provided.