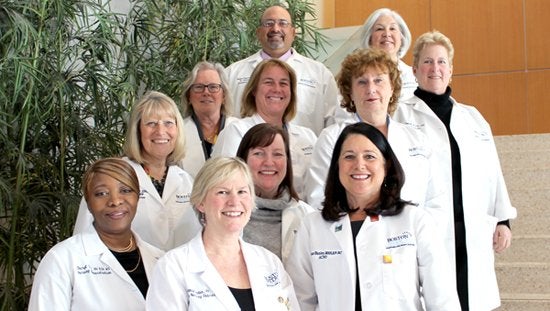 Boston Medical Center is more than a hospital.
It is a network of support and care that touches the lives of hundreds of thousands of people in need each year.
BMC Nurse leaders advocate for and support nurses so together, we can achieve Exceptional Care without Exception.
Nancy W. Gaden, DNP, RN, NEA-BC
Senior Vice President & Chief Nursing Officer
Nancy Gaden is the Senior Vice President and Chief Nursing Officer (CNO) of Boston Medical Center. Before being named CNO in early 2014, Nancy was System Vice President, Patient Care Services/Chief Nursing Officer of Hallmark Health System. In this role, she was a key member of Hallmark's executive team and directly oversaw patient care services. Under her leadership, Hallmark Health received Magnet Designation from the American Nurses Credentialing Center (ANCC). Prior to her tenure at Hallmark, Nancy served assenior Patient Care Services/Chief Nursing Officer roles at Caritas St. Elizabeth's Medical Center, South Shore Hospital and Milton Hospital.
Wanda Carlson, MS, RN, ACM

Associate Chief Nursing Officer, Care Management & Social Work
Wanda Carlson joined BMC in the summer of 2015 and is responsible for leading and managing all operational aspects of care management at Boston Medical Center. Wanda previously served as Director of Case Management & Social Work at Lawrence & Memorial Hospital in New London, CT and Westerly Hospital in Westerly, Rhode Island, where she established standards and implemented systems to provide positive patient outcomes and ensure quality, cost-effective services. In her 40 year career, she brings extensive experience in acute medical surgical nursing, utilization review and care coordination. She received her BSN from the University of Massachusetts Amherst, her MS from the University of Rhode Island and is an accredited case manager.
Carol Conley, DNP, CENP, NE-BC
Nursing Director of Campus Integration
Carol Conley joined BMC in 2016 and is responsible for the integration of nursing services and clinical consolidation of the two campuses within BMC. The role entails construction logistics planning and development of programs to enhance caregiver resiliency through organizational change. She served in executive leadership roles as Chief Nursing Officer at Norwood Hospital, Senior Vice President and Chief Nursing Officer for Southcoast Health, and as CNO at Landmark Medical Center in Woonsocket, RI. Previous leadership roles include: Assistant Vice President for Nursing at St Elizabeth's Hospital in Brighton, Director of Parent Child Services at South Shore Hospital in Weymouth, Ma., and Director of Women and Newborn Health at Brigham and Women's Hospital. She earned a Doctor of Nursing Practice (DNP) at MGHIHP in 2017. She attained her BSN at University of the State of New York and Masters Degree in Management from Emmanuel College in Boston, Ma. The focus of her DNP project was Compassion Fatigue Among Nurse Managers.
Genevieve Conlin, DNP, MS/MBA, RN, NEA-BC
Associate Chief Nursing Officer, Ambulatory Care Services
Gen came to BMC in December 2015 from Spaulding Rehabilitation Hospital Boston, where she served as the Director of Nursing since 2011. She was accountable for the 24/7 ambulatory nursing practice and operations during her time in that role. She led the patient move when the hospital opened its new facility in the Spring of 2013. Previously, she was the Director for Medical/Surgical Nursing & Professional Development at Quincy Medical Center. Gen received her DNP in late 2010 from Northeastern University. She received her BS in Nursing from the University of Massachusetts at Amherst where she serves on the Alumni Board for the College of Nursing. She is an active member of the Organization of Nurse Leaders of MA, RI, NH & CT, as well as the American Academy of Ambulatory Care Nursing.
Nelson Figueroa, RN, MBA, FACHE
AssociateChief Nursing Officer, Emergency Services
Nelson Figueroa joins BMC as the Associate Chief Nursing Officer for the Emergency Department (ED). He has over 25 years of nursing and Emergency Medical Technician experience and comes to us most recently from Northwest Hospital in Randallstown, Maryland where he wasthe Director of Emergency, Critical Care and Behavioral Health. Nelson has extensive experience in senior leadership positions within Emergency Services and Critical Care. He worked as an EMT with New York City EMS early in his career and has significant ED experience as a staff nurse and clinical coordinator in Level 1 Trauma centers. He has a BSN in Nursing (VCU), and a Masters of Business Administration in Health Systems Management from Grand Canyon University, and is a Fellow of the American College of Healthcare Executives.
Diane Hanley, MS, RN-BC, EJD
Associate Chief Nursing Officer, Nursing Education, Quality & Professional Practice
Diane Hanley has many years of nursing leadership experience in both the academic and community hospital setting where she focused predominately on the development of professional nursing practice using the Magnet Recognition program and is committed to optimal outcomes for patients, families, nurses and the community. Diane Hanley serves as the delegate for the Board of Medicine from the Board of Registration in Nursing. She received her baccalaureate degree from St. Anselm College, an MSN from Salem State University and attained an executive juris doctorate with a major in healthcare at Concord Law School.
Mary Fingliss, MSN, BSN, RN
Associate Chief Nursing Officer, Perioperative Services
Mary Fingliss was named Director of Perioperative Services in 2012, where she previously served as Nurse Manager of the operating rooms in the Menino Pavilion and as a staff nurse since 1986 at the former Boston City Hospital. Mary is responsible for the operating rooms, the PACUs, Endoscopy, Endovascular and Medical Short Stay. She is committed to improving efficiency using a team-centered approach to streamline operations across all perioperative service lines. Mary attended the Newport Hospital School of Nursing, has a Master's Degree in Nursing from Chamberlain College and a BSN from the University of Massachusetts, Boston campus.
Geralyn Saunders, MS, RN
Chief Nursing Information Officer
As a leader in the field of nursing informatics, Geralyn has led a number of clinical implementations in her 36 year career at Boston Medical Center. Recently in her role as Chief Nursing Information Officer, she was a key member of the leadership team that installed Epic in the inpatient areas. Her areas of responsibility included managing training and activation support, coordinating operational readiness activities and leading the project's communications work group. Geralyn has both a BS and MSN from Boston University School of Nursing.
Kellie Smith, MSN, RN, NE-BC
Associate Chief Nursing Officer, Critical Care
Kellie joined BMC in the summer of 2014, having served as a nursing leader at St. Elizabeth's Medical Center. As part of the Hallmark Health System, she implemented a critical care eICU telemedicine program at Melrose Wakefield Hospital and instituted an advanced practitioner program in critical care. She has spent the greater part of her 30-year career in the critical care arena, as a staff nurse, then moving on to nursing leadership. Kellie strives to ensure excellence in quality care that is grounded in partnerships among patients, families and healthcare practitioners. She is committed to ensuring a just culture. Kellie received her diploma from St. Elizabeth's School of Nursing, her BSN from Emmanuel College, and MS in Nursing at Regis College. She also has her Nurse Executive Certification.
Cheryl Tull, MS, BSN, RN, NE-BC
Associate Chief Nursing Officer, Medical Surgical Services
Cheryl joined BMC in 2005 as a Staff Nurse, she has held the position of Charge Nurse, Nurse Manager, Associate Director and Director of Medical/Surgical. In 1994, she was awarded a Chancellor's Scholarship and received her BSN from U-Mass Boston.She then went on to receive a MS in Administration from Boston College where she was presented a "Distinguished Service Award." Prior to BMC, Cheryl worked in Human Services Management for over a decade integrating program management with finance and administration. Her accomplishments include developing and enhancing the financial skills of mid to senior level managers and integrating program development with staff through empowerment and education.
Lisa Zani, MS, BSN, RN
Associate Chief Nursing Officer, Maternal Child Health
Lisa Zani joins BMC as the Associate Chief Nursing Officer for Maternal Child Health. Prior to joining BMC, Lisa served as the Chief Nursing Officer at Good Samaritan Medical Center. She has held various nursing leadership positions in Massachusetts such as St Luke's Hospital, Sturdy Memorial Medical Center, Metro West Medical Center and BIDMC Plymouth. Lisa earned her BSN at Simmons College and MA in Nursing Administration at Regis College. Her clinical background has been in Labor and Delivery and Lactation Care.