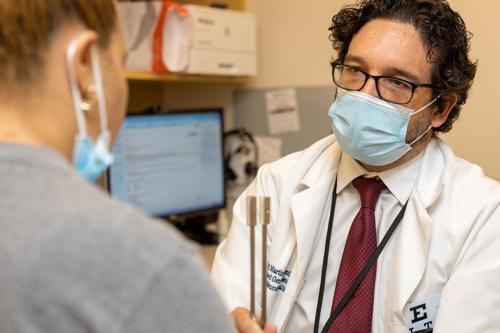 Existing Patients
Make an appointment by phone
617.638.8456
Make an appointment with MyChart
Book with MyChart
Hours of Operation: Monday - Friday 8:30 a.m. - 5 p.m.
Refer a Patient
Refer a patient
Call for assistance with the referral process
617.638.8456
Hours of Operation: Monday - Friday 8:30 a.m. - 5 p.m.
617.638.8456
The General Neurology Program at Boston Medical Center provides consultation for outpatients on a wide breadth of neurological diagnoses. General neurologists practice comprehensive neurology, a designation covering a wide range of conditions that affect the nervous system. They are often involved in diagnostic evaluations and ongoing management of patients who have multiple neurological conditions spanning subspecialties. Comprehensive neurologists work with subspecialty neurologists in many areas to enhance the care of their patients, including stroke, headache, dementia, multiple sclerosis, epilepsy, peripheral neuropathy, movement disorders and inherited neurological conditions. Our comprehensive neurologists are also clinician-educators dedicated to training the next generation of neurologists.