2022 Recent Graduates
Kelly Carreiro, D.O.
Medical School: University of New England College of Osteopathic Medicine
Kelly grew up in Fall River, Massachusetts and completed her undergraduate degree at the University of Massachusetts- Dartmouth in biochemistry.   She volunteered with AmeriCorps in Chicago, Illinois providing emergency services to the homeless.  She then went on to complete another year of service in Santa Barbara, Honduras volunteering at a children's home. While there, she developed a sustainable telemedicine program for the orphanage connecting them to health care providers in the United States. Additionally, she simultaneously taught kindergarten, science and English classes. She then attended medical school at the University of New England of Osteopathic Medicine where she further worked with communities regarding public health issues, especially in education, by teaching in homeless shelters and middle schools. She plans to practice full-spectrum family medicine with a focus on education, nutrition and preventative medicine. She is proficient in both Portuguese and Spanish. Outside of medicine, she is passionate about nutrition, Olympic weightlifting and powerlifting.
---
Corey Costanzo, D.O., M.P.H.
Medical School: Rocky Vista University College of Osteopathic Medicine
Corey is a Massachusetts native who earned her bachelor's, MPH, and MS degrees from Boston University while working in research at Boston Medical Center on the VDAART study. She enjoys maternal and child health and volunteers annually in the medical tent at the Boston Marathon. She attended medical school at Rocky Vista University College of Osteopathic Medicine in Colorado. Where she learned about rural medicine and continued pursuing public health, spending two months with the CDC in Puerto Rico. Corey is excited to return to BMC where she first discovered her passion for working with underserved communities and hopes to continue pursuing her interests in women's and reproductive health, preventative and integrative medicine, and providing care to Latino communities during her training as a full spectrum family physician. Outside of medicine, Corey enjoys travelling and anything that takes her outdoors, including paddleboarding, yoga, and going to the beach!
---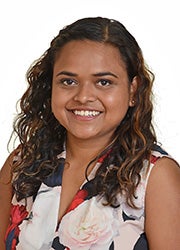 Anuka Das, M.D., M.P.H.
Medical School: University of Texas Medical Branch School of Medicine
Anuka was born near Kolkata, India and moved to the Texas Panhandle when she was 11. She studied Biology at The University of Texas at Austin and attended Medical School at The University of Texas Medical Branch in Galveston, Texas. During medical school she rotated at a public hospital in Nairobi, Kenya, participated in a longitudinal primary care rotation, and interned at the United Nations Relief and Works Agency Headquarters in Amman, Jordan. Through her experiences, she discovered her passion for health equity, social determinants of health, and primary care, eventually leading her to pursue a Master of Public Health degree at Columbia University. Ultimately, Anuka chose Family Medicine because it perfectly blended her interests in health equity, primary care, community medicine, and serving marginalized populations. She is excited to join the Family Medicine family at BMC and learn from and serve with individuals who share her passions! In her spare time, she enjoys spending time with her loved ones, photography, travelling, exploring coffee shops and bookstores, and being outdoors with her rescue dog.
---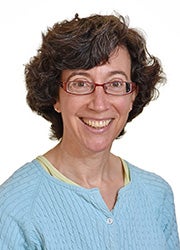 Lisa Fleischer, M.D., Ph.D.
Medical School: Case Western Reserve University School of Medicine
Lisa, a New York State native, studied studio art at Harvard College.  She worked in Spain for a year before starting a career in applied mathematics.  Her interest in health and medicine, occupational exposure to human biology, and extra-curricular volunteer work in hospice and palliative care nurtured her desire to pursue a career change into medicine.  She spent a year working and volunteering with Spanish-speaking patients in a Federally Qualified Health Center in New York State.  She became interested in Family Medicine for its focus on the health of the whole person.  In medical school at Case Western Reserve University, she co-led the Family Medicine Interest Group, volunteered in the student-run free clinic, taught sex education at the juvenile detention center, and established a new student group, Case Med for Health Literacy.  Lisa speaks Spanish and hopes to practice full-spectrum family medicine, teaching, obstetrics, reproductive health, and working with underserved communities.  She enjoys reading, cooking, art, and being active outdoors.
---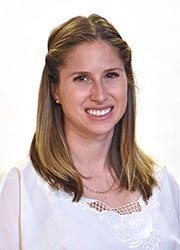 Emily Geldwert, M.D., M.P.H.
Medical School: Tufts University School of Medicine
Emily completed her undergraduate degree in Public Policy at Brown University before working abroad with Grassroot Soccer in Zambia and then across sub-Saharan Africa with the Elizabeth Glaser Pediatric AIDS Foundation. She then went on to earn her master's in Public Health with a focus on Health Promotion from the London School of Hygiene and Tropical Medicine with the dream of pursing community-based medicine. To that goal, Emily attended medical school at Tufts University, and immediately found a passion for social justice and advocacy. While at Tufts, she was a member of the Service Scholars Program, completed a Schweitzer Fellowship on group approaches to substance use recovery, founded the Addiction Medicine Interest Group, served as a reproductive health counselor with Tufts' free clinic, and was a committed volunteer on an LGBQ/T partner abuse hotline. Her interests include practice-based advocacy and harm reduction. When not on the wards or in clinic, Emily enjoys playing with her goofy pup, exploring Boston's restaurant scene, and running along South Boston's waterfront.
---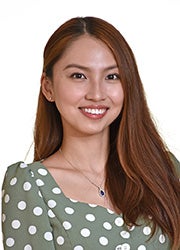 Yijia "Candice" Hu, M.D.
Medical School: Boston University Chobanian & Avedisian School of Medicine
Candice grew up in Shanghai and Singapore before she came to the States for undergraduate studies in Biology and Psychology at Johns Hopkins University. Throughout university, she was a highly active member of Health Leads, a national healthcare organization that directly connects low-income patients with basic resources such as food and housing. She pursued her medical degree at Boston University. There, she continued her passion for promoting health and wellness in underserved population by serving as a volunteer in REACH. She supported homeless parents through weekly educational workshops, empowering them to make medical decisions for their families. Candice chose Family Medicine because she strives to be a stable presence of support in her patients' lives, empower them with easily understandable knowledge to make fully informed medical decisions and work towards an inclusive environment for people from all different backgrounds. In her free time, Candice enjoys spending time with her family (her husband and three kitties – Coffee, Mr. Bubbles and Lionheart), exercising, and cooking all sorts of Chinese cuisine. 
---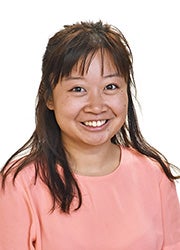 Ka Yi "Kiki" Li, M.D.
Medical School: Cooper Medical School of Rowan University
Kiki, a native of Hong Kong, immigrated to Philadelphia at the age of twelve. Completed her undergraduate degree in Biology and Spanish at Temple University. Growing up she translated for her Cantonese-speaking families and recognized the multifaceted barriers immigrants encounter in the United States. She taught English and health literacy classes while in college. She then attended Cooper Medical School of Rowan University in Camden New Jersey which further inspired her to work in advocacy. She assumed regional leadership role in the Latino Medical Students Association to implement health workshops, Hispanic Heritage Month events and ESL classes as well as medical Spanish lessons for her peers. She helped to coordinate two annual Latino health policy summits in Washington D.C. She traveled to Mexico and Peru to understand the resources of a health system in a developing country. Kiki hopes to learn from the best practices in ameliorating immigrant health and to develop sustainable chronic health models for the most vulnerable individuals and families here and abroad. Outside of medicine, she enjoys learning languages (she currently speaks five, and is hoping to learn Portuguese and Haitian Creole by the end of residency), traveling and trying unfamiliar flavors, story listening and telling, singing karaoke, creating art, and dancing salsa and bachata. 
---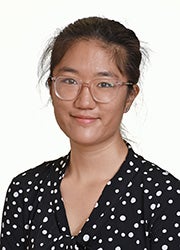 Claudia Ma, M.D.
Medical School: University of Chicago Pritzker School of Medicine
Claudia grew up in Sammamish, WA and received her BA in Neuroscience and Behavior from Barnard College. After college, she taught a class of lively third-graders in the South Bronx through AmeriCorps and worked as a research assistant at a cardiac imaging lab at Weill Cornell Medical Center. She decided to head to the Midwest for medical school to attend the University of Chicago Pritzker School of Medicine. At Pritzker, she continued her passion for community service by mentoring South Side youth and volunteering at local free clinics in Chicago as well as on the Rosebud Indian Reservation in South Dakota. Her medical interests include women's reproductive health and family planning. She is excited to return to the East Coast, where she is planning to eat plenty of seafood, explore hiking trails, and contribute to her SO's community garden plot and share fresh produce with her BMC colleagues!
---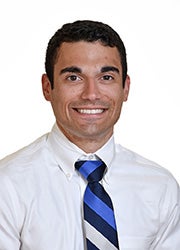 Ryan Narciso, M.D.
Medical School: Boston University Chobanian & Avedisian School of Medicine
Ryan grew up on the South Shore of Massachusetts and studied Biology as an undergrad at Boston University. Upon graduation, he worked with the Heart Transplant Team at Boston Children's Hospital on research to discover noninvasive ways to monitor for organ rejection in children after transplant. He then returned to Boston University for medical school where he was inducted to the Alpha Omega Alpha Honor Society and worked as a peer tutor and CPR instructor for Boston area high school students as a part of the PumpStart program. Drawn to family medicine for its focus on advocacy and preventative medicine, Ryan is excited to pursue his passion for primary care and sports medicine with the underserved population at BMC. Outside of medicine, Ryan enjoys playing soccer, running, hanging out at the beach with friends, and avidly supporting the Boston sports teams.  
---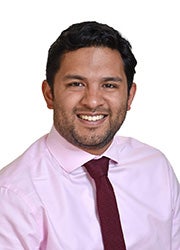 Victor Roy, M.D., Ph.D., M.Phil.
Medical School: Northwestern University the Feinberg School of Medicine
Originally from New Jersey, Victor earned his undergraduate degree in political science from Northwestern University, where his interests included international affairs and global health. During and after college he co-founded and served as Executive Director of GlobeMed, a global network of undergraduate students and community organizations working together to tackle challenges of poverty and poor health. Alongside his medical training at Northwestern's Feinberg School of Medicine, he pursued master's and doctoral degrees in sociology from the University of Cambridge as a Gates Cambridge scholar. His research has focused on the social and structural determinants of health, and his doctoral thesis investigated the political economy of drug development and treatment access for patients with hepatitis C. Inspired to pursue family medicine in part by his grandfather who was a rural family physician in India, he is looking forward to caring for patients across the life course and in their communities. Narrative medicine, poetry, and ethics are also passions that inform his understanding of health and caregiving. In his free time, he loves spending time with his partner Maya, diving into books, getting outdoors, and keeping up with his favorite sports teams. 
---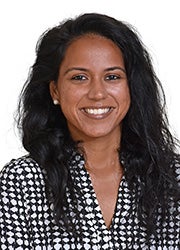 Mallika Sabharwal, M.D.
Medical School: University of Louisville School of Medicine
While completing her degree in exercise physiology at the University of Florida, Mallika Sabharwal did an internship with safety net clinics serving rural North Florida where she learned about care coordination and the social determinants of health. From there she decided to pursue the Public Health Associate Program, a public health training program offered by the Centers for Disease Control and Prevention. As an associate, she worked in the school-based STI program at the Chicago Department of Public Health providing education and testing services to high school students. This experience motivated her to become a public health physician. She went to the University of Louisville School of Medicine where she continued her work in public health through the American Medical Student Association and became involved in advocacy through Students for a National Health Program. In her spare time she enjoys exploring the city, listening to live music, watching documentaries, and long distance running.
---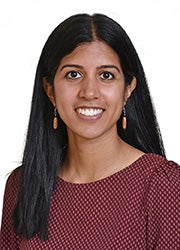 Meghna Srinath, M.D., M.P.H.
Medical School: University of Missouri Columbia School of Medicine
Meghna completed her undergraduate degree at Washington University in St. Louis and attended medical school in her hometown of Columbia, MO. Before medical school, she spent a year with AmeriCorps' City Year in San Antonio, TX, working with youth in urban underserved communities. She pursued an MPH in Social Epidemiology at Emory University, and then worked at the New York City Department of Health, where she evaluated a healthy food initiative and helped with policy development. During medical school, she was active in medical education reform, legislative and advocacy efforts through the AMA, and research. Family medicine fits perfectly with her interests in primary care and public health, and she is thrilled to be able to train at the mission-driven BMC and a federally-qualified health center. Beyond medicine, Meghna enjoys running, reading, film, theater, Indian classical dance, traveling, and spending time with family and friends. She speaks Spanish and Kannada.