"Top 5 Reasons Why We Chose and Love BMC"— from the Residents
1. Commitment to the Urban Underserved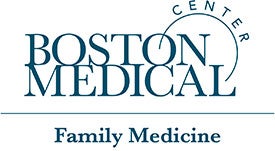 Boston Medical Center has a long-standing commitment to addressing the health needs of the community. The medical center was created in 1996 from the merger of Boston City Hospital, the oldest municipal hospital in the United States, and Boston University Medical Center. Currently, BMC is the largest safety net hospital in New England, with approximately 73% of our patients coming from low-income and under resourced populations. The patient population also reflects the racial and ethnic diversity of Boston and the surrounding communities, and includes a number of recent immigrants and refugees. In-house interpreters are available 24/7 in over 30 languages. The hospital sees thousands of interpreter visits annually, with the most requested languages being Spanish, Haitian Creole, and Portuguese Creole.
The Family Medicine Residency Program continues to build on this legacy of service by providing a comprehensive, evidence-based, primary care curriculum that recognizes the social determinants of health that influence the way our patients experience illness. Our goal is to train clinically excellent family physicians who are dedicated to social justice and improving the health of Boston's underserved communities and beyond. More than 50% of our program's graduates currently practice in underserved settings or federally designated physician shortage areas.
2. Patient-Centered Primary Care at Federally Qualified Health Centers
BMC is a founding partner of Boston HealthNet, a network of 15 community health centers through Boston serving more than a quarter-million people annually. Family medicine residents have the privilege of delivering primary care at one of four state-of-the-art Patient Centered Medical Homes: Codman Square Health Center, East Boston Neighborhood Health Center, South Boston Community Health Center and Roslindale Health Center. While each health center is uniquely reflective of the community where it is located, they all feature a breadth of on-site resources such as behavioral health and psychiatry, radiology, vision and dental services, sub-specialty care, and wellness programs, in order to provide a comprehensive, patient-centered primary care that empowers individuals to lead healthy lives.
3. Rigorous Inpatient Family Medicine Service
In collaboration with the Boston HealthNet, the Family Medicine Department created the Family Medicine inpatient service. This high-volume service sees 3,000 adult visits annually, a majority being complex patients with acute issues in the setting of multiple medical and psychosocial comorbidities. The Family Medicine Health Net inpatient service has been recognized by the hospital for having the lowest length of stay, lowest readmission rate, lowest average discharge time, and highest rates of admission and discharge communication with PCPs and community health centers. 
Residents play a key role in providing team-based care under the direct supervision of family medicine faculty. Over the course of their training, residents hone their clinical and leadership skills, as they progress from providing primarily direct patient care as an intern to leading a team and coordinating services with case management, nursing, social work, and the attending faculty as a junior and senior resident.
4. Collaborative Maternal and Child Health
Boston Medical Center is a full-service tertiary care center for labor and delivery, seeing approximately 2,400 deliveries annually. While on service, family medicine residents provide routine and high-risk intrapartum care under the direct supervision of faculty from family medicine (6 who are c-section trained), obstetrics, and midwifery.
In the postpartum setting, family medicine residents work alongside OB/GYN residents to care for high-risk patients, with hospital courses complicated by issues such as preeclampsia and eclampsia, diabetes, HIV, and substance use disorder. Additionally, our residents work with pediatric residents and faculty in the Newborn Nursery. BMC is a UNICEF and World Health Organization certified "baby-friendly" hospital, recognized for the outstanding support for breastfeeding families.
5. Life in Boston
Boston is a great place to live! From historical landmarks and dozens of universities to the arts and a vibrant nightlife, there is truly something for everyone. The city is divided into several eclectic neighborhoods that reflect different ethnic groups and boast great restaurants. There are also a number of wonderful places to explore within New England, such as Cape Cod, Martha's Vineyard, the White Mountains, Lake Champlain, and Acadia National Park.