The Developmental and Behavioral Pediatrics Program at BMC
Dr. Marilyn Augustyn discusses when you might need to see a developmental and behavioral specialist, what to expect at your first few visits, and BMC's 3-part model for how patients are treated.
Featured Speaker: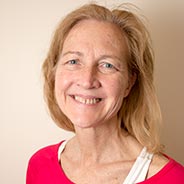 Marilyn Augustyn, MD
Marilyn Augustyn, MD is the Director (Section) of Pediatrics Child Development, Developmental & Behavioral Pediatrics, Pediatrics, Boston University School of Medicine
Learn more about the Developmental and Behavioral Pediatrics Program
---
Transcription:
Melanie Cole (Host):  Welcome. Today, we're talking about the Developmental and Behavioral Pediatrics Program at Boston Medical Center.  My guest is Dr. Marilyn Augustyn. She's a Developmental and Behavioral Pediatrician at Boston Medical Center. Dr. Augustyn, I'm so glad to have you with us today. please tell us about the Developmental And Behavioral Pediatrics Program at Boston Medical Center.
Marilyn Augustyn, MD (Guest):  Well, it's great to speak with you today and tell you a little bit more about our program. We are one the few developmental and behavioral pediatric programs that have been in existence for over 50 years here at Boston Medical Center. We are a free-standing Developmental and Behavioral Pediatrics Division within the department of Pediatrics here at Boston Medical Center which is a Safety Net hospital that serves the broader Massachusetts and Commonwealth community.
We are quite a large division here in the department of Pediatrics. We have about 15 Developmental and Behavioral Pediatric Clinicians including Developmental Behavioral Pediatricians, Nurse Practitioners with particular expertise in Developmental Behavioral Pediatrics, Child Abuse Pediatricians, Complex Care Pediatricians and the specialists who work in our Grow clinic are all here within the Developmental and Behavioral Pediatrics Division.
We also have many special programs like our autism program, our child witness to violence program, our Massachusetts Center for Sudden and Unexpected Infant Death, but today, I want to highlight in particular or general developmental and behavioral pediatrics clinical program and the autism program which is part of that.
Host:  So, then tell us about some of the issues you are most commonly treating there.
Dr. Augustyn:  Well we see children from birth up until 22-years-of-age. In one of our specialty programs, within DBP or Developmental Behavioral Pediatrics, we see children in something called the Baby Steps Program which is for children who are discharged from out neonatal intensive care unit and have special developmental needs. That also includes children who were born with in-utero opioid exposure as well as children with other complex issues related to their prematurity or other circumstances around their birth.
The Baby Steps Program is staffed by a developmental and behavioral pediatrician, a nutritionist, family navigator and occupational therapists. They see children in the first two years of life and provide developmental specific care.
In addition, we have our General Developmental Behavioral Pediatrics Program which see children from about two-years-of-age, sometimes lower down to 15 or 16 months, all the way up to 22-years-of-age. Those children in youth might be referred for common problems such as school difficulty which might include ADHD, might include a learning disability, might include depression symptoms around temperament, fit in their particular educational setting. So, that's a very common issue that we see.
And then probably the most common referral question that we see in DBP here at Boston medical Center are families or clinicians who are concerned about possible autism spectrum disorder. And that particular issue is probably the referral question in slight over half of the families who seek care here at BMC is a concern about possible autism spectrum either in their young child between two and five years of age. But we see children all the way up to 22 years where a family might have a concern about new or ongoing symptoms of autism spectrum disorder.
Host:  What are the facilities like for patients and their families?
Dr. Augustyn:  So, we are a diverse urban hospital. We see children within our general pediatric clinic. So we are right down the hall from our primary care practice. We do have seven clinicians who work as part of our team and we see children in what may look like a typical medical exam room but sort of tailored to our type of evaluation. So, there is a table for evaluating younger children and toddlers. And a lot of our evaluation is play and behaviorally based so when families come in; it may look a lot like either a school day or an early childcare day where we may engage children in different presses, different measures of their language and their cognitive development and all of it's located in our pediatric ambulatory practice. So a place that is often familiar and a setting that is something that children have experienced before.
Host:  Then please speak about this three-part model for how patients are treated.
Dr. Augustyn:  So, we feel that in order to get a sense of the complexity of a child so even a child who is 15 months of age has had quite a lot of experiences previously and so, we want to hear from the caretakers, what their concerns are, what's been their child's developmental trajectory up to that point, what services have they accessed, what prior testing may have been done, what medical issues or other social issues has the child encountered. So, for a child, a younger child like a 15 month old or a 24 month old; that time spent in history taking may be relatively shorter. But for a youth who may be 11-12-13-17-19 years of age; that history taking can be pretty comprehensive and goes through both the developmental history of the child as well as the educational history, any prior evaluations. And that all takes place at the first visit.
It helps us a lot when families are able to bring any prior evaluations, any school records. No paper is too much. So, we love to page through old report cards, old early intervention evaluations. No report is too inconsequential to us. You want to get all the information that we can at that first visit.
Between the first and the second visit; if a family didn't have those records, we will obtain consent to get records from any other prior facilities that have seen the child or for most children, we get the school records as well as information from current teachers or early childhood educators between the first and the second visit.
The second visit is all about the child or the youth. At that visit, we will do an assessment that's really tailored to the question that we are being asked by the referring clinician and by the family. So, for a young child where the issue might be about social communication; we may often do a test say the Autism Diagnostic Observation Scale or a measure of early child communication or a measure of early child cognition. For an older school-aged child; we may do school achievement testing. We may look at a proxy measure of intelligence. We may screen for depression. Screen for symptoms of anxiety.
So, it's really tailored to why the child came to us. What happens at that evaluation is that it is typically anywhere from an hour to an hour and a half but the most important thing about that visit is we need to know that we were able to get at the referral question. So, if a child has a particularly stressful day and the family doesn't feel like we saw the typical child that is displaying the concerns that they are coming to us for; then we may see a child back more than once for a second visit until the family really feels like we've captured the essence of their concerns.
Then the third visit is again, about the caretakers. Typically the child or the youth doesn't come to that visit if it's possible. We understand for childcare reasons, sometimes children may have to come. But ideally, that third visit is focused on the caretaker. We return to the reason that they came here and talk about what recommendations or diagnostic concerns we may have and most importantly, how we are going to embark on the journey with the family to treat and address those concerns that we feel we have identified.
Host:  What a comprehensive program Dr. Augustyn and you mentioned the family in that third visit. Does that include siblings? When you are dealing with children that have autism spectrum that are on the spectrum there, are siblings involved in some of this care?
Dr. Augustyn:  Very interesting question. So, if a child, during the evaluation, those three visits, particularly the second visit. Ideally, we want to see the child alone and if it's a younger child; the family will need to be in the room for the child's comfort. So, ideally, we prefer the siblings not be at those visits just because if we are trying to look at the child's ability to engage with others; that can be different around a sibling. If a caretaker gives a particular history that a child maybe too anxious if their sibling leaves; then we might do that evaluation with the sibling in the room. But then we would try to do a subsequent evaluation as the child is more comfortable alone so that we could really see the child's independent skills.
Then once the diagnosis and a treatment plan are reached together with the family; if the sibling is a piece of that treatment plan, so if for example, a sibling is having a lot of difficulty with understanding a child's diagnosis; then with the family's permission we would definitely meet with the siblings particularly as children become young adults and youths, oftentimes a sibling may be part of the transition planning. And so with the family and at that point, the young adult's permission; we would definitely work with siblings.
We also have a very unique program here at Boston Medical Center called our TEAM Program which stands for Teens Engaged As Mentors. And that's a program that involves middle schoolers and high schoolers both youth who are on the autism spectrum and youth who are not on the autism spectrum and they work together as a team doing service projects in the community. It's a very special and unique program that we run nine months a year. That program often involves siblings of youth on the autism spectrum and that's an opportunity for siblings to engage and understand more about their sibling's disability.
Host:  Such an interesting topic and please tell the listeners what else you would like patients to know about the Developmental and Behavioral Pediatrics Program at Boston Medical Center. Your best advice for when they are seeking out help.
Dr. Augustyn:  So, when families have developmental concerns; it can often be very anxiety provoking. I think that because families might not have as much familiarity with other complex medical diagnoses; they often sort of leave that up to the medical team and really seek their advice and may have less understanding about urgency for those issues.
But I think when you are talking about development and behavior; it's an intrinsic piece of who the child is and who they are in the family. So, the anxiety levels, the concerns are often higher and so I think that parents often feel much more in need of support immediately because of their concern and their love for their child. So, many times, families will call us, hear about the three visit model and hear about the length of the evaluation for a developmental behavioral concern and we recognize that it's very hard to wait through three visits. But I think it's important for families to remember that that is the way that we can best get to know their child, their youth and then to best be able to help and reach a diagnosis that is really comprehensive and accurate.
So, though I realize three visits seems very long particularly when you are worried, but I think that it's important if families can hang with us and go through that process, help us obtain all the information that we need; I think we are all able to feel better at the end of that visit. That the essence of the child's concerns were really addressed.
Host:  Thank you so much Dr. Augustyn for coming on and sharing your expertise and explaining this very comprehensive program to us. And thank you so much for listening to this episode of Boston MedTalks with Boston Medical Center. For more information on the Developmental and Behavioral Pediatrics Program at Boston Medical Center, head on over to our website at www.bmc.org/pediatrics for more information and to get connected with one of our providers. If you found this podcast informative, please share on your social media and be sure to check out all the other interesting podcasts in our library. I'm Melanie Cole.