Carine Lenders, MD, MS, ScD
Medical Director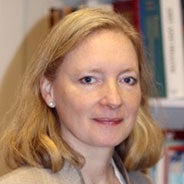 Dr. Lenders has been the medical director of the Nutrition & Fitness for Life Program since 2003. She also heads the Pediatric Nutrition Support Services at Boston Medical Center, and she serves as attending physician for the Nutrition Support Team at the Children's Hospital of Boston.
Dr. Lenders is a former family practitioner with a master's degree in tropical medicine, who graduated with honors from the State University of Liege, Belgium. She spent several months in the Congo with Médecins sans Frontières and three years in Bangladesh at the International Center of Diarrheal Diseases and Research.
She was a fellow in pediatric nutrition at the Children's Hospital of Philadelphia (University of Pennsylvania School of Medicine), a resident in pediatrics at the Massachusetts General Hospital, and a fellow in the Combined Program of Pediatric Gastroenterology (MGH and Children's Hospital of Boston-CHB) at Harvard Medical School. She also served as the co-director of the Optimal Weight for Life (OWL) program at CHB from 1998 to 2003.
She is board certified by the American Board of Pediatrics and the American Board of Physician Nutrition Specialists. Dr. Lenders is also an assistant professor at Boston University School of Medicine (BUSM) and on faculty at Harvard Medical School. She has received several education grants and is involved in the vertical integration of nutrition at BUSM. She recently edited a clinical guide book on overweight and obesity with Caroline Apovian, MD, that earned an outstanding review in the Journal of the American Medical Association. Her current research interests include the relationship of selective dietary components and medications to weight gain and obesity-related conditions.
Kate Donovan, MS, RD, LDN
Clinical Dietitian and NFL Program Coordinator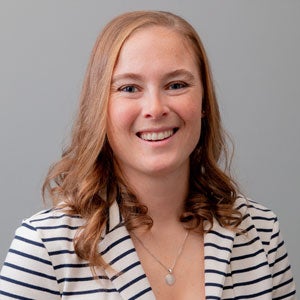 Kate Donovan is a registered dietitian for the NFL Program, providing individualized nutrition assessment and interventions for patients and their families. She uses motivational interviewing and health coaching approaches with a focus on whole family recommendations and interventions. She strives to meet each family where they're at and to help guide them through the lifestyle changes that are needed to achieve a healthier weight.
Kate received a BA in Mathematics from the College of the Holy Cross in Worcester, MA. After working in the health industry and as a children's ski instructor she decided to combine her passions for healthy lifestyle, kids and teaching and completed the combined nutritional DPD, MS, DI program at Boston University and Boston Medical Center, receiving her Masters in Nutritional Ncience. She observed in the NFL clinic during this program and after a brief stint as a clinical adult inpatient dietitian at BMC moved into her current role as clinical dietitian and program coordinator for NFL. She loves working with pediatric patients and their families and has recently started part time in BMC's Teaching Kitchen where she helps families put their nutrition knowledge into action!
When not at BMC, Kate can be found cooking for her family, skiing, biking, hiking, or playing fetch at the park with her dogs.
Sarah Gurney, RD, LDN
Clinical Dietitian
Sarah Gurney is a clinical dietitian for the NFLProgram as well as for the Pediatric Diabetes and Endocrinology group. As a dietitian with NFL, she helps families make the necessary lifestyle changes to achieve a healthier weight. Whether talking about food or fitness, Sarah always strives to motivate families to make the changes most relevant to them and creates a personalized approach to weight management for each family.
Sarah received a BS in Nutritional Science from the University of New Hampshire in Durham, NH, before completing her dietetic internship at the same university in 2017.  Sarah got her start working as a Registered Dietitian at the Elliot Hospital in Manchester, NH, at the Center for Advanced Nutrition Therapy. In 2018 Sarah relocated to Boston and started work in a corporate setting providing worksite nutrition counseling. In 2019 she came to Boston Medical Center to work as a Registered Dietitian in Pediatric Diabetes & Endocrinology. Soon after, she started working in the Nutrition & Fitness for Life clinic. She is interested in nutrition, health promotion and disease prevention. When not at BMC, Sarah can be found in her kitchen at home cooking up a healthy meal, in her garden, or at Fenway watching the Red Sox with her husband.
Sherry Racine
Administrative Coordinator / Scheduler