About The Autism Program at Boston Medical Center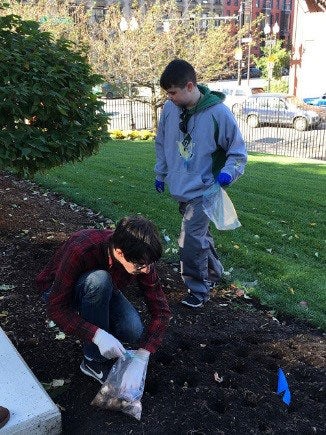 Planting bulbs on BMC campus.
The Autism Program at BMC is a multi-staffed, multi-tiered, comprehensive, and culturally competent service delivery model that is uniquely equipped to meet the complex needs of families with high quality and comprehensive care to all, regardless of status or ability to pay.  Autism Resource Specialists and Navigators offer specialized outreach via training and advocacy services, form effective partnerships with schools, collaborate with local support organizations, and draw upon a deep knowledge base of social service agencies to facilitate linkages and empower marginalized families to access the very best care for their children. The BMC Autism Program has been successful in developing several novel resources and programs that fill gaps in critically needed services for individuals and families impacted by ASD. 
Since its inception in 2007, The Autism Program has:
Supported over 6,500 family referrals
Conducted annual trainings, workshops, and events for over 150 parents, professionals, and community members
Accumulated over 1,700 followers on social media (Facebook, Twitter, Instagram & Pinterest) with an average of 10 new parent and professional followers each week
Curated a robust resource library with over 300 materials translated into multiple languages 
Operated a highly successful culturally and linguistically diverse Parent Leadership Network (PLAN), with 30 parent leaders in its fifth year who speak 8 languages
Run a unique Teen Mentoring program (TEAM), with 33 participants in its third year
Hosted an annual Autism Awareness Day event for families, community members, and hospital staff
Fostered successful partnerships with over 25 community based agencies and programs
About Boston Medical Center
Boston Medical Center (BMC) is a private, not-for-profit, 496-bed, academic medical center. It emphasizes community-based care, with a mission to provide consistently accessible health services to all in need, regardless of status or ability to pay. Many BMC patients come from underserved populations, including low income families, elders, people with disabilities, immigrants, racial and ethnic minority populations and those who rely on government payers such as Medicaid for their coverage. Approximately 31% do not speak English as a primary language. In addition to serving low-income and minority residents of Boston, BMC serves a range of special populations, including people living with HIV/AIDS, pregnant HIV-positive women, survivors of trauma, the homeless, high-risk obstetrical patients, children affected by HIV, children with failure-to-thrive, children and adolescents at risk of obesity, people with mental illness, substance users, and dually-diagnosed individuals. As the largest safety net hospital in New England, BMC provides a full spectrum of pediatric and adult care services, in more than 70 areas of medical specialties and subspecialties, from primary care and family medicine to advanced specialty care. It had more than 24,000 admissions and 1,000,000 patient visits in the last year. It is also the largest and busiest provider of trauma and emergency services in New England, with over 125,000 visits last year.