Rotations (3 month blocks)
 
Resident 1
Resident 2
Resident 3
Resident 4
PGY 2 year
BMC
LMC
BMC
VAMC
LMC
BMC
VAMC
BMC
BMC
VA
Lahey
LMC
VAMC
BMC
LMC
BMC
PGY 3 year
BCH
LMC
BMC
BCH
BMC
BCH
BCH
LMC
BCH
BMC
LMC
BCH
LMC
BCH
BCH
BMC
PGY 4 Year
BMC
VA
Research
LMC
VA
Research
LMC
BMC
Research
LMC
BMC
VA
LMC
BMC
VA
Research
PGY 5 Year
BMC
LMC 
PLAS
BMC
PLAS
BMC
BMC
LMC
BMC
PLAS
LMC
BMC
LMC
BMC
BMC
PLAS
The On-Call Schedule
The BMC Otolaryngology Residency Program is in full compliance with the ACGME
rules on work hours for residents. Since 2004, residents in our program have taken call from
home at all hospital rotations except for Boston Children's Hospital. Junior residents who are
on-call are supported with senior resident back-up and available attending physicians at all times.
Service Vs. Education
The BMC Otolaryngology program was one of the first academic departments
of otolaryngology in the United States to concentrate specifically on the potential conflicts that
can arise as residents attempt to provide care for patients at the same time that they are trying
to have a valuable educational experience. We recognize that the time demands of providing
patient care can encroach on a resident's opportunity to learn.
In 2004, we established the Service versus Education Committee (SVEC). This Committee
is comprised of four individuals: Residency Program Director, Administrative Chief Resident,
Residency Representative to the Resident's Union, and Department Chair. The SVEC
meets quarterly and the agenda for each meeting is composed entirely by the two residents who
serve on the committee. Agenda items focus specifically on the matter of existing or potential
conflicts between resident education and service obligations. Minutes of the meeting are taken
by the Administrative Chief Resident and kept on file. In the days and weeks after each SVEC
meeting, efforts are made to resolve all troublesome issues.
One recent outcome from suggestions that were expressed during a meeting of the SVEC
has been the hiring of a Non-Physician Provider (NPP), a nurse practitioner who will assist
the residents in managing hospitalized patients and in responding to requests for consults coming
from other services and from the Emergency Department. The newly hired NPP will carry
the Otolaryngology pager so that residents will be able to have more opportunities to devote time
to surgery and work alongside faculty members during clinic sessions without the interruption
of having to answer pages.
Didactic Education, Conferences, Events
The BMC Otolaryngology program has a robust educational schedule consisting of weekly
conferences at Boston Medical Center, numerous regional conferences that we participate
in or direct, and contribution to all of the major national Otolaryngology meetings.
Didactics: We collaborate on weekly lectures with the Tufts Medical Center Residency.
Local and Regional Conferences
Annual Scary Cases Conference
Annual BU/ Tufts Alumni Day
Boston Resident Sinus Course, Boston Resident Allergy Course
BU/Tufts Temporal Bone Course
BU/Tufts Cadaver Anatomy Course
BU Soft Tissue Course
BU Facial Trauma and Plating Course
New England Otolaryngology Society (three meetings per year)
Boston Thyroid Club
Massachusetts Society of Otolaryngology Meeting
National Conferences (Active Participation)
Annual Meeting of the American Academy of Otolaryngology-Head and Neck Surgery
Combined Otolaryngology Spring Meeting
Combined Sectional Meeting of the Triological Society
Subspecialty Conference participation based on research submissions (ARS, AAOA, ABEA, ALA, AFPRS, AHNS, ASPO, SENTAC).
Residents at all levels of training are able to attend national meetings of professional societies due to funding from the Resident Education Fund and the Giveback Fund.
Team-Building Events
Annual Team Building Event (resident selected)
Annual Resident Retreat
BMC Otolaryngology Conferences:
Tumor Board
Pathology Conference
Radiology Conference
Multi-disciplinary Difficult Airway Conference
Multi-disciplinary Maxillofacial Trauma Conference
Multi-disciplinary Thyroid Conference
Quality & Safety Conference
Grand Rounds
CPC
Faculty and Subspecialty Coverage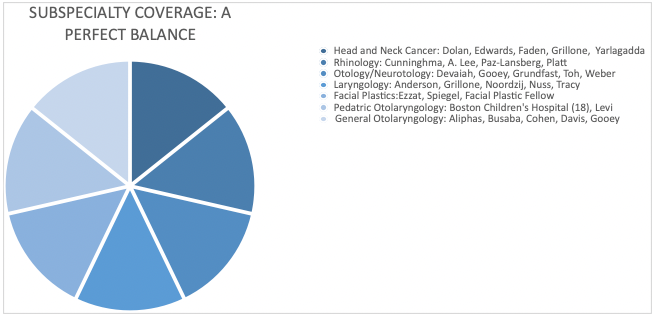 Key Indicator Cases