[view name="departmentcontactblock" arg="3537"][/view]
How is hip bursitis treated without surgery?
The initial treatment for hip bursitis does not involve surgery. Many people with hip bursitis can experience relief with simple lifestyle changes, including:
Activity modification. Avoid the activities that worsen symptoms.
Nonsteroidal anti-inflammatory drugs (NSAIDs). Ibuprofen, naproxen, piroxicam, celecoxib, and others, may relieve pain and control inflammation. Use NSAIDs cautiously and for limited periods. Talk with your doctor about the NSAIDs you use. NSAIDs may have adverse side effects if you have certain medical conditions or take certain medications.
Assistive devices. Use of a walking cane or crutches for a week or more when needed.
Physical therapy. Your doctor may prescribe exercises to increase hip strength and flexibility. You may do these exercises on your own, or a physical therapist may teach you how to stretch your hip muscles and use other treatments such as rolling therapy (massage), ice, heat, or ultrasound.
Steroid injection. Insert Bursitis Injection image Caption: Illustration shows a corticosteroid injection into the trochanteric bursa.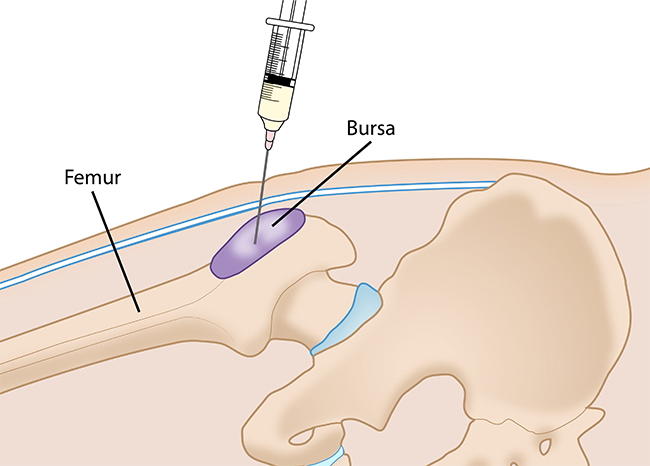 Injection of a corticosteroid along with a local anesthetic may also be helpful in relieving symptoms of hip bursitis. This is a simple and effective treatment that can be done in the doctor's office. It involves a single injection into the bursa. The injection may provide temporary (months) or permanent relief. If pain and inflammation return, another injection or two, given a few months apart, may be needed. It is important to limit the number of injections, as prolonged corticosteroid injections may damage the surrounding tissues.
How is hip bursitis treated with surgery? 
Surgery is rarely needed for hip bursitis. If the bursa remains inflamed and painful after all nonsurgical treatments have been tried, your doctor may recommend surgical removal of the bursa. Removal of the bursa does not hurt the hip, and the hip can function normally without it.
A newer technique that is gaining popularity is arthroscopic removal of the bursa. In this technique, the bursa is removed through a small (1/4-inch) incision over the hip. A small camera, or arthroscope, is placed in a second incision so the doctor can guide miniature surgical instruments and cut out the bursa. This surgery is less invasive, and recovery is quicker and less painful.
Both types of surgeries are done on an outpatient (same-day) basis, so an overnight stay in the hospital is not usually necessary. Early research shows arthroscopic removal of the bursa to be quite effective, but this is still being studied.