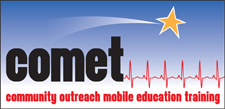 Read some of our former participants testimonials. Find out how the COMET program can benefit your organization.
---

"I will state categorically that this training, high-fidelity, and high-anxiety (in a good way!), is critical to any department that sees relatively few true pediatric emergencies. What is most remarkable is the ability of the teachers, Barbara Walsh and (I forgot the NPs name!!!) to individualize cases and to present them in a true time-intensive environment, that is to say, there is no "faking" finding meds or placing IVs, etc., the actions and decisions of the treatment team play out as they would in a true emergency, and- more than in any other training setting- identify knowledge and operational gaps before they impact negatively on patient care. This training is absolutely worth the nominal cost, which truly only nominal." - James Sullivan, Emergency Department Director, Harrington/Hubbard Hospitals

"Thank you for following up. We thoroughly enjoyed the simulation and received positive feedback from the staff who attended. The simulations were extremely helpful. It was also helpful that you reviewed emergency equipment with us and helped to review the pediatric code cart. Since coming, the only thing we have worked on regarding pediatric emergencies is the code cart- more equipment has been ordered and pharmacy has been more involved with creating the inventory of medications in the cart. We would love to have more simulations in the near future!"

"Dr. Walsh, I would like to thank you and your team for the invaluable learning opportunity that you provided. It was a wonderful, instructive and fun two hours. Thank you for providing constructive criticism in an informative, non-threatening, supportive and enjoyable manner. You guys are excellent and outstanding at what you do. You are improving pediatric care and well being in a most effective manner and nothing is more important or noble. I'm a simple man, not often given to hyperbole but, allow me to say that In two hours, I feel you've helped to make me a better Physician. Medicine is unique, sometimes we and our patients benefit from our shortcomings, ... It's how we learn and improve, one patient, one encounter and sometimes one mistake at a time. Thank you for providing a safe, comfortable and instructive environment to address those mistakes. My night shifts just became a bit less stressful." – Emergency Dept. Physician, Boston area hospital

"We have been very fortunate to have Dr. Barbara Walsh and her team come to our emergency department to hold pediatric simulation-based education. The high-fidelity manikins that are utilized to run resuscitation scenarios during these simulation sessions are critical in helping staff improve their clinical skills and critical thinking while promoting essential teamwork that is necessary when caring for critically ill children. These simulations benefit registered nurses, physicians, physician assistants, nurse practitioners and respiratory therapists in the emergency department. The staff is able to practice their skills by actually establishing IV access, administering medications and providing resuscitation including CPR. The staff is able to apply their knowledge of critically ill pediatric patients during these simulations which can be just as anxiety-provoking as the real situation. These simulations are essential in promoting confidence among staff while providing vital specialized education of the pediatric patient. Our staff have verbalized their anxiety about pediatric patients but I have always received positive feedback from every staff member who attends these simulations." - Sherrie Langlois, BSN, RN, CPEN, CEN, Harrington Hospital