Request an appointment
Request an appointment
New Patients
We're glad you've chosen BMC for your care! Please call the department you wish to make an appointment with to get started. Learn more about coming to BMC.
If you are a new patient and need an appointment, please contact us at the phone number below.
617.638.6428
Refer a patient
Refer a patient
Call our department to schedule a referral appointment
617.638.6428
617.638.6428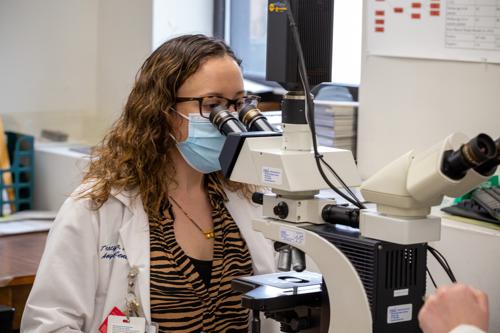 The Cancer Care Center at Boston Medical Center cares for patients with malignant and non-malignant blood disorders and cancer. The Center provides diagnostic services, innovative treatments, and comprehensive care to patients by an outstanding, nationally recognized, multidisciplinary team of hematologists, oncologists, radiation oncologists, surgeons, oncology nurses, social workers, and dieticians. The Center also offers specific multidisciplinary programs for the diagnosis and treatment of lung cancer, breast cancer, cancers of the head and neck, gastrointestinal cancers, and skin cancers. Further, participation in national clinical trials offers patients promising new treatments for all stages of their disease.
The Infusion Suite, where patients receive chemotherapy, is housed in the Center and provides patients with the utmost privacy, comfort, and convenience. The Suite includes private rooms with beds and bays with large reclining chairs for patients and comfortable seating for those who accompany them. Patient Navigators (experts trained to help patients overcome barriers to care), social workers, and dieticians are also located in the Infusion Suite and are available to help patients with any needs that arise during their visit. A specialty pharmacy is conveniently located on the floor drop-off and pick-up, allowing patients to fill many of their medications without leaving the area. All of the nurses working in the Infusion Suite have successfully completed the Chemotherapy Biotherapy Certificate Course administered by the Oncology Nursing Society (ONS), and most are also OCN® (Oncology Certified Nurse) certified.
Contact Us
Specialty Clinics
The first step is a consultation with a radiation oncologist who works closely with other physicians and medical professionals to coordinate the best possible care for every patient.
Patients with blood disorders receive consultation and treatment for a broad range of benign conditions, such as hemoglobinopathies (sickle cell anemia and thalassemia), hemochromatosis, bleeding and thrombotic disorders (von Willebrand's disease and hemophilia), hypercoagulable states, myeloproliferative disorders, myelodysplasia and anemia, and malignancies such as leukemia, lymphoma and myeloma.
Surgical oncologists provide comprehensive, expert surgical treatment for patients with a broad range of cancers. The team of surgeons, nurses, and support service personnel are among the best in the country, and the treatment approach, facilities, and technology available are state-of-the-art.