Patients with blood disorders receive consultation and treatment for a broad range of benign conditions, such as hemoglobinopathies (sickle cell anemia and thalassemia), hemochromatosis, bleeding and thrombotic disorders (von Willebrand's disease and hemophilia), hypercoagulable states, myeloproliferative disorders, myelodysplasia and anemia, and malignancies such as leukemia, lymphoma and myeloma.
The team of hematologists works closely with the blood bank and has developed innovative techniques for harvesting, storing, and re-infusing blood and its components, most notably for autologous peripheral blood stem cell infusion. Apheresis is also available for the treatment of a variety of disorders including sickle cell disease, Waldenstrom's macroglobulinemia, and cryoglobulinemia.
The Infusion Suite is housed in the Center and provides patients with the utmost privacy, comfort, and convenience. The Suite includes private rooms with beds and bays with large reclining chairs for patients and comfortable seating for those who accompany them. Patient Navigators (experts trained to help patients overcome barriers to care), social workers, and dieticians are also located in the Infusion Suite and are available to help patients with any needs that arise during their visit. A specialty pharmacy is conveniently located on the floor, allowing patients to fill many of their medications without leaving the area.
Contact Us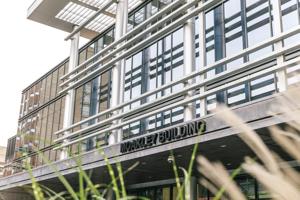 Department News
Researchers at Boston Medical Center and Dana-Farber Cancer Institute conducted one of the first-ever analyses of neuroendocrine tumors (NETs) at single cell resolution, unlocking new insights…
Research Overview
Clinical trials are research studies in which people help doctors find ways to improve health and health care.
They can help answer scientific questions and find better ways to prevent, diagnose, or treat cancer. Many of today's treatments for cancer are based on the results of past clinical trials. Because of progress made through clinical trials, many people treated for cancer now live longer, and some are even cured from their disease.
Patients who are interested in joining a research study, or who would like to see if there are any ongoing trials that might be appropriate for their condition, can talk to their doctor or nurse, or call the Clinical Trials Office directly at 617.638.8265 to speak with research nurses and assistants.
Clinical Trials
The Clinical Trials Office of the Cancer Research Center coordinates BMC's participation in several national cancer cooperative trials, directed not only at new therapies but also at prevention, education, and screening for early detection. A key component is the team's active participation in the Southwest Oncology Group (SWOG), a national clinical trials cooperative established with National Cancer Institute (NCI) funding. BMC is the only full-member institution in New England, and is also a member of NSBBP (National Surgical Breast and Bowel program). Participation in SWOG and NSBBP clinical trials affords access to many investigational drugs and protocols sponsored by the NCI that would be unavailable otherwise. In addition, the team comprises the principal investigators for a series of clinical trials at Boston Medical Center.
Learn more about ongoing trials. Physicians who are interested in referring a patient for possible inclusion in one of these trials, should contact the Clinical Trials Office directly at 617.638.8265.
Residency and Fellowship Information
Hematology and Oncology Fellowship Program
The Hematology and Oncology fellowship program at Boston Medical Center is a combined teaching program with the Boston University Chobanian & Avedisian School of Medicine and the Boston Veterans Administration Medical Center. The fellowship is an ACGME accredited three year program, and offers three separate tracks: Hematology and Oncology; Geriatric Oncology (with fourth year Hematology option); and Hematology research training. For more information, click here.
Latest from HealthCity
At Boston Medical Center, experts from the Cancer Center are exploring how new and existing therapies could fight the COVID infection.