SCAT5
The Sport Concussion Assessment Tool (SCAT5), developed by a group of international experts, (Berlin 2016) is used to evaluate injured athletes for concussion. If an athlete completes the test prior to their season, baseline results can be established to determine a patient's normal responses or reactions. Then, if he or she suffers a concussion the test can be taken again and results compared to evaluate when it is safe to return to play.
The SCAT5 is made up of many different parts and measures immediate memory, concentration, delayed recall, balance, and orientation. Result scores are understood nationwide.
King Devick
The King-Devick Test is a quick, objective, remove-from-play sideline concussion screening test that can be administered by parents, coaches and medical professionals. This test can be administered on an iPad or Android tablet and is a valuable tool to aid in the detection of concussions.
ImPACT
A 25 minute computerized test called ImPACT (Immediate Post-Concussion Assessment and Cognitive Testing) is used to obtain baseline evaluations of neurocognitive functioning (memory, thinking, concentration, and reaction time) is an aid to determine safe return to play decisions for athletes. Baseline tests are recommended every two years and can be used in comparison to a repeat ImPACT test if a concussion is suspected to evaluate potential changes or damage caused. The test is available in more than 20 languages.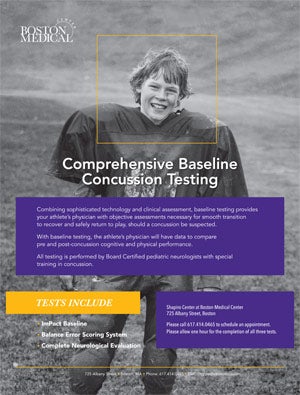 ImPACT Features:
Measures player symptoms
Measures verbal and visual memory, processing speed, reaction time, attention span, non-verbal problem solving, and response variability
Reaction time measured to a 1/100th of second
Assists clinicians and athletic trainers in making difficult return-to-play decisions
Provides reliable baseline test information
Produces a comprehensive report of test results
Automatically stores data from repeat testing
Testing is administered online for individuals or groups
Baseline Concussion Screening for Teen Athletes