Boston Medical Center News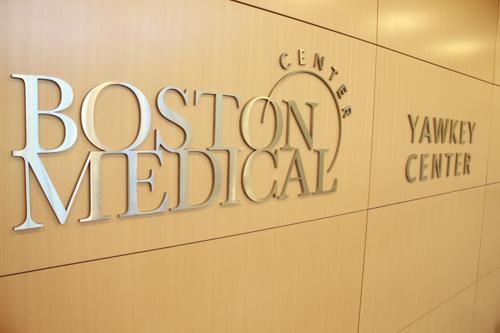 Latest News at BMC
BOSTON – Tracey Dechert, MD, FACS has been appointed Chief of Acute Care and Trauma Surgery at Boston Medical Center (BMC) and will assume her new role on July 1. Dechert is believed to be the first woman to be named surgical trauma chief at a Level 1 adult trauma center in Massachusetts.
BOSTON - Results from a new study at Boston Medical Center show how transition support and post-discharge depression treatment reduce unplanned hospital readmissions for individuals with depressive symptoms. Published in Annals of Family Medicine, researchers discovered a 70 and 48 percent reduction in hospital re-admittance at the 30- and 90-day mark following post-discharge care by an adapted version of the Re-Engineered Discharge (RED) Program, a nationally disseminated readmission reduction program, amongst adherents to the program. The adapted version is named RED for Depression (RED-D).
BOSTON – According to a new study from Boston Medical Center's Grayken Center for Addiction, methadone administration for opioid withdrawal with direct opioid treatment program admission under the "72-hour rule" is possible in an outpatient bridge clinic and resulted in a high number of completed referrals to opioid treatment programs, along with high one-month retention rates. The findings in Drug and Alcohol Dependence show that a hospital-based bridge clinic model of care has the potential to improve methadone access amid the highest rates of opioid overdose death in U.S. history.
BOSTON – New research from Boston Medical Center (BMC) shows how intentionality and partnership between community leaders and medical health centers can improve COVID-19 vaccination uptake in Black and Latino communities. Published in Annals of Internal Medicine, researchers analyzed the impact that a community-focused model led by BMC and its community partners had on improving equitable access to vaccination.
BOSTON – According to new research from Boston Medical Center and Stanford University School of Medicine, almost a quarter of physicians who responded to a survey at Stanford Medicine experienced workplace mistreatment, with patients and visitors being the most common source.
BOSTON – New research from Boston Medical Center assesses the impact of a statewide effort to improve breastfeeding rates in Mississippi, using an evidence-based strategy to evaluate the Communities and Hospitals Advancing Maternity Practices (CHAMPS) program. Published in Maternal & Child Nutrition, this study uses the Reach, Effectiveness, Adoption, Implementation and Maintenance (RE-AIM) framework to assess the impact of the program for improving breastfeeding rates in birthing hospitals and the community. RE-AIM has been used to assess the impact of public health programs applied across a range of settings, but no national breastfeeding programs in the U.S., like CHAMPS, have been assessed using an established implementation science framework.
BOSTON – New research results demonstrate how inflammation from a COVID-19 infection during pregnancy could potentially impact long-term infant health, including infant growth and brain development. Published in the Journal of Perinatology, a new study from Boston Medical Center describes how infants of mothers who had a COVID-19 infection during pregnancy had significant elevations in inflammatory blood markers, also known as cytokines, at the time of delivery.