Boston University Eye Associates offers routine eye examinations as well as a wide array of diagnostic evaluations and treatments for patients of all ages with eye conditions that include cataracts, ocular surface disorders, glaucoma, dry eye, diabetic retinopathy and macular degeneration.  If necessary, ophthalmologists perform surgical treatments for the most common conditions and refer patients to specialists if other testing or treatment might be needed.
Referrals
Patients whose insurance plans require referral from their primary care physician (PCP), must call their PCP before their visit to BMC's Department of Ophthalmology. BMC must have this referral prior to the patient's visit. Appointments may be rescheduled if needed. 
Late Patients
Late arrivals may be accommodated; however, it may be necessary to re-schedule the appointment depending on the physician's schedule.
Contact Us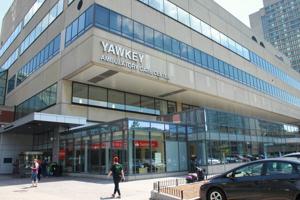 Treatments & Services
Cornea and External Disease
The cornea is the clear window into the eye which aids in focusing light for clear vision. Physicians at BMC diagnosis and treat corneal disorders including infections and ulcers, keratoconus, Fuchs Dystrophy, and other problems affecting the cornea.
LASIK
Refractive surgery can reduce or eliminate a person's dependency on contacts and glasses by correcting nearsightedness, farsightedness, and/or astigmatism.
Upper and lower eyelid blepharoplasty
Upper and lower lid blepharoplasty procedures remove wrinkled skin and bulging fat from the eyelids. These procedures help restore a more youthful appearance and reduce the feeling of heaviness caused by the excess tissue.
Glaucoma
Open-angle Closed-angle High pressure Blurred vision
Low Vision Services
Rehabilitation
Neuro-ophthalmology
Visual loss Double vision Optic nerve problems
Retina
Macular degeneration Diabetic retinopathy Detached retina
Testing
Visual Field Ultrasound OCT Digital Photography
Our Team
Ophthalmologists and Optometrists
The Department of Ophthalmology at Boston Medical Center comprises leading physicians with extensive experience in all aspects of eye care. The providers (ophthalmologists and optometrists) are listed in detail at the Boston University Eye Associates website.
Department News
New research findings suggest that providers are poor predictors of patient satisfaction with anesthesia and perioperative comfort.
BOSTON – New research from Boston Medical Center found that Black and Hispanics patients treated with surgery for retinal detachment had worse vision results than white…
New research from Boston Medical Center found a significant correlation between biomarkers in the vitreous humor of the eye and pathologically confirmed cases of…
Residency and Fellowship Information
Ophthalmology Education
The Department of Ophthalmology at Boston Medical Center is affiliated with the Boston University Chobanian & Avedisian School of Medicine. To learn about our post-graduate education programs, please visit the Ophthalmology section of the Boston University Chobanian & Avedisian School of Medicine website.