At Boston Medical Center, we know that staying healthy involves a lot more than occasional trips to the hospital. Everything from the food available near you to where you live to your transportation options to your job affects your health. That's why we're committed to our programs and initiatives that work to address your health needs outside the traditional medical model.
We hope that you'll come to BMC when you're sick – but we want to help you stay healthy too. As part of BMC's commitment to making a healthier Boston, we have developed a number of programs and services that help address some of the root causes of medical issues, with the goal of improving your health outcomes. 
Investing in Housing
In 2017, Boston Medical Center committed $6.5 million to improving housing for the people and communities we serve. In partnership with community organizations and government agencies, we aim to use housing to help improve the health of some of the most vulnerable children and families, individuals and elders in our community.
The core of these investments are supportive housing and wraparound services that help those who need it get stable housing. Together with behavioral health and substance use disorder services and medical care, stable housing can transform health in a community. To that end, we have invested in projects such as:
Supporting the development of healthy local retail to increase access to amenities like food markets and gyms
Development of housing support services that emphasize housing stabilization
Projects that integrating the housing and healthcare systems for people with unstable housing
Community engagement in order to understand and respond to the challenges, barriers, and opportunities facing Boston residents who are encountering displacement and rising costs
Investments in developments built near public transportation that prioritize community, environment, and health.
Nourishing Our Community
Since 2001, the Preventive Food Pantry and The Teaching Kitchen have addressed hunger-related illness and malnutrition for our low-income patients. Individuals who are food insecure, at risk of malnutrition, or who have other special nutritional needs are referred to the Pantry by BMC, Boston HealthNet physicians, or nutritionists who provide "prescriptions" for food helps improve your physical health, prevent future illness, and ease recovery from illness or injury.
The Pantry provides nutritional food prescriptions to approximately 7,000 patients and family members each month, for a total of more than 74,500 Greater Boston residents per year. Each week, the shelves are stocked with nearly 12,000 pounds of food supplies to serve the community.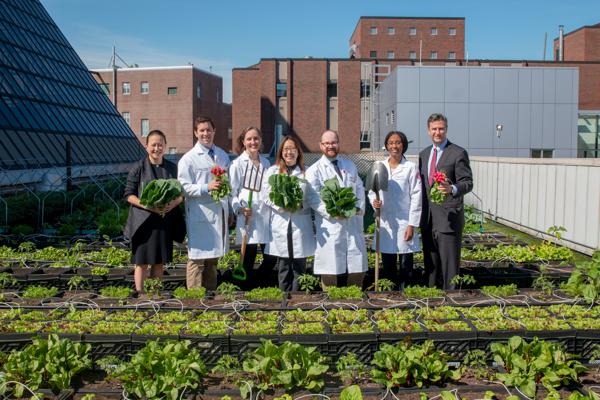 The Teaching Kitchen complements the work of the Pantry by teaching patients how to cook healthy meals that are medically and culturally appropriate. Their classes aim to help patients prevent and manage chronic diseases such as diabetes, heart disease, chronic pain, cancer, substance use disorder, and more. In addition, classes are offered to BMC and BU Medical School employees and students, as well as families of patients and staff and Boston Public School students.
Our Rooftop Farm is a 2,658 square foot farm with more than 30 varieties of crops. The farm not only provides fresh, local produce to our hospitalized patients, cafeterias, Teaching Kitchen, and Preventive Food Pantry, but is also part of BMC's commitment to sustainability. The farm reduces storm water runoff, increases green space, and reduces energy use, including the energy required to transport food.
Breaking the Cycle of Violence
The Violence Intervention Advocacy Program (VIAP) was founded in 2006 and provides specialized services to victims of violence. The program's violence intervention advocates  provide  victims and their families with direct services and referrals to outside services, including crisis intervention and stabilization, housing and transportation, legal assistance, education, vocational and life skills development, mental health, employment, and health and wellness. In addition to its presence at BMC, the VIAP model has been disseminated to two other hospitals in Massachusetts.
Helping Elders Stay at Home
For more than a quarter century the Elders Living At Home Program has been at the forefront of ending elder homelessness in Boston. Over the last two and a half decades, ELAHP has touched the lives of 2,500 people, not only clients, but their families, care providers, policy makers, public and private funders and students from a variety of disciplines.
The rise in housing prices in Greater Boston has led to fewer people being able to purchase homes, which creates a tremendous demand for rentals. This has caused rents to skyrocket. This has also contributed to scarcity in the availability of subsidies, even in housing developments for the elderly and disabled where turnover is greater.
To help combat this problem, ELAHP provides intensive case management services, enhanced by legal support and expertise, to older adults who are at imminent risk of losing their housing and becoming homeless.
Reaching Out to Patients with Substance Use Disorders
Project TRUST's goal is to help anyone who is actively struggling with substance use access to comprehensive and compassionate care without judgement. They provide addiction treatment resources, harm reduction education and supplies, and navigation to an array of medical services including primary care and urgent care services.
In addition to a drop-in center, Project TRUST runs an outreach team to engage people with substance use disorders in the places they spend their time. The goal is to reach people who may not be able to – or ready – to come into BMC clinics for treatment, but who can still benefit from BMC services.
Community Needs Assessment
In 2022, BMC conducted a comprehensive Community Health Needs Assessment (PDF) in collaboration with multiple stakeholders including community organizations, health centers, hospitals, and the Boston Public Health Commission. The Boston Community Health Needs Assessment-Community Health Improvement Plan Collaborative (Boston CHNA-CHIP Collaborative) was formed in 2019 to undertake the first city-wide CHNA and CHIP for the City of Boston and conducted the second in 2022.
Key findings that emerged from the 2022 CHNA include: financial stability and mobility; housing affordability; food insecurity; access to health care, social services, and childcare; chronic disease; mental health; substance use; violence and trauma; income and education; workforce and employment; and mortality. These findings informed BMC's 2022 Implementation Strategy which serves as our roadmap for our Community Benefits Programs and Initiatives for the next three years.