The Infectious Diseases practice at Boston Medical Center is the largest HIV/AIDS program in the New England area and one of the largest STD practices in Massachusetts. The practice offers comprehensive diagnostic and therapeutic services in all areas of infectious diseases, with particular expertise in HIV/AIDS, sexually transmitted diseases (STDs), diseases incurred through international travel, and Lyme disease. The magnitude and variety of the patient population offers the physicians extensive opportunity for clinical research and offers patients the opportunity to benefit by participating in that research. The Infectious Disease practice offers both adult and pediatric care.
The International Travel Program is designed to keep departing travelers from contracting any diseases or illnesses overseas, as well as to offer immediate, aggressive treatment for returning travelers who may have acquired a disease.
HIV Care
HIV-infected persons receive ongoing primary care within the CID one-stop shopping model and experience seamless transitions between diagnosis, assessment, and treatment. The CID staff creates an individualized treatment plan for each patient receiving HIV treatment and primary care. Creating this plan involves assessing the patient's overall health to make sure the best medications are prescribed in creating a treatment plan. Medical services offered include care from a team of nurses and doctors specializing HIV/AIDS who are at the forefront of HIV/AIDS research and treatment. In addition, patients can see specialists in the liver, lung, cancer, and psychiatry within the CID. The clinic offers:
Obstetrics and Gynecology Services
Women infected with HIV who become pregnant are able to receive comprehensive HIV-specific care throughout the prenatal period in the Positive HOPE (HIV-OB Program and Education) Clinic. The multidisciplinary team comprised of an adult HIV provider, an OB/GYN trained in maternal-fetal medicine focused on HIV pregnancy care and members of the Pediatric ID team assure seamless peri-partum and post-partum care of the exposed infant.
The team of physicians and staff at the Hope Clinic provide specialized obstetrical care for women infected with HIV that are pregnant or planning to become pregnant. They are experienced in the use of HIV medication during pregnancy for maternal treatment and prevention of mother-to-child HIV transmission.
The obstetricians and gynecologists are knowledgeable about the health needs of HIV infected women. Our team of gynecologists and NP have a tremendous depth of knowledge and experience with the gynecological issues of women infected with HIV. They provide women with comprehensive gynecologic services including exams, pap smears, and on-site colposcopies and anoscopies for those with dysplasia.
Pharmacotherapy: The pharmacist collaborates with the doctor to develop, document and execute a plan of care which can include:

review of all medications and dosing instructions
manage side effects
monitor drug-drug interactions
review adherence
review of resistance test results and participate in designing alternative medication regimens
collaborate with physicians to evaluate and manage stable chronic conditions such as diabetes, hyperlipidemia, hypertension, COPD, asthma, and heart failure

Adolescent/ Young adults care for those 18-24 years old transitioning from pediatric to adult care
HIV Patient Support Groups
HIV Screening and Treatment
HIV testing is offered through the Boston STD Clinic.
HIV and HCV Medical Case Management
The CID offers Medical Case Management services to HIV positive and Hepatitis C positive patients. The CID model of HIV primary care is team-centered; each team consists of an HIV primary care physician, a nurse, and a medical case manager (MCM). Every patient is assigned to a designated care team; this ensures that patients' medical care will be closely coordinated with MCMs. This multidisciplinary model maximizes service utilization and coordination of care both within the CID and across hospital departments and outside agencies.
Services include:
Health insurance assistance
Transportation assistance
Housing assistance
Utility assistance
Substance use and abuse risk reduction
Assisted referrals to other support services
Adherence support
Sexual health promotion
HIV Support Groups
The CID offers a variety of weekly groups including:
Newly diagnosed or reengaged in care group
Women's group
Community luncheons
Men's group
Substance use
Clinic staff facilitate groups and rotate topics selected by participants and facilitators to address the most relevant issues of interest.
Mental Health
Mental health services are offered to HIV positive patients of CID. Many patients work with the CID mental health team which offer sessions with therapists and a psychiatrist.
Services include:
Diagnostic assessments
Crisis interventions
Time-sensitive treatments as clinically indicated or when facilitating transition to outside therapy resources
The CID mental health clinicians are licensed independent clinical social workers (LICSW) with experience in HIV, trauma, and multicultural mental health issues. There is also a clinic based psychiatrist for appropriate medication therapies. 
Infectious Disease Consult Service
The Center for Infectious Diseases offers in depth evaluation and management of adult patients with bacterial, fungal, parasitic, and viral diseases including HIV and its complications. The providers at the CID specialize in multiple infectious disease states including bone and joint infections, mycobacterial disease, Lyme disease, and tropical infections, as well as complications associated with states of immunosuppression. The practice also provides state of the art pre-transplant evaluations and prophylaxis assessment for patients undergoing chemotherapy or other immunosuppressive treatment modalities.
Consult services are available:
Monday - Friday, 8:00 AM - 5:00 PMTo make an appointment or refer a patient call 617.414.4290
FAST PATH-Substance Use
The FAST PATH Program (Facilitated Access to Substance abuse Treatment with Prevention and Treatment of HIV) is a specialized team based in the Center for Infectious Diseases (CID) to address substance abuse issues. The clinical team includes an addition specialist MD, a substance abuse nurse, and a licensed alcohol and drug counselor.
Substance use counseling includes:
Longitudinal, coordinated care for substance abuse
Addiction counseling
Medication-assisted treatment
Clinical case management
One-on-one counseling
Facilitated access to detoxification programs
Support groups
Suboxone as an opiate recovery alternative
Regular substance use monitoring and follow-up
Contact Us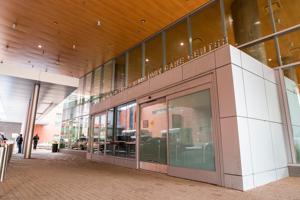 Our Team
Donald Thea, MD
Tropical Medicine
General Infectious Diseases
Residency and Fellowship Information
The Center for Infectious Diseases at Boston Medical Center is affiliated with the Boston University Chobanian & Avedisian School of Medicine. To learn about the education programs, please visit the Infectious Diseases section of the Boston University Chobanian & Avedisian School of Medicine website.
Instagram Takeover
Tune in for a day in the life of Dr. Pawlose Katema, one of our amazing infectious diseases pharmacy residents!⁣⁣⁣
⁣⁣Dr. Katema takes us through a normal day in his life at BMC, introduces us to his amazing co-residents, and shows us some of BMC's COVID-19 vaccine operations. He also answers questions you may have about residency and BMC.⁣