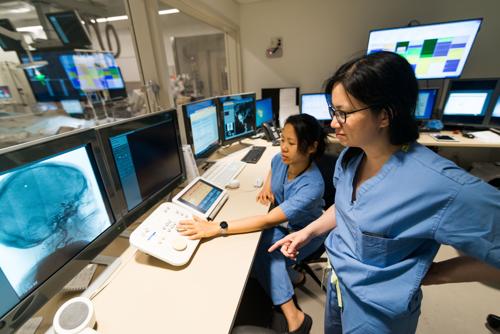 The Department of Radiology at Boston Medical Center is a full-service, academic medical imaging department that performs over 350,000 screening, diagnostic, and interventional procedures annually for Boston Medical Center, their affiliated health centers, and the community. The goal of the department is to provide every patient with timely access to the most sophisticated medical imaging technology in a compassionate setting and to quickly deliver accurate electronic medical reports to referring physicians.
Specialty Clinics
Boston Medical Center's Interventional Radiology physicians are committed to providing comprehensive care. Working in a multidisciplinary, collaborative environment, the interventional radiologists and team of specialized physician assistants, nurse practitioners, and nurses ensure the best patient care in the New England region.
If you are a woman over 40, yearly breast health screenings are an important part of a healthy routine. Mammography is the single most effective method to detect breast changes, long before physical symptoms can be seen or felt. Yearly mammograms can detect cancer early, providing you with more treatment options and a chance for a full recovery.
Treatments & Services
Diagnostic Radiology
The Diagnostic Radiology department is a full service, academic medical imaging department for both adult and pediatric patients. A team of licensed and ARRT registered technologists accommodate patients imaging needs. The department houses the most sophisticated medical imaging technology to quickly deliver accurate electronic images to referring physicians. The enhanced digital imaging has many advantages over traditional x-ray units including providing a more detailed image with lower radiation dose in a shorter amount of time in a comfortable and compassionate setting.
Magnetic Resonance Imaging (MRI)
This test uses a magnetic field, radiofrequency pulses, and a computer to produce detailed images of body structures in multiple planes. Some people may need an IV put in place so caregivers can inject a contrast solution into their veins. This depends on the exam the doctor has ordered. MRI is a more detailed tool than x-ray and ultrasound and for certain organs or areas of the body, it provides better images than CT.
Molecular Imaging and Nuclear Medicine
Nuclear Medicine techniques are often used to look at many organ systems in the body and determine a patient's best treatment option. 
Musculoskeletal Imaging
Musculoskeletal Imaging involves taking pictures of bones, joints, ligaments, tendons, and muscles for effective diagnosis and treatment of conditions.
Ultrasound
Abdominal ultrasound Gynecologic/pelvic ultrasound First trimester OB ultrasound Orthopedic/Musculoskeletal ultrasound Scrotal ultrasound Thyroid ultrasound Deep vein thrombosis ultrasound
Additional Information
Other Services
Advanced Cardiac Imaging Program
Carotid Artery Stenting
Chest Imaging
Neuroradiology, Abdominal, Musculoskeletal and Oncologic Imaging
Pediatric Radiology
PET / CT Scan
Radiology Film Library
Vascular and interventional services
Radiology Film Library
BMC's Radiology Film Library is readily available to fill film and CD requests. They are open Monday-Friday 7:00 AM-5:00 PM.
When a patient arrives at the Radiology Department in Menino, Moakley or Shapiro, they will be directed by a patient access staff member to the front desk to fill out a film request form. Please complete this form and bring it with you to save time at your appointment. Once the completed form is handed in and a request for a librarian is made, the librarian will process the request. Patients must bring ID so that the librarian can properly identify the patient with the CD requested. The CD will take up to 30 minutes to be prepared. If request is given on the weekend, it will take a business day. If a patient does not want to wait, the images can be mailed.
Residency and Fellowship Information
The Department of Radiology has a long and proud history, whose roots reach back more than 120 years. Our Residency and Fellowship training program prepares future generations of radiologists for rewarding careers in a caring and inquisitive environment. Please visit our new site for more information on our Training Programs.
Read more about our Training Programs.