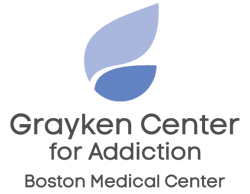 To schedule an appointment with an addiction specialist, please call 617.414.6926
Story 8 | Mental Illness and Addiction: Often Hand in Hand
Grayken Center | Nov. 29, 2017
Substance use disorder (SUD) and mental health illness are two different conditions, but you might call them siblings of sort. The link between them is often strong.
Both are developmental disorders. "That means they often begin in the teen years or even younger — periods when the brain experiences dramatic developmental changes," said David C. Henderson, M.D., professor and chair, Department of Psychiatry at Boston Medical Center, home to the Grayken Center for Addiction. "Early exposure to drugs of [misuse] may change the brain in ways that increase the risk for mental disorders." The reverse is also true, Henderson explained. Early symptoms of a mental disorder may indicate an increased risk for later drug use. However, the risks can be present throughout the life span.
Almost 43 million adults in this country suffered a mental illness in the past year, as reported in the 2014 National Survey on Drug Use and Health, published by the Substance and Mental Health Services Administration (SAMHSA). Examples of mental illness are depression and anxiety. In addition, roughly 22 million Americans aged 12 and older were classified with SUD.
But there's another category that overlaps the two, and it's called "dual diagnosis." Eight million adults have co-occurring mental illness and substance use. That means they suffer from schizophrenia, for example, but also use opiates or other illicit drugs. Rates are highest among adults between the ages of 26 to 49, according to SAMSHSA.
Dual diagnoses are difficult to treat. It can be challenging to figure out which came first. Was the person depressed and used drugs to self-medicate or did the drug addiction cause the depression? "It really doesn't matter when it comes to treatment, as both need to be treated," explained Henderson. "Years ago, doctors would say, 'I can't treat your depression until you stop using substance.' Now we know both need to be treated at the same time to improve outcomes."
That's the role of the Substance Use Program in Psychiatry on Recovery and Treatment (SUPPORT) clinic, an outpatient program at BMC. Services for co-occurring substance use and mental health are provided by the Addiction Psychiatry team, composed of psychiatrists trained in addiction, psychologists and therapists.
Treatment is tailored to the individual needs of the patient. The key, however, is the dual combination of therapy and medication for both the substance use disorder and mental health illness to assist in recovery and prevent relapse. Therapy may be individual or group and offers techniques, such as cognitive behavioral therapy, or CBT, a common form of therapy. CBT focuses on solutions, and treats problems by modifying dysfunctional emotions and changing destructive patterns of behavior. Such behaviors can lead to drug use.
The approach for treatment of dual diagnosis is multi-dimensional and crosses over into several programs at BMC. "We have integrated SUD and care for mental illness in many departments so that people can receive treatment where they regularly see their doctor," said Henderson. That's what makes the Grayken Center for Addiction so unique. SUD services can be obtained in clinical departments throughout the hospital. For instance, pregnant women who are battling both addiction and anxiety can receive services through Project RESPECT. The CATALYST program is available for adolescents and young adults.
BMC is the largest and busiest emergency department in New England, and serves more than 130,000 patients each year. The psychiatric team plays a pivotal role in both the Psychiatric Emergency Department and the general Emergency Department. They manage people in crisis, evaluate patients and determine the most appropriate treatment plan and level of care for patients with co-occurring disorders.
The Consult and Liaison team is available 24 hours a day and provides services where needed. The team offers psychiatry and substance use consultation to inpatients on medical and surgical floors, those receiving dialysis, transplant patients and outpatient medical and surgical cases.
The Grayken Center for Addiction was developed to provide expertise in three areas: treatment, training and prevention, and research. Clinical leaders in the Department of Psychiatry are key members and represent expertise in child and adolescent psychiatry, clinical studies and training. Michael Botticelli, the Executive Director, was clear on the Center's commitment to the treatment of those with dual diagnosis, and cited the CATALYST program for adolescents and young adults as an example of that expertise.
"A significant percentage of people with a substance use disorder also have a co-occurring mental health disorder. This is particularly true with adolescents and young adults," he explained. "In order to achieve positive outcomes, both issues must be treated since only dealing with one can lead to high rates of disengaging from treatment and high relapse rates."