Boston Medical Center Increases Access to Healthy Food with Opening of Expanded Preventive Food Pantry and Teaching Kitchen
Boston Medical Center Increases Access to Healthy Food with Opening of Expanded Preventive Food Pantry and Teaching Kitchen
For More Information, Contact:
Elissa Snook
Office of Communications
617.638.6823
Elissa.Snook@bmc.org
Boston Medical Center Increases Access to Healthy Food with Opening of Expanded Preventive Food Pantry and Teaching Kitchen
(Boston) – June 28, 2016 – Patients at Boston Medical Center (BMC) will have greater access to nutritious food, and to food preparation classes, with the opening of the hospital's expanded Preventive Food Pantry and Teaching Kitchen. The Preventive Food Pantry, which feeds approximately 7,000 patients and family members each month, was the first hospital-based food pantry in the U.S. and has served as a national model for other hospitals. The new spaces feature added storage for perishable and non-perishable food in the Food Pantry, as well as additional cooking classes for patients and "BMC Iron Chef" competitions for staff in The Teaching Kitchen, and mark a major milestone in BMC's clinical campus redesign.
BMC has a long-standing commitment to serving vulnerable populations and treating not only a patient's medical needs, but also addressing social determinants of health. This is a critical part of the hospital's mission to support our patients and families holistically while helping reduce the long-term costs to the health care system. A 2015 report conducted by Children's HealthWatch, a nonpartisan network of pediatricians, public health researchers and policy experts, founded by BMC physician Deborah Frank, MD, found that one out of three families with young children accessing care in BMC's Pediatric Emergency Department reported having limited or uncertain access to food.
"When a patient comes to our emergency department with stomach pain, one of the first questions we ask is 'when is the last time you ate?'" said Thea James, MD, vice president of mission and associate chief medical officer at BMC. "The Preventive Food Pantry helps fill the gap for those who would otherwise be unable to access affordable, nutritious food, and this expansion further demonstrates BMC's commitment to addressing the underlying social factors that affect a patient's health."
"Over the years, we've seen the demand double for healthy, affordable food in the Boston community," said Latchman Hiralall, manager of the Food Pantry. "By streamlining our operations in one location, we are able to do our jobs more efficiently and in turn, improve the services we provide to our patients."The new Food Pantry, which is approximately 1,500 square feet and distributes nearly 12,000  pounds of food each week, is significantly larger than the former location and will feature added storage space, allowing the Food Pantry to accept larger donations, as well as a dedicated walk-in refrigerator and freezer. Additionally, the waiting area includes new furniture and provides added privacy.
BMC's Preventive Food Pantry was established in 2001 to address nutrition-related illnesses by providing healthy foods that are often lacking in a family's diet due to cost and accessibility. Individuals with special nutritional needs are referred to the pantry by BMC providers who write prescriptions for supplemental foods that are both medically and culturally appropriate for all family members. In partnership with the Greater Boston Food Bank, families are provided with fresh fruits, vegetables and meat twice per month covering three to four days' worth of food per household per visit. Originally designed to feed 500 patients per month, the Food Pantry, which is 100 percent funded by philanthropy, now serves approximately 7,000 patients and their families every month.
"Sometimes our patients are hesitant to receive food assistance because of the stigma of 'being poor and hungry.' By building a prescription referral system into our patient's electronic health records, we're able to customize the types of food a family should receive and provide the greatest level of privacy and care for anyone who comes through our doors," Hiralall said.
The renovated Teaching Kitchen, a resource to teach healthy cooking to BMC patients and staff, is now located in the new Yawkey cafeteria to cater to a larger audience of patients, visitors and staff. Led by Tracey Burg, RD, head chef of The Teaching Kitchen, patients will have access five days a week to cooking classes that target specific diagnoses and conditions including diabetes, cardiac health, cancer care and weight management. "Super Kids and Teens" classes also have been added to teach children involved in BMC's pediatric cardiology and weight management programs the importance of good nutrition.
In addition to patient classes, Burg has incorporated staff wellness classes that utilize both team building exercises and cooking instruction. Every other month, staff also will be encouraged to participate in "BMC Iron Chef" competitions to showcase their culinary skills and Burg is also working to partner with local chefs to teach guest classes.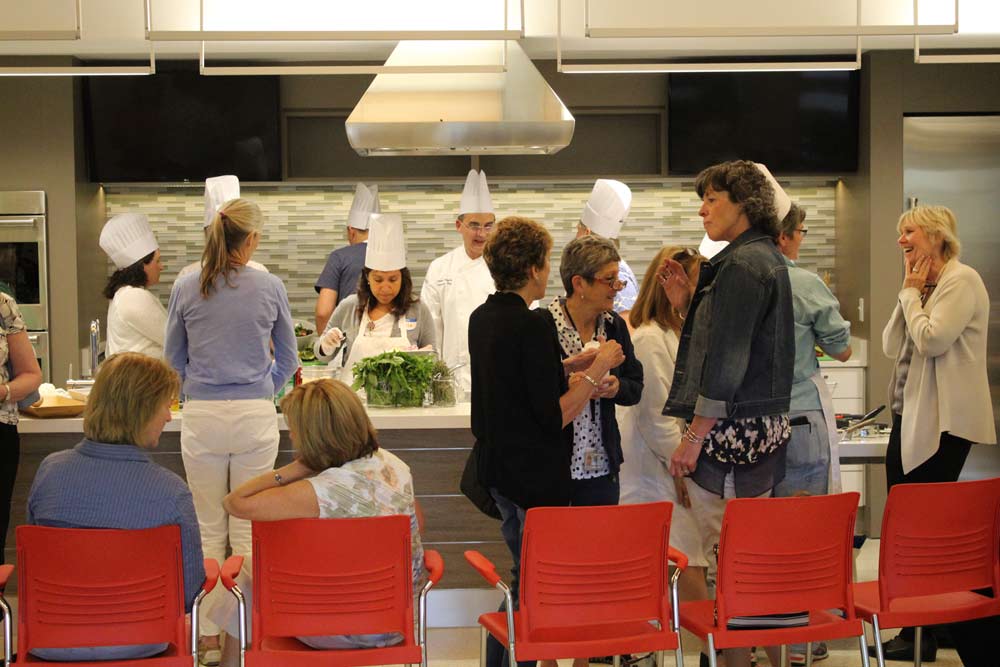 Nurses participated in the first 'BMC Iron Chef' competition.
"Exposure is one of the biggest benefits of the new kitchen," Burg said. "We're now in a space that is inviting and extremely visible on campus. We've also listened to our patients' feedback and tailored our programming to reflect their needs, as well as added some fun elements for our staff."
The openings of these two major institutional landmarks are part of a multi-year clinical campus redesign project that will provide updated clinical workspaces and expanded facilities to solve BMC's most pressing care delivery needs as well as make BMC facilities more environmentally efficient. This project is being funded through BMC's largest fundraising endeavor to date, bond financing and the sale of facilities being vacated as a result of the campus consolidation. When complete, the project will save BMC approximately $25 million annually. More information about the redesign can be found on BMC's website.
# # #
Return to BMC News