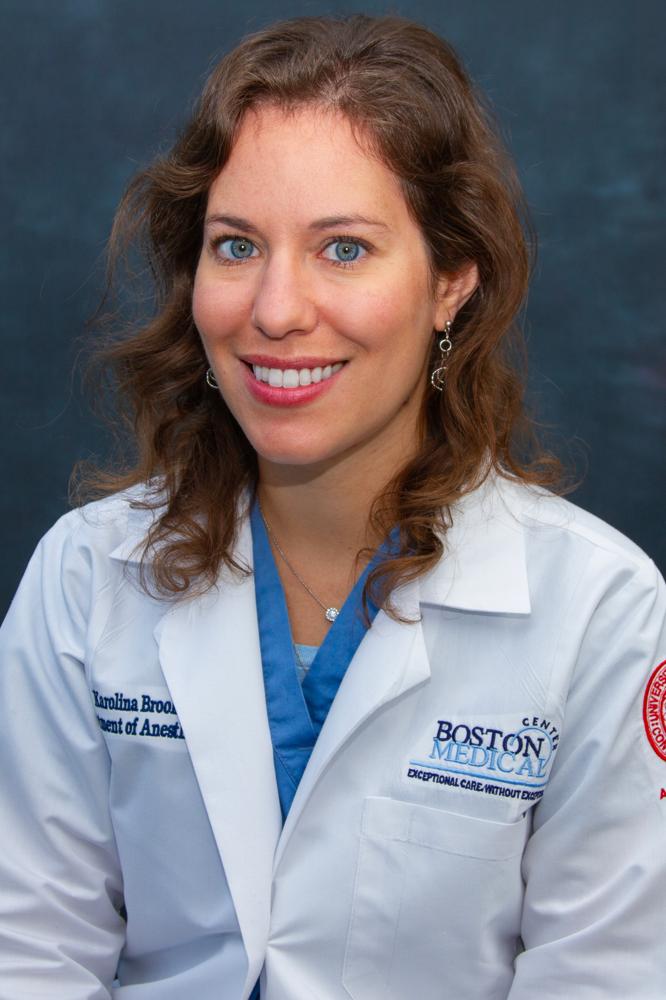 Specialties

Pediatric Anesthesiology, Obstetric Anesthesiology, Patient Safety, Quality Improvement
My Contact Information
Primary Location 1 Boston Medical Center Pl
Boston, MA 02118
More About Me
Karolina Brook, M.D. received her a B.A. in Chemistry summa cum laude from Princeton University and her M.D. from Harvard. She completed both her residency in Anesthesiology and her fellowship in Pediatric Anesthesiology at Massachusetts General Hospital. She works as an Anesthesiologist at Boston Medical Center, where she takes care of adults, children and obstetric patients.
She serves as Director of Quality and Safety in the Department of Anesthesiology at Boston Medical Center. In her role, she has initiated a department-wide quality data collection program, led and overseen a variety of quality improvement projects, and developed a quality improvement curriculum for the Anesthesiology residents. She has published several papers on the topics of patient safety and quality improvement. She serves on the American Society of Anesthesiologists Committee for Patient Safety and Education, where she was involved in writing the ASA Statement on Safety Culture.
Residency

Anesthesiology, Massachusetts General Hospital (2015-2018)

Fellowship

Pediatric Anesthesiology (2019-2020)

Board Certifications

Anesthesiology; Pediatric Anesthesiology

Special Interests

Pediatric Anesthesiology, Obstetric Anesthesiology, Patient Safety, Quality Improvement

Languages

Afrikaans, Polish

Research

Quality Improvement, Patient Safety

Location

1 Boston Medical Center Pl
Boston, MA 02118
Boston University is a leading private research institution with two primary campuses in the heart of Boston and programs around the world.