Program Director Contact Information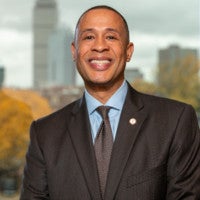 Sebastian Hamilton, PharmD, MBA
Chief Pharmacy Officer
Director - PGY1/2 HSPAL + MS
We will be participating in PPS sessions this year. 
We are happy to offer in person interviews for the 2024-2025 recruitment cycle. We are also more than willing to accommodate virtual interviews at the preference of the candidate. 
 For general residency questions, please email BMCpharmacyresidency@bmc.org
Please note there are two separate application components (HSPAL through BMC & MS through UNC) for the combined PGY1/2 HSPAL +MS program. Please ensure both components are completed by their respective deadlines. 
Program Description
The purpose of HSPAL + MS program in collaboration with the University Of North Carolina Eshelman School Of Pharmacy is to develop the next generation of pharmacy leaders; specifically as it relates to underrepresented minorities (URM) in pharmacy leadership roles. This program will expose the pharmacy resident to a solid clinical experience their first year, with then concentration with pharmacy operations and health-system system administrative leadership teams the second year. The resident will complete MS course work longitudinally via online courses at UNC. Learning from some of the best programs in the region, the resident will develop relevant clinical pharmacy competencies and work on pharmacy and health-system corporate/business strategy initiatives. 
Purpose
A PGY2 health-system pharmacy administration and leadership residency builds upon PGY1 residency graduates' competence in the delivery of patient-centered care and in pharmacy operational services to prepare residents who can assume high level managerial, supervisory, and leadership responsibilities. Areas of competence emphasized during the program include: safe and effective medication-use systems, quality assurance and improvement, the management of human resources, the management of financial resources, use of technology, and advanced leadership. The residency lays the foundation for continued growth in management and leadership skills. Upon graduation, residents are prepared for a clinical or operational management/supervisory role in a variety of work settings.
Click here for a detailed outline of the program.
Program Outcomes
Clinical and Operational Management (required)
Quality, Safety and Process Improvement (required)
Finance and Budgeting (required)
Human Resource Management (required)
Leadership (required)
Year 1 - Core Rotations (5 weeks)
Orientation
ICU
Internal Medicine
Internal Medicine Sub specialty (Cards, Renal, Geriatrics) 
Surgery
Practice Management
Ambulatory Care
Year 1 - Elective Rotations (Choice of 3)
Infectious Diseases
Emergency Medicine
Pediatrics
Neonatal ICU
Neurocritical/Neurology
Complex Care Ambulatory Care
Hematology/Oncology - Inpatient
Hematology/Oncology - Outpatient 
Medication Safety 
Ambulatory pharmacy leadership
PGY1 Clinical Rotational experience with alternative focus
Repetition of any required rotation with alternative focus
Year 2 - Core Rotations (5 weeks)
Operations Management
Clinical Services Management
Health System Leadership
Supply Chain Management
Year 2 - Elective Rotations (Choice of 3)
Specialty Pharmacy Leadership
External Pharmacy Business Development
Ambulatory pharmacy leadership:
ACO
Managed care pharmacy:

Operational, clinical, etc. specific to insurance company managing covered lives, in multiple lines of business across multiple states.

Repetition of any required rotation with alternative focus
Longitudinal Responsibilities
Year 1/2
MS from the UNC Eshelman School of Pharmacy

The resident is required to complete  and graduate from UNC with their MS in order to graduate from residency. More information about the master's component is included on the UNC Eshelman School of Pharmacy's website. 

IHI quality improvement project supported by the scholarship committee

Receive an IHI Basic Certificate in Quality and Safety
Final manuscript submission

Drug use policy
Participation on residency subcommittees
Year 2 Only
BMC Newsletter
Pharmacy Informatics 
Medication Safe
Health-System Leadership
Management of Practice Area
Teaching Responsibilities
Year 1
2 Resident case conferences
1 Inter-professional in-service
1 ACPE Continuing Education (CE) lecture
2 Journal clubs/"Patient-Oriented Evidence that Matters" (POEM) presentations
Facilitate student topic discussions
Year 2
1 ACPE Continuing Education (CE) lecture
Facilitate student topic discussions
Business case development and presentation
 Additional Opportunities
Resident Teaching Certificate
Resiliency Training
Monograph
Policy development or revisions
Manuscript development and submission
Chief Resident opportunity
Pharmacy Practice (Staffing) Responsibilities
Weekdays

One evening shift/week in a decentralized or operational role

Weekends

One weekend every 3 weeks in a mostly operational and order verification role

Holiday assignments

Two holidays (Thanksgiving Day, Christmas Day, New Year's Eve, New Year's Day, Memorial Day, Labor Day, Martin Luther King Day)
Benefits
Estimated salary (not updated yet for the 24-25 year)

Year 1: $56,000
Year 2: $60,000

Vacation Time: 10 days
Office space with computer
Travel/CE allowance ($2,200/year): Eastern States Resident's Conference, ASHP Midyear Meeting, MaSHP Annual Meeting
$750 cafeteria allowance per academic year
$1000 move/licensure bonus
Lease guarantee available to minimize security deposit requirements
Insurance Benefits: health (100% employer payed option), dental, vision, disability, accidental death and dismemberment, life insurance
Application Process
Follow the steps on how to apply for our residency process here. 
In addition to applying to our program, you must also apply to the University of North Carolina Graduate School for their didactic component. Deadline to apply for this program is January 1st, 2024.