Wrist (Distal Radius) Fracture
The radius is the larger of the two bones of the forearm. The end toward the wrist is called the distal end. A fracture of the distal radius occurs when the area of the radius near the wrist breaks.
Distal radius fractures are very common. In fact, the radius is the most commonly broken bone in the arm.
A distal radius fracture almost always occurs about 1 inch from the end of the bone. The break can occur in many different ways, however.
One of the most common distal radius fractures is a Colles fracture, in which the broken fragment of the radius tilts upward. This fracture was first described in 1814 by an Irish surgeon and anatomist, Abraham Colles -- hence the name "Colles" fracture.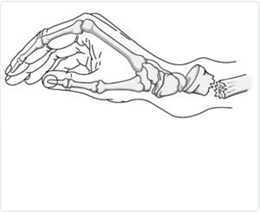 Other ways the distal radius can break include:
Intra-articular fracture. A fracture that extends into the wrist joint. ("Articular" means "joint.")
Extra-articular fracture. A fracture that does not extend into the joint is called an extra-articular fracture.
Open fracture. When a fractured bone breaks the skin, it is called an open fracture. These types of fractures require immediate medical attention because of the risk for infection.
Comminuted fracture. When a bone is fractured into more than two pieces, it is called a comminuted fracture.
It is important to classify the type of fracture, because some fractures are more difficult to treat than others. Intra-articular fractures, open fractures, comminuted fractures, and displaced fractures (when the fractured pieces of bone do not line up straight).are more difficult to treat, for example.
What causes a wrist fracture?
The most common cause of a distal radius fracture is a fall onto an outstretched arm.
Osteoporosis (a disorder in which bones become very fragile and more likely to break) can make a relatively minor fall result in a fractured wrist. Many distal radius fractures in people older than 60 years of age are caused by a fall from a standing position.
A fractured wrist can happen even in healthy bones, if the force of the trauma is severe enough. For example, a car accident or a fall off a bike may generate enough force to break a wrist.
Good bone health remains an important prevention option. Wrist guards may help to prevent some fractures, but they will not prevent them all.
What are the symptoms of a wrist fracture?
A fractured wrist usually causes immediate pain, tenderness, bruising, and swelling. In many cases, the wrist hangs in an odd or bent way (deformity).