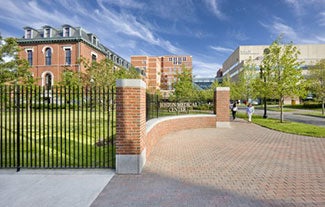 Fundamentals of Endovascular Surgery and Vascular Lab – Boston Medical Center
(Year 1: 3 months)
The goal of the rotation is to provide introductory exposure to the techniques and indications for diagnostic and therapeutic angiography. Through extensive exposure to endovascular procedures will be gained throughout training, this focused time allows for immersion in endovascular techniques and decision making.
Trainees will also learn vascular ultrasound and non-invasive imaging interpretation (required for vascular surgery board certification). An additional focus of this rotation is the medical evaluation and comprehensive management of vascular disorders. Trainees will practice in the inpatient setting, outpatient setting, and vascular laboratory.
VA Vascular Surgery – Boston VA Medical Center
(Year 1: 9 months)
The goal of this rotation is to develop the knowledge, skills, and understanding of fundamental and advanced aspects of Vascular and Endovascular Surgery in the first year of fellowship. In addition to open surgical training, the Boston VA Medical Center at the West Roxbury Campus is equipped with a state-of-the-art advanced hybrid operating room, allowing for treatment of peripheral arterial disease, complex aortic diseases, carotid stenosis, and acute and chronic deep venous diseases. Trainees will have the opportunity to develop and mature their technical skills and surgical judgment through active participation in all aspects of patient care and clinical rounds. By the completion of the rotation, the vascular surgery fellow will have a strong foundation in all aspects of vascular surgical patient care, and the necessary training for continued growth in the specialty.
Boston Medical Center Vascular Surgery – Boston Medical Center
(Year 2: 12 months)
With extensive support, the 2nd year vascular surgery fellow runs the Smithwick service at BMC, further advancing and refining their knowledge and skills. BMC is equipped with complex open surgical capabilities and a state-of-the art advanced hybrid operating room. The 2nd year fellow takes a primary role in the surgical management of a wide variety of vascular surgical problems, often employing open surgical, endovascular, or hybrid approaches. Additionally, BMC serves as a major trauma referral center, increasing trainee exposure to these high acuity vascular problems. Trainees will complete their training confident in their ability to independently function as vascular surgeons in the setting of their choice.