Vascular and Endovascular Fellowship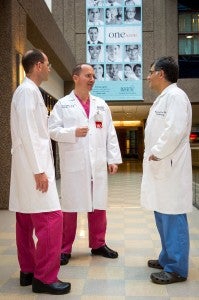 The Division of Vascular and Endovascular Surgery provides comprehensive, state-of-the art care for all peripheral vascular conditions. Our faculty share expertise and special interest in a variety of disease processes, including:
aortic aneurysms
carotid artery disease
diabetic foot problems
hemodialysis access creation and maintenance
peripheral arterial disease
vascular trauma
venous and lymphatic disease
We are committed to providing exceptional, patient-centered care using the latest treatments and technologies. We strive to advance the field through our commitment to research and training of vascular surgery fellows.
Boston Medical Center Faculty
Alik Farber, MD, Chief, Vascular and Endovascular Surgery, Professor of Surgery and Radiology, Boston University School of Medicine
Jeffrey Kalish, MD, Associate Professor of Surgery and Radiology, Boston University School of Medicine
Jeffrey Siracuse, MD, Associate Professor of Surgery and Radiology, Boston University School of Medicine
VA Boston Healthcare System Faculty (West Roxbury Campus)
Sarah Carlson, MD, Instructor in Surgery, Boston University School of Medicine
Michelle Martin, MD, Instructor in Surgery, Harvard Medical School
James McPhee, MD, Assistant Professor of Surgery, Boston University School of Medicine
Joseph Raffetto, MD, Associate Professor of Surgery, Harvard Medical School
Samir Shah, MD, Instructor in Surgery, Harvard Medical School