Boston Medical Center is a private, not-for-profit, 514-bed, academic medical center located in Boston´s historic South End. Our staff is dedicated to making your experience here as pleasant and informative as possible. The links below will help guide you to the information you are looking for. If you have further questions, don't hesitate to call us directly at 617.638.8456.
If you suspect you are having a stroke, dial 911!
Signs and Symptoms of Stroke:
Sudden weakness or numbness of the body, especially on one side
Sudden vision changes in one or both eyes
Sudden severe headache with unknown cause
Sudden dizziness, difficulty walking or imbalance
Sudden confusion, difficulty speaking or understanding others
FAST is an easy way to identify a possible stroke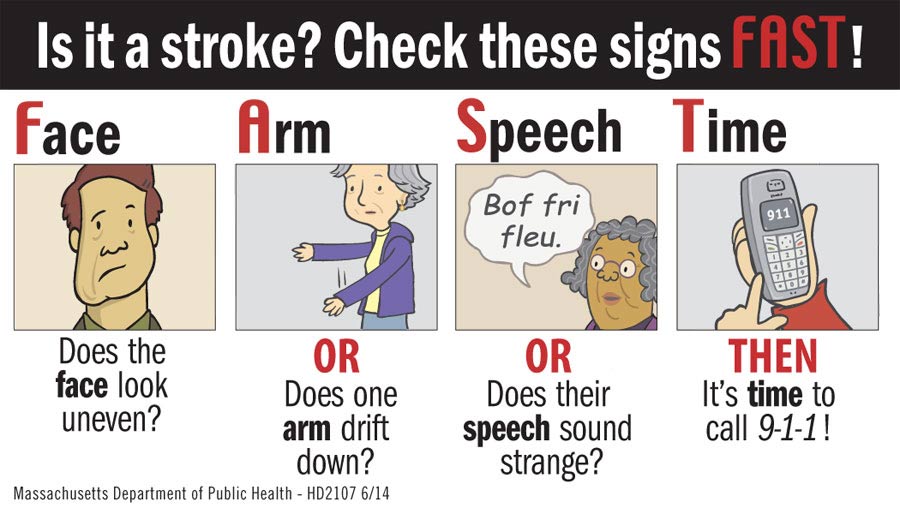 Risk Factors for Stroke
Non-Modifiable: Things you can't change
Previous Stroke or TIA
Age
Gender
Race
Family History
Modifiable: Things you can change!
High Blood Pressure #1 Risk Factor
Smoking
Atrial Fibrillation
Diabetes
Physical Inactivity
Overweight / Obesity
High Cholesterol
Alcohol and Drug Abuse
Stroke Resources
A trusted source for free resources and education for the entire stroke community.
A division of the American Heart Association, the American Stroke Association (ASA) offers the latest news, resources and education on stroke.
A free, digital only magazine for stroke survivors and their families, published four times a year.
Stroke Family Warmline
1-888-4-STROKE (ask for the Warmline)
The Warmline connects stroke survivors and their families with a team member who can provide support, or just a listening ear.
FAST Stroke Detection Poster in 7 Languages